JUST IN: Amphibs, Logistics Most Pressing Needs for Marines, Commandant Says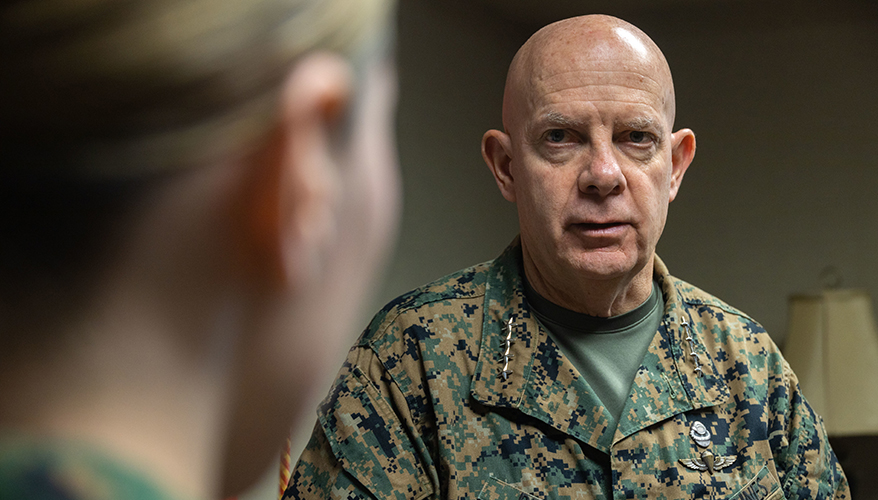 Berger
Defense Dept. photo
WASHINGTON, D.C.
— The Marine Corps has already completed much of the transformation outlined in the Force Design 2030 restructuring and re-equipping plan, but the service, Defense Department and Congress need to act urgently to deliver amphibious ships and resilient logistics capabilities, the commandant said.
"Not satisfactory," was Gen. David Berger's assessment of the progress made on fielding small amphibious ships to ferry Marines around the Indo-Pacific. The Marine Corps says it needs at least 31 amphibious assault and transport dock ships.
"The smaller ships — which we know we need — they enter a process in the Pentagon of, 'Okay, what is it you need, what capability do you need?'" he said during a Brookings Institution discussion May 23. "By the time it comes out the other side, everybody's piled on all kinds of extra things on there that you don't need, and it comes out to be super expensive and beyond what you want."
Then, the service war-games it, "and you have discussions, and six months later, you end up doggone pretty close to where you started from. You lost a year," said Berger, who is in the final months of his four-year tenure as commandant.
"So, my frustration is: I could not find a way to navigate through that process any faster," he continued. The solution is to "put a check" on an initial requirement to prevent people from adding on expensive and unnecessary weapons and defensive systems in the acquisition process.
However, as
National Defense
has previous reported, the Marine Corps and Navy are still at odds over what mix of sizes, shapes and capabilities of amphibious ships the services need. That debate will continue to play out once Congress begins marking up the 2024 National Defense Authorization Act.
In the meantime, the Marine Corps needs to up its logistics game, Berger said.
"It's very clear to me that logistics, among the warfighting functions, is the one that we need to make the most progress on right now," he said. "It's not fires. It's not intelligence. It's not command and control."
The problem isn't that the military is bad at logistics, he said. It's that the military has been able to rely on secure logistics for decades.
"We haven't needed to protect our lines. Now, we assume they will be contested. My number one focus: logistics, logistics, logistics," he said.
That requires a complete relook at the global pre-positioning network on shore and at sea, he said. It also requires moving as fast as possible on artificial intelligence, autonomy and unmanned systems.
"That will help us from predictive maintenance to distribution to forecasting, all the way back in our supply chain, all the way back to the United States, linking stitching all of that together," he said.
Critical is viewing it as a supply web rather than a supply chain, he added.
"If you wanted to disrupt the U.S., you wouldn't go symmetrically head on head with us, you'd go after the soft spots," or perceived soft spots, he said. And adversaries would be likely to view logistics as where they can "pinch" or hurt the U.S. military.
"We have to have a balance of both ashore nodes … and afloat and air — all of it," he said.
The commander of Transportation Command, Gen. Jacqueline Van Ovost, is heading in that direction, he said.
"She clearly recognizes single points of failure — not good, need a lot of resiliency, a lot of redundancy," he said. "That will not be cheap. To build in that resiliency and redundancy will not be cheap.
"But we can't go for efficiency and hope that we're going to be resilient enough to survive the first few weeks when they can test it," he said.
Berger said he is hopeful that Congress will continue to support Marine Corps modernization efforts. In his first three years in charge, the service submitted a flat budget, and each year Congress increased the service's funding.
"I don't think they would have given us more if they didn't have confidence in the direction we're going," he said, adding that the 2024 budget proposal is an increase over previous requests.
He added that the service has demonstrated fiscal responsibility and stretched its funding by divesting.
"Nobody told us to do those things," he said. "But I think you have to prove that you're frugal before you go ask for more allowance."
In addition to giving the Marine Corps a raise, Congress needs to help speed up the acquisition process, he said.
"The speed of innovation in the private sector, to some degree is driven by concepts like venture capitalism," he said. "But that doesn't exist in the Department of Defense. In fact, it's whatever the opposite of that is, that's what we have."
Congress needs to free up funds for combatant commanders to invest or use more quickly, he said.
"Adjust some regulations to enable innovation to happen at speed [and] understand the risks," he said. "But if we keep the same framework in place — that was put probably for all the right reasons when their oversight wasn't to the degree it should have been — if we don't change that, we will fall behind. But it comes with risk."
Topics: Marine Corps News