TACTICAL WHEELED VEHICLES
U.S.-Made Counter-Drone Trucks Head for Ukraine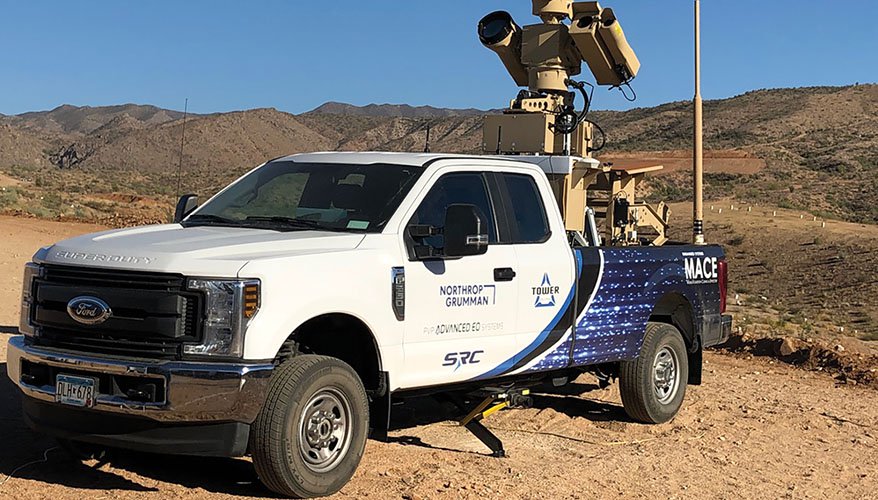 Scott R. Gourley photo
KINGMAN, Arizona
— Ukraine will soon receive a limited number of "gun truck" systems to enhance the nation's counter-drone capabilities.
A Northrop Grumman-led team developed the "Agnostic Gun Truck," which incorporates a lightweight 30mm M230 cannon currently used on Apache helicopters.
The order to send the trucks to Ukraine was confirmed in an April 4 Defense Department announcement regarding new security assistance for that country.
In addition to a continuing presidential drawdown on some existing equipment, the announcement noted that Ukraine Security Assistance Initiative funds would be used to provide a number of systems, including, "Nine counter-Unmanned Aerial System 30mm gun trucks."
According to an industry source, the nine gun trucks will be delivered as three battery sets, with each battery consisting of three of the trucks and one Mobile Acquisition, Cueing and Effector (M-ACE) system.
M-ACE incorporates a mix of mast-mounted 3D radar with drone detection to 10 kilometers, tracking and identification cameras and other electronic capabilities.
"M-ACE provides the ability to detect, identify, track and defeat enemy UAS," said Rob Menti, senior manager for business development at Northrop Grumman Armament Systems.
"The system is able to provide a cue to the gun trucks that puts the gun directly on the target, while maintaining a man-in-the-loop. This capability reduces the cognitive load on the operator, as the target is put directly in their sight, and they know that the UAS has been determined to be a threat."
Kinetic counter-drone capabilities are optimized through the new 30x113mm M1211 High Explosive Proximity Self Destruct round. Firing demonstrations in October 2021 showed the effectiveness of the truck firing the new round against a range of challenging unmanned aerial system profiles that included Class 2-plus drones moving at speeds exceeding 30 kilometers per hour laterally from the firing location.
The original intent was to provide the system on Humvees. However, issues of availability and a desire for rapid fielding resulted in an initial Ukrainian configuration on the Ford F250.
Topics: International, Tactical Wheeled Vehicles, Guns