NDIA PERSPECTIVE SPECIAL OPERATIONS
Special Operators Well Suited for Strategic Level of Warfare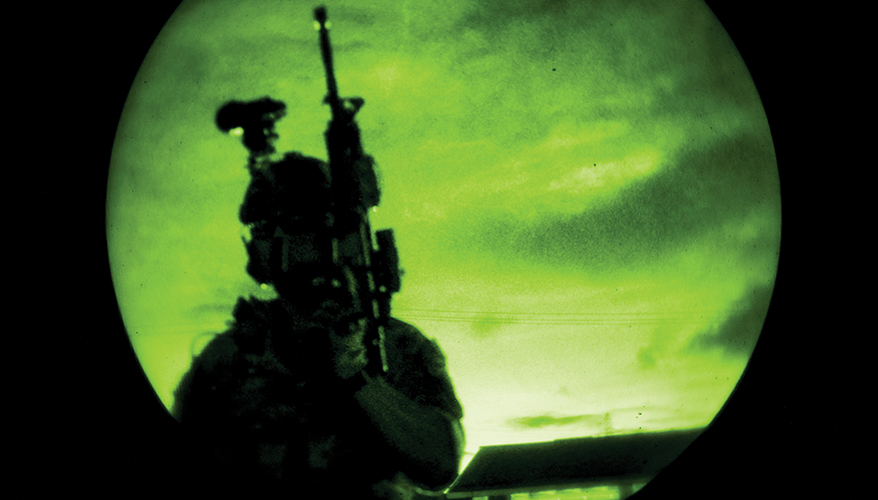 Defense Dept. photo
The heart of the National Defense Industrial Association's mission is to provide ethical forums to connect government and industry to ensure warfighters in the nation's service have the platforms, services, capabilities and technologies they need so they never engage in a fair fight against any competitor. For those in the defense industry, your profession is also a national service, only from a different angle.
Over the last several months, NDIA has been focusing the national conversation on the return to great power competition to the investments the U.S. defense industrial base needs to enable the greater responsiveness and resilience that now requires. For that reason, we have dedicated this issue to that part of the Joint Force that is on the leading operational edge of executing the 2022 National Defense Strategy — the men and women of U.S. Special Operations Command.
The nation calls on them for the most dangerous and sensitive missions, and they sustain a heavy operational tempo. While special operations personnel comprise less than 3 percent of the joint force, they account for almost 50 percent of U.S. deployed forces.
During this spring's congressional budget hearings for the Office of Special Operations and Low Intensity Conflict and SOCOM, the recurring topic was the strategic adjustments the command's civilian and military leadership are making to better posture the force to execute its missions in an era of great power competition. In doing so, the community is returning to its root core competencies of integrated deterrence and campaigning against strategic competitors, core priorities of the National Defense Strategy.
Integrated deterrence entails working seamlessly across the spectrum of conflict in all warfighting domains and theaters and engaging all instruments of U.S. national power and those of our allies and partners.
We commend to you the newly released Joint Chiefs of Staff document, "Joint Concept for Competing," which focuses on the strategic level of warfare. It articulates that the United States must adapt to the realities of long-term strategic competition or risk ceding strategic influence, advantage, and leverage to our adversaries.
The concept additionally emphasizes using military capabilities to proactively probe adversary systems for vulnerabilities, establishes behavioral patterns that can be exploited in a crisis to conceal U.S. intentions until it is too late for an adversary to respond to them effectively, and shifts the competition to where the United States can maximize its initiative and leverage its advantages.
This is exactly what the Special Operations Forces were and are designed to do. SOF can reach and sustain themselves in some of the most difficult locations around the globe, creating dilemmas for our adversaries.
These highly skilled and trained men and women are at the tip of the spear of this long-term strategic competition. Their focus on long-term strategic competition also reflects the Defense Department's assessment of the changing character of war. Future conflict with one or more near-peer competitors will likely be trans-regional, multi-domain and multi-functional, with contested and degraded logistics and communications. Accordingly, special operators will not only be expected to deploy in small, dispersed units but also potentially in non-permissive and technologically disconnected operating environments.
Therefore, I commend the commentary on page 34 by Special Operations Command Acquisition Executive James Smith, who makes it clear the command's civilian and military leadership is explicitly focused on improving the resilience and survivability and enhancing the lethality of our nation's most important treasure, our men and women in uniform.
This reflects the special ops community's central truth: people are more important than hardware. For example, SOCOM's science-and-technology integrated priority list includes a focus area on building personnel's physical and cognitive endurance to sustain themselves in austere operating environments.
I also want to highlight NDIA's focus on the fiscal year 2024 budget priority of multiyear procurement authority for certain categories of munitions. Munitions capacity has never been a more strategic topic. Russia's illegal invasion of Ukraine and the violent conflict that ensued has graphically revealed how quickly peer-level sophisticated combat can deplete national munitions stockpiles, and how difficult it is to replenish those stockpiles given the current production capacity of the United States and its allies and partners.
Therefore, the association is committed to working with our government partners and members to address current capacity requirements for the European theater and to accelerate building credible deterrent capacity in the near and moderate term for the Indo-Pacific. We would love members and readers to join in this effort.
Please join us for the third Annual Future Force Capabilities Conference and Exhibition, scheduled for Sept. 25-28, in Huntsville, Alabama.
The conference is hosted by the NDIA Armaments, Robotics, Munitions Technology Divisions as well as the Global Demilitarization and Fuzing communities.
The conference's agenda includes capabilities briefings, keynote remarks, expert panels, technical paper presentations, exhibits and a live-fire demonstration. This terrific event provides unparalleled opportunities to engage in discussions around the entire life cycle of munitions: from fuzes to reduction of obsolete and excess munitions.
There is so much work to be done, and here at NDIA, we are rolling up our sleeves. Join us!

Michael Bayer is NDIA's board chair and president of Dumbarton Strategies.
Topics: Special Operations