JUST IN: Potential Budget Crunch 'Devastating' for Air Force, Hinders Jet Fighter Drone R&D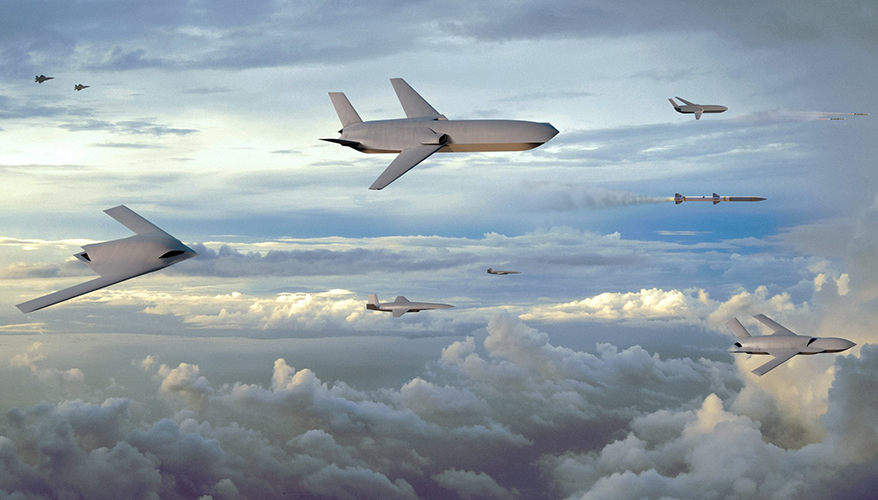 General Atomics illustration
The fiscal year 2023 budget and the proposed 2024 budget include substantial increases in funding for the Air Force, but the House of Representatives debt ceiling proposal that would return federal spending to 2022 levels next year would hobble the Air and Space Forces, a senior official said May 18.
Assistant Secretary of the Air Force for Acquisition, Technology and Logistics Andrew Hunter said the 2024 budget request includes 100 to 120 initiatives supporting the service's seven operational imperatives.
"Some large, some small, but all actually critical and essential to our future operational capability," he said. So far, members of Congress and defense committees have been supportive of the service's $185 billion request, but there are real risks of a debt default or a deal reminiscent of sequestration, he said at George Mason University's Greg and Camille Baroni Center for Government Contracting.
"And what we saw [during sequestration] is a sudden drop in government spending, and we had to do things like furloughs, we had to had to really scale back spending," he said. "We had to defer activity." It had a huge impact on research and development, he added.
"I think you would see a huge hit to our research and development, which is right now one of our priority areas of pursuit," he continued.
The Space Force, which is seeking $30 billion in funding for 2024, would suffer as well, he noted.
"Because the Space Force is relatively new and so much of its budget is growing to reflect the fact that they're doing things that have never been done before," he said. "So, the Space Force would be absolutely devastated by a rollback to [2022] funding levels. For the Air Force, it would be devastating as well."
One of the critical programs the Air Force is looking to fund and expand in 2024 is the collaborative combat aircraft, or CCA, Hunter said. That program seeks to develop multiple uncrewed platforms that could perform sensing and shooting functions teamed with F-35s and the future sixth-generation jet fighter under the Next-Generation Air Dominance program.
The Air Force is approaching the program from a modular, open systems architecture approach and is looking to field capabilities in an iterative fashion.
"We're trying to do it in a way where the work of the acquisition community is entirely synched up and being done in common with the work of the operational community to figure out — how do we successfully employ something that's a fundamentally new capability?" he said.
The Air Force has operated unmanned aircraft for years, but they require human operators controlling the craft in a one-to-one manner, he said.
"What we're looking at with collaborative combat aircraft is, how do we really integrate a teammate that is operating next to and with advanced fighters in the same space, on the same mission to achieve a common objective, a common effect in the in the campaign?" he added.
"We think we have the technology in hand to help us get there in the relatively near term. But there's a lot of work to be done by our operational community to figure out how is that really going to work. How are they going to battle manage that approach?" he continued.
The acquisition officers are working "shoulder to shoulder" with the operational community, he said, and that will have to continue through the entire process to ensure that what is acquired is operationally relevant.
"One of our initiatives in the '24 budget is an experimental operations unit to really develop the [concept of operations] for that approach," he said.
"And they have some surrogate systems that they're going to work with as they stand up, in '24 and '25 and get that underway," he said. "And part of our collaborative combat aircraft program will be to deliver them some early prototypes that they can undertake that with and everything that they learn, we will be feeding into our acquisition approach. And we've structured our acquisition strategy to give us the opportunities to incorporate that knowledge and that learning into our program as it comes."
The acquisition process focuses heavily on bringing in nontraditional defense companies, he said. While there are some of the traditional players involved as the "handful" of competitors in the initial development process, the pool will grow.
"I think we will expect in the not-too-distant future we'll have upwards of 20 to 30 competitors to provide collaborative combat aircraft, meaningful capability," he said.
"That's the system itself," he added. "Within the system, the autonomy piece and the mission systems, we already have 20 to 30 competitors in our vendor pool providing capabilities there."
The program will not be a winner-takes-all situation and the service is looking to lower the stakes for competitors, he said.
"You don't have to be able to do the whole thing to come to this effort," he said. "If a company has real game and a specific, functional element of autonomy that is important, they can join and be in a position to provide that."
Because the program will be fielded in increments, the idea is that even if a company doesn't win a contract for a piece of the program, they aren't out of the game entirely and they can come back and offer a solution the next year, he said.
And there will be as many as 100 different operational roles for CCAs to fill, he said.
"There's going to be a lot of work for a lot of industry partners here, and they're probably going to be many, many variants of CCA if we if we get this right … because CCAs will be able to do as many things as, in large part, as manned aircraft are able to do in collaboration and partnership," he said.
Still, the collaborative combat aircraft program is just one of many initiatives the Air Force is hoping to advance quickly, he said.
"If you look at some of the other aspects of our operational imperatives, we are pushing the needle on technology and trying to go develop things on a very short timeframe," he said. "And so, there are key critical subsystems, key parts, the long pole in the tent that are on the critical path to fielding a new capability. And as soon as I get my hands on it, we want to move as rapidly as possible then to field that system.
"We're planning our acquisition strategies and our processes so that as soon as we have a minimum threshold of the most vital piece of a new system, we're going to push to test and deploy it as rapidly as possible," he continued.
Of course, that's all contingent on funding and authorities.
"When 2024 rolls around, and whenever continuing resolutions complete, and we're allowed to initiate things that are budgeted for in 2024 — which might be the second half of 2024 — by the time … two years have passed from when we first said, 'You know what, there's something we have to get after as quickly as possible.' So that's not very satisfying. Right?" he said.
That's why Air Force Secretary Frank Kendall is pushing a legislative proposal to allow the service to start some programs before all the authorities and funding are approved, he said.
"What we've asked for at the service level is an ability to do something similar to urgent operational needs to identify service-level requirements that are urgent, and that we would get after and start preliminary work on only up to the stage of preliminary design review," he said.
That would mean conducting engineering work, but not building, "so that we are in a position to build when resources are approved by the Congress, then we're in a position to move very rapidly to field the capability that can address that challenge."
The congressional armed services committees are reviewing the proposal, he said.
"I'm hopeful that some variant of the proposal will make it into one or both committee marks, and we'll be able to leverage that," he said, adding that continuing resolutions present "a host of challenges for us that this proposal doesn't solve, but it would give us something important and significant."