ANALYSIS: Australia's New Strategic Review Has Big Implications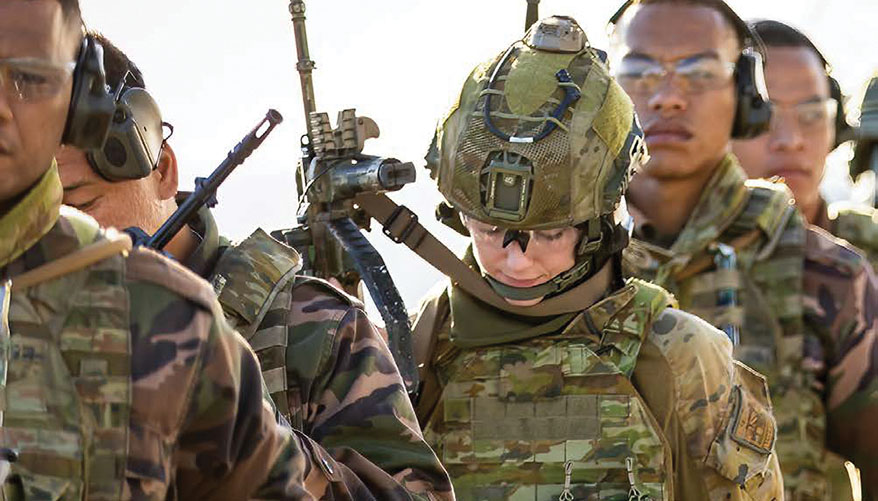 ADF photos
Australia's long-awaited Defence Strategic Review received relatively little attention in the U.S. press when it was released April 24, but the 110-page document spells out enormous changes for the Indo-Pacific region as well as a coming boon for the U.S. defense industry.

Billions of dollars will be flowing from Australia to U.S. contractors in the coming years as the nation realigns its posture from one that simply defended its homeland at its borders to a more proactive strategy that deters "through denial any adversaries' attempt to project power against Australia through our northern approaches," the strategy stated.

The new "denial" posture will require Australia to develop or acquire a host of new defense systems, the strategy said.

Deputy Prime Minister and Minister for Defence Richard Marles said, "The review is clear that we cannot waste any more time when it comes to acquiring critical defense capabilities."

Mark Watson, director of the Australian Strategic Policy Institute's Washington, D.C., office, said, "The alliance with the United States is front and center in this defense strategic review."

That shouldn't be too surprising as the nations — along with the United Kingdom — recently announced details of their $360 billion program to provide Australia with nuclear-powered submarines, known as the AUKUS agreement, he said.

"It is more of the same, but it's a quantum leap or a stepping up of what that alliance means to Australia in terms of capability," he said in an interview.

It's not explicit, but the strategy is all about China, he added. The strategy doesn't really "hit readers with China over the head." In fact, the United States is mentioned more often as a partner than China is as a rival.

"But the reality is the United States and Australia have made the same strategic judgment that this is the most likely point of future major conflict," he said.

Among the key takeaways is the end of the so-called "balanced defense" posture where the Australian Army, Royal Australian Air Force and Navy all received equal shares of the budget, he said.

The new buzzword is "focused force" — an Australian military that is aligned to take on the Chinese threat with more of an emphasis on navy and air force assets, long-range fires, long-range strike and military bases in the nation's north.

The "Army must be optimized for littoral operations in our northern land and maritime spaces and provide a long-range strike capability," the strategy said.

Watson said the army may begin to add capabilities that more resemble the U.S. Marine Corps than a force built to fight the global war on terror as it has been over the past few decades.

Out for the army is further development of a new self-propelled Howitzer, according to the document. In is the High Mobility Artillery Rocket System, better known as HIMARS, and other land-based maritime strike capabilities.

Reduced is the number of infantry fighting vehicles from 450 to 129. Boosted will be medium and heavy landing craft, it said.

"We're kind of turning at least part of our army into an amphibious borne warfighting element. And that to me sounds a lot like the U.S. Marines," Watson said.

The emphasis — as the AUKUS submarine deal indicated — will be on maritime operations.

"We need to stop any nation choking off our maritime approaches and our sea lanes. Australia is a maritime country," Watson said.

Ninety-nine percent by weight of Australia's trading goods comes and goes by sea. And Australia no longer refines its own fuel. "If someone shuts that down, we're in a world of hurt. … We need to keep those approaches open, and that means having the ability to challenge anybody who may wish to shut that down," Watson said.

An independent review of the nation's surface ship requirements, which will drill down into the numbers and types of ships needed, is in the works and expected to be released later in the fiscal year, the strategy document said.

Charles Edel, Australia chair at the Center for Strategic and International Studies, said a key takeaway for him was the bipartisan nature of the document. It shows that both the liberal and conservative parties are fully invested in the new strategic direction.

It also indicated massive amounts of money flowing to United States arms makers to purchase systems that Australia doesn't manufacture. First and foremost is the AUKUS submarine deal, he said.
Figures are not finalized, but Australia could be contributing upwards of $3 billion to improve the infrastructure of U.S. shipyards in the short term and eventually boost the capacity of all three nations.

Edel said he doesn't know of any case where an ally invested its money to build up the industrial capacity of the United States.

"This is to me quite striking," he said.

Australia will also be sending hundreds of skilled workers to U.S. shipyards to learn how to manufacture submarines, Edel noted.

"In the short term, it begins to solve part of the labor shortages that we've had in the United States when you have all these bodies coming into our shipyards," although they will eventually return to Australia to help build up its capacity, he said.

Watson said: "Australia is actually going to be giving money to the U.S. defense support industry to build stuff and to do stuff," which includes the submarines, space capabilities and hypersonics. "There are huge opportunities for investment," he added.

That could mean Australia being considered part of the U.S. supply chain.

"The key word that comes out in this document is 'integrated,' not 'interoperable.' Integrated, meaning theoretically if the U.S. is running short on a particular munition, it should be able to say, 'Australia, can you release X quantity of that munition and ship it to us?'" Watson said.

Among those munitions will be the long-range anti-ship missile for the F-35 Joint Strike Fighter and F/A-18F Super Hornet and a joint strike missile for the F-35, the document said. To deploy the latter, the F-35 will need to be upgraded to Block 4 configuration, it noted.

"Long-range strike and other guided weapons are fundamental to the [Australian Defence Force's] ability to hold an adversary at risk in its northern approaches," the strategy said.

Marles said that the nation must do away with the old, slow way of procuring military technology and innovate to speed the acquisition process up. Successive governments have long advocated for building up Australia's domestic defense industry and have emphasized "sovereign" capabilities.

Until the domestic industry is up to speed, it may mean defense forces coming to the United States and other suppliers if Australia truly wants to acquire cutting-edge technology quicker, Edel noted.

William Chou, the George P. Shultz fellow at the Ronald Reagan Institute, said the United States, Australia and Japan in their latest national security strategy documents "are all roughly agreed on the need to focus on the common spaces in the Indo-Pacific, and a need to build up deterrence and denial capabilities through long-range strike."

Chou noted that Australia is determined — while carrying out the strategy's objectives — to build up its own defense industry.

The document calls for Australia to "lift its capacity to rapidly translate disruptive new technologies into ADF capability, in close partnership with Australian industry."

It acknowledges, however, that the nation has a critical defense workforce shortage.

Chou said: "Obviously, the aim is to use these procurements and partnerships to build up Australia's own domestic defense production capabilities."

That could be a double-edged sword for the United States in the future if Australia emerges as an international competitor in the arms market.

"Even if it means potential Australian sales competition down the line, it ensures that Australia and its own defense customers are operating on the same standards, which supports interoperability," he said.

It also widens the overall national security industrial base and enhances greater resiliency among the United States and its allies if the nation can bolster supply chains with its own interchangeable systems, he said.

"'Resiliency' is sort of the hot word right now … it also ensures consistent Australian defense spending, which has been a kind of a challenge, and frankly, having your own vibrant defense industrial base is oftentimes the best guarantee for consistent defense spending," he noted.

Meanwhile — despite the emphasis on long-range strike — the strategy specifically noted that the U.S. Air Force's B-21 Raider stealth bomber — still under development but expected to take its maiden flights later this year — is not on the table.

Watson said there had been an ongoing debate in Australia when it came to long-range strike as it will be decades before the submarines are fully operational. Perhaps the B-21 could serve as a stopgap?

"This report very specifically is shutting that down. That is not in the cards. We're not doing that. We are sticking to our guns on the submarine acquisitions and submarine building program," he said.

Edel noted that Australia is undergoing "almost a defense revolution," a change of how it sees itself in the region, and it has a clear idea of what it needs to do.

"The big deal here is that one of our closest and most trusted allies is significantly changing its orientation and — in many ways — the purpose of its defense strategy and its defense forces in ways that will complement and augment American power in the region," he added.

Chou said one interesting question is how China will respond to Australia's new posture.

"It's possible that senior Chinese leaders will be deterred from undertaking aggressive actions in the region upon reflection of how strategic documents from Australia, Japan, India and the United States all reflect the growing commitment to a free and open Indo-Pacific."

However, it is also possible that senior Chinese leaders will arrive at an opposite conclusion: the stakes have been raised and there's even more need for aggressive action soon, he said.

"If Australia, Japan and other non-U.S. powers in the Indo-Pacific are, over time, ramping up their defense programs and undertaking measures to increase their collective fighting capabilities, then Chinese leaders may feel they should act on Taiwan by 2027, if not sooner," he said.


Topics: International, Internation Cooperation