Upgraded Kevlar to Lighten Loads for Troops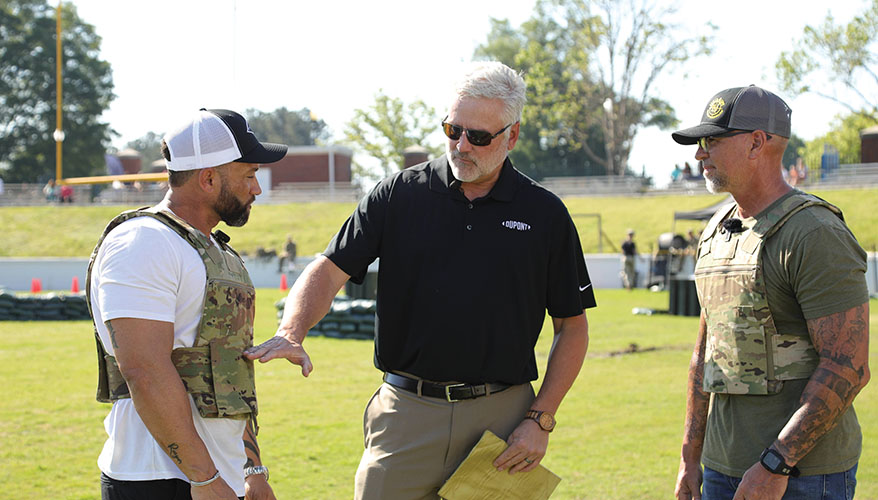 DuPont photo
ARLINGTON, Virginia — DuPont, the company behind Kevlar material used in body armor, has announced its next generation of aramid fiber, which it says increases flexibility and reduces weight.

Branded Kevlar EXO, the innovation is a new chemistry and manufacturing process, said Steven LaGanke, global business leader for DuPont Life Protection. The product's main goal: lessen the burden on the soldier without sacrificing protection.
"If the wearer is more comfortable, they can focus on their mission versus being focused on how uncomfortable they are," LaGanke said.

Working with its partners, DuPont is using the new material to design and manufacture protective armor that conforms to all body sizes and shapes. DuPont plans to share more details on their partnerships in the coming weeks, he said.

Traditionally, improved protection means one of two things: more layers or more rigid material. Body armor requires a certain number of ballistic fabric layers for protection, resulting in increased weight and less flexibility. The material's new polymer allows for a microstructure that is stronger, LaGanke said.

"This chemistry has an ability to line up better in a structure which results in the increased fiber performance," he added. The increased performance provides the same ballistic protection at 30 percent less weight.

The product is flame- and temperature-resistant and melt- and ignite-proof up to 930 degrees Fahrenheit, a company fact sheet said.

Ten years in the making, DuPont began pursuing the new technology as an answer to the ever-increasing loads troops must carry, from new electronics to batteries, often totaling more than 100 pounds, LaGanke said.

DuPont in April debuted the product at the Army's Best Ranger Competition, a contest designed to simulate the physical and mental challenges of combat. While participants did not wear the fiber during the event, they had the opportunity to take it for a test run and offer feedback.

DuPont does not currently have any contracts in place with the Army, but there are "solicitations that are already in process," LaGanke said.
Topics: Combat Survivability, Defense Innovation