NDIA PERSPECTIVE NAVY NEWS
Balancing the Navy's Near- and Long-Term Needs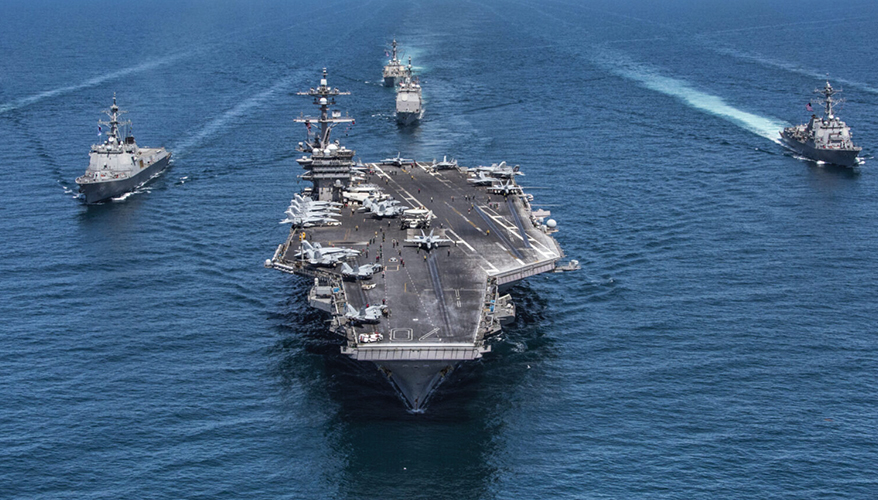 Navy photo
April marks the beginning of the annual congressional budget process in Washington, this year with an intense focus on how the Defense Department's budget request will continue to reorient the services' requirements and acquisition strategies to an era of great power competition. As a kick-off to the season, the House of Representatives Select Committee overseeing strategic competition between the United States and the Chinese Communist Party held a primetime hearing. At it, the chairman of the Select Committee framed the competition as "an existential struggle over what life will look like in the 21st century."
Reinforcing that urgent framing, the 2022 DoD Report on the Military and Security Developments Involving the People's Republic of China highlighted that the PRC's navy is aggressively modernizing its capabilities and improving its proficiencies across all operating domains of warfare — air, land and sea — as well as in the functional domains of nuclear, space, counter-space, electronic warfare and cyberspace.
Therefore, our magazine is taking a deeper look at each of the services, with this issue focused on the Navy. U.S. naval forces are daily conducting a high operations tempo around the world, creating an intense demand for attack submarines, destroyers, aircraft carriers and missile defense cruisers. That demand is consuming crucial platform readiness and Navy budget dollars. This is certain to continue debate regarding the appropriate shipbuilding profile as the Navy faces difficult choices between near-term support of ongoing operations, readiness and ship repair, and the competing long-term demands for creating new platforms, hypersonic and directed energy weapons and disruptive autonomy.
Getting this balance right for the long term is essential. The Defense Department reports the PRC navy has become numerically the largest navy in the world. According to the chief of naval operations' testimony last year to the Senate Armed Services Committee, the PRC has rapidly grown its navy from 262 to 350 ships, with modern surface combatants, submarines, aircraft carriers, amphibious assault ships and polar icebreakers. Its focused, strategic modernization efforts align with the PRC's growing emphasis on the maritime domain and indicates the PRC navy intends to project a blue-water navy at increasing distances from its mainland.
Despite being one of the principal beneficiaries from free and open seas for decades, the PRC is now actively working to undermine the rules-based international system, including attempting to control access to strategic waterways and the resources that lie within those waters, inhibiting freedom of the seas, intimidating its neighbors and expanding sophisticated networks of sensors and long-range weapons to hold important waterways at risk.
Here at NDIA, we are working closely with you, our member companies, to develop policies and convene events to help industry partner with DoD for this "existential struggle." As noted in NDIA's "Vital Signs 2023," the power generators of industrial readiness — stable and predictable budgets, an experienced and specialized workforce, diversified and modern infrastructure, manufacturing innovation and sufficient, including idle, capacity — have all atrophied under the transition to a services-based economy with a premium on just-in-time commercial supply chains. Accordingly, one of our NDIA strategic policy priorities is to modernize the infrastructure of the U.S. defense industrial base and increase its output to support building more capability and more capacity for the U.S. military.
NDIA will continue to focus on ensuring the DoD and the military services have sufficient and predictable funding to support building out the necessary capacity and the capability each of our services require to support the department's strategy of integrated deterrence. We will also continue to advocate for effective workforce recruiting and retention policies and to support funding more resilient supply chains to help the Navy's industry partners stay on track with their production timelines.
In other domains, NDIA is also working to connect government and industry partners. In August in Colorado Springs, we are hosting the fourth annual Space Warfighting Forum. This unique conference brings together leaders from industry, government and academia to further the discussion on space warfighting visions, requirements and existing and emerging technologies. I encourage you to join us for this exciting event!
In further recognition of the important role the space domain will play in the future character of warfare, I am delighted to announce the 2023 NDIA Dwight D. Eisenhower Award recipient is Gen. John "Jay" Raymond (Ret.), the first chief of space operations of the Space Force. The Eisenhower award is given to an American citizen who has made an outstanding contribution toward increasing public awareness of our national defense needs.
Gen. Raymond was chosen for his central role in driving forward the U.S. military's technological edge and for his innovative leadership in re-posturing our space capabilities in an era of great power competition. Furthermore, through his decades of service, he demonstrated steadfast dedication to the well-being of our service men and women and their families, as well as a deep appreciation for the importance of partnership with the defense industrial base. We will honor Gen. Raymond for his leadership and service and thank him and his family for their decades of service to our nation at our awards dinner May 16 in Arlington, Virginia. I hope to see you there!
There is exciting and important work to be done this year. Join us!

Michael Bayer is the National Defense Industrial Association's board chair and the president and CEO of Dumbarton Strategies.
Topics: Navy News