SEA-AIR-SPACE NEWS: Sourcing Parts for Submarine Maintenance a 'Wicked Hard Problem', Said Navy Official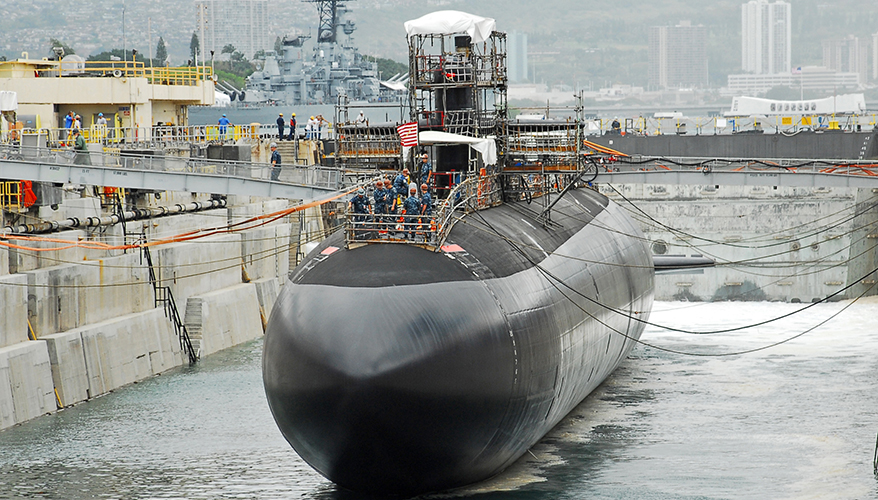 Navy photo
NATIONAL HARBOR, Maryland — As the Navy continues to prioritize readiness, sins of the past are presenting challenges for the future as the service attempts to revamp and rethink its maintenance and sustainment efforts, according to one senior Navy official.

"We tend to hyperfocus on get the flying saucer out the door, get it under budget, with all the capabilities, and then we'll let the fleet worry about how they're going to sustain it," said Rear Adm. Kenneth Epps, commander of Naval Supply Systems Command Weapon Systems Support.

Speaking at a panel on ship and submarine maintenance at the Navy League's Sea-Air-Space exposition Apr. 4, Epps said "that has worked for us for some time … until now. And we are living with the results of decisions made decades ago that are eating our lunch."

"We took some risk on sustainment," Epps said. "We said, 'We'll figure this out, or these parts that we built will last forever, so you'll never need to replace them.' And then we took the boats out and we broke them and now we have to replace them."
The Navy's on-time maintenance delivery percentage is 40 percent, said Vice Adm. William Galinis, commander of Naval Sea Systems Command, during the panel. That rate applies to private and public sector yards, he added. Private sector yards are running at 90 to 95 percent on getting material on site in time.
"I can't say we're doing the same thing on the on the public sector side," he said.

Epps said getting parts for submarines is difficult, and a "wicked hard problem to solve." The reason has to do with two types of materials: small and big. Small materials are the kind where the Navy can go out and contract to get the parts, Epps said.
But there's a larger narrative where every weapon system must be properly "big," he said. "When we go out and build a new aircraft, submarine, ship, there is a very complex ecosystem that supports not only getting the key performance parameters, but also the sustainment."

The number one challenge in the [original equipment manufacturing] world is obsolescence, Epps said.

"Not that they just stopped making them, but business is incentivized to go toward production, and to keep up with pace and demand," he said. "Oftentimes we'll run out of stuff, and we just kind of keep going … pulling parts, until we can't anymore." They'll go back to the manufacturer, and the part is no longer made, or the substitute doesn't exist, he said.

The key is in the acquisition process, he said. Primarily, it's a conversation about planning. Epps said the service needs to ensure the planning and the material ordering are married in a way that both can be successful.

Most other problems the Navy encounters, they can begin the cycle to correct the mistakes they've made — math problems they can solve, he said. "We cannot solve that problem when an OEM stops making something and their production line ends, and this boat is going to be operating for 30 more years. How do we do that? That is symbolic of the entire supply chain challenge that we live with right now."

Rear Adm. Eric Ver Hage, commander of Navy Regional Maintenance Center and director of surface ship maintenance, modernization and sustainment, said there is also a money piece. He said time recently spent on the Hill revealed "some frustration," mostly dealing with parts. When pressed on the matter, he said a congressman admitted to not properly funding "sparing accounts," or spare parts.

But it's not just a money problem, Epps said. The discussion needs to change — a dialogue he said started two years ago, and has already begun a "foundational shift" for sustainability and self-sufficiency.

Another hindrance to the Navy's maintenance and sustainment efforts is its antiquated shipyard infrastructure, in some cases dating back before World War II, said Rear Adm. Dean VanderLey, commander of Naval Facilities Engineering Systems and Chief of Naval Engineers.

The Navy's answer is the Shipyard Infrastructure Optimization Plan, or SIOP. The plan is a once-in-a-lifetime investment the Navy is making in its four public shipyards, VanderLey said. In many cases, the yards were built at a time when their mission was "very different" than the mission they're executing today, and as a result, the configuration and layout are "not great," he added.

The plan focuses on three areas: dry dock capability and capacity, addressing a recapitalization and modernization of the facilities and infrastructure and a recapitalization of the industrial equipment, VanderLey said.

The plan has involved industrial modeling work developing what VanderLey called "area development plans," or master plans, to ensure the shipyards aren't built back the same way. The service is "really looking at how we can build back the infrastructure in a way that maximizes the effectiveness and the efficiency of the maintenance that's going on there and really create a return on investment."

Shipyards need people, and Rear Adm. Scott Brown, deputy director of NAVSEA Industrial Operations, said they are at the center of it all. Listing goals in capacity, throughput and safety, Brown said his highest priority is the safety of their people.

Brown also acknowledged the hiring challenge currently facing the Navy and spoke to several initiatives in place to improve pay for artisans in the shipyards. One such effort is a promotion for expert mechanics, something that has never been done before, he said.

"You reach a certain journeyman level in the shipyards and historically you cap out," he said. "You've now given them a promotion ability … to become a master in their trade."

The Navy also needs to offer support to their people wholistically, said Ver Hage. "Are they financially healthy? Do they feel valued? Do they get the right medical care? Physical fitness, mental fitness?"

Making the maintenance cycle more livable for employees "is fundamentally about whole-person support," he said.

Overall, Ver Hage said he sees "real progress" in maintenance and sustainment from both industry and the Navy. "Not enough progress, but real progress. We're certainly pulling together and on a campaign to get better."
Topics: Shipbuilding, Navy News