SEA-AIR-SPACE NEWS: Navy's Force Design 2045 Plan Getting Underway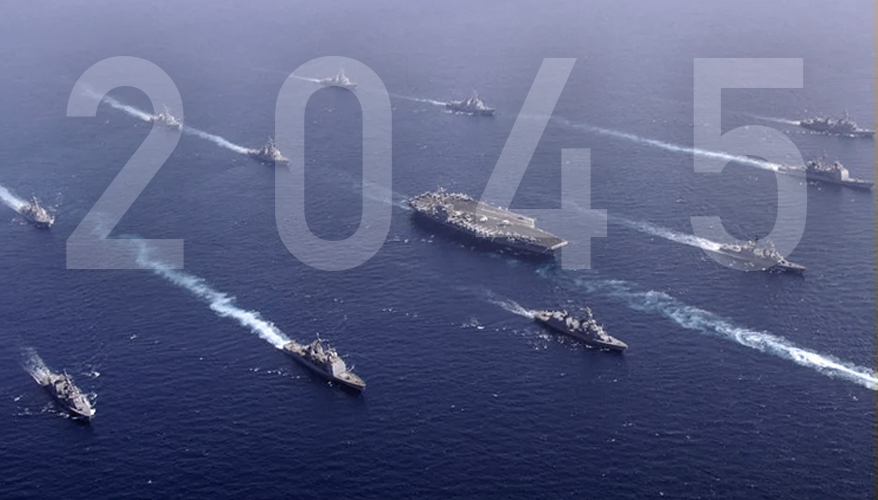 Navy photo
NATIONAL HARBOR, Maryland — Last August, the Navy started the planning process to design a Force Design 2045 document to identity future needs and reinvigorate the service's long-range and strategic planning processes, said a senior Navy officer Apr. 3.
Speaking during a panel at the Navy League's annual Sea-Air-Space exposition, Vice Adm. Jeff Hughes, deputy chief of naval operations for warfighting development, said that the planning process for 2045 is needed now because of the long timeframes for Navy platforms and systems that from design to fielding to service life can span up to seven decades.
He described the process as resembling a hurricane prediction chart, where "the models converge and you kind of get a track, but there's a big area of uncertainly the further away you get from your current position.
"And so, what we need to do is put ourselves 22 years out into the future, think about where we were 22 years ago," he said, adding that much has changed since 9/11.
"That's what we need to do. We need to get out there and then look back. And that's going to define some key decision points," he said. His team needs to "determine the bets that have no or least regrets — what are those things that we know are going to be necessary right down the center of the fairway for what the future force is going to look like and the way that we plan to operate it?"
The process needs to be iterative, continuous, enduring and ultimately trusted, he added. "And so, if we get the first three right, that's going to bring credibility to the work that we're doing.
"But really, the trust is going to come from a very strong analytic underpinning," he continued. "And my vision for this is that this process is going to be as well-known and established as what you would see for an annual [Program Objective Memorandum process]."
The idea is that each summer, the service would take the work into a capstone wargame event called the CNO Futures Game Series. "And then from there, we're going to drive this work into a number of areas. So, it'll go into the guidance for the annual POM cycle, 30-year shipbuilding plan, our force structure assessments, capability, evolution plans, our 30-year science-and-technology plan. It will help us determine the annual Navy education slate."
Finally, it will be the catalyst for the annual analytic master plan and campaign of learning, he said.
During an interview, Hughes elaborated on the process, saying the effort is in the early stages, although the goal is to produce an initial draft plan, or "version 1.0," this summer.
"We're really learning as we go," he said. "How do we characterize the future security environment? And that's so broad, we're really trying to focus it down on really what's the maritime operating environment."
Within that environment, the team is looking at the strategic and operational implications for the Navy's piece of the joint and coalition force, "so that we then look at those traditional missions that we perform, and then from there, that's where we kind of do this net assessment to then determine what it is that we need to do."
Part of the challenge is determining the up-front assumptions, he said. "And that's got to be something that we get to test through that analysis agenda. So, with as many steps forward as we take, I'm putting more things on the board to say, 'Okay, how do we get comfortable with assessing our assumption, and what's the method and tool or manner that we're going to do that?'"
"We're going to have to learn and just put more refinement in there," he said. "But as we as we probe the space, we're just learning more, we're asking better questions."
That can also inform current decisions and enable people "to look at the problems a little bit differently, maybe change the way we're operating, get that operator feedback in," he continued. "So, it's really kind of helping us not just land a product, but change the methodology, the mentality and getting after it."
Currently, there is a small core group of people in the service working full time on Force Design 2045. Beyond that, there are others — Echelon 1 Navy staff partners and fleet command staffs — contributing to the effort.
"And you need to get down to places like warfare development centers. That's where you're bringing just the expertise of the tacticians, those weapons and tactics, instructors, and all of the communities to kind of help us on this journey," he said.
The next ring out is the "community of interest," which includes "experts in strategy and concepts and then a little bit of industry," he said.
"We're not there yet because we haven't matured the work enough to get that far deep, but it's coming," he added. "And we've got to figure out what our engagement is going to look like as we build this. And that's another area where we're learning as we go."
Topics: Navy News