SEA-AIR-SPACE NEWS: Constellation-Class Frigate Program Includes 'Game-Changing' Sustainment Technology, Official Said (Updated)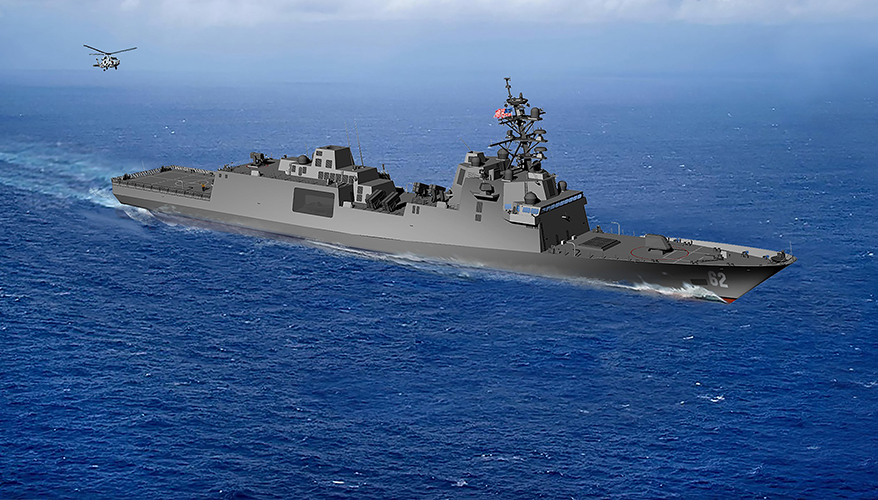 An artist's rendering of Constellation-class frigate
Navy concept
NATIONAL HARBOR, Maryland — The first Constellation-class frigate is under construction, and in a change from past acquisition programs, the Navy is already factoring in sustainment of the new ships, a service official said Apr. 4.
Prime contractor Fincantieri began construction on the USS Constellation last August at its facility in Marinette, Wisconsin, and the construction process involves several approaches to reduce risk and contain costs, said Capt. Kevin Smith, program manager for Constellation-class frigates.
For one, the Aegis-equipped ship will not be side launched at 70 percent completion like littoral combat ships. Instead, the Constellations will be built to at least 90 percent before transferring into the water via a ship lift, he said during a briefing at the Navy League's annual Sea-Air-Space exposition.
More construction out of the water is more efficient, provides better access to the ship, "and really takes hours out of the shipbuilding program," he said.
The hope is it will also inform Fincantieri and pay dividends in the construction of subsequent ships.
"We worked with Fincantieri and all their system of yards to do an advanced construction pilot before we started construction, for them to really exercise all of the capital improvements, all of their workflow processes, all of their instructions, all the way through the value stream," he said.
The Constellation class will also benefit from a new dedicated lab for Aegis testing and integration in Moorestown, New Jersey, he said. And a facility in Wallops Island, Virginia, will handle the SPY-6 radar integration.
"We have a virtual test environment that we'll be testing our frigate baseline to make sure that there's any integration issues with SPY-6 … with a combat system, we wring those out as early as possible before we go to sea and shoot a missile on trials," he said.
"This is a foundation of the program, where we actually have programs in our budget, opportunities to do early integration testing across the board," he said.
Another foundation of the Constellation-class program is the approach to sustainment, he said.
"How we do maintenance in the U.S. Navy today has been a challenge," he said. Typically, when a ship enters a maintenance availability, there are challenges in determining the health of the ship's systems, buying the needed materials and keeping the process on time.
"We're moving forward with Fincantieri and a group called DEI and working across all the [subcontractors], all the vendors that are supporting on [the] propulsion side, to have a mission-readiness sustainment system that will be installed on the frigate," he said.
In layman's terms, he said, it's like the operating system in a car "telling you the status of your engine, the status of all your components, and when you need to do maintenance and how you plan for that maintenance."
The Navy has developed modeling and simulation that takes in all the system attributes and liabilities and then pairs that with a reference mission. "So, if you're going to go on deployment — think of [it] as a car trip, I'm going cross country for a long, 2500-mile car trip, I want to make sure that my car is going to be in top working condition during that entire deployment — it will tell you what you need to do before you go," he said.
"And so that's game changing," he continued. "That I think will really be good for the rest of the U.S. Navy as we move forward in ship acquisition."
Smith said in an interview that the Navy has attempted to build in a sustainment technology on previous ship programs going back 20 years. For example, the DDG-1000, or Zumwalt-class destroyer, "there was a part of that program that actually tried to focus on this, and it was always too hard," he said.
"In ship maintenance, planning is hard … and understanding the exact status of your propulsion plan as far as health has always been a little bit of a challenge," he said. "Usually, you have engineers that you count on, sailors that really understand the condition of the plant, like any engineer, but now you have some more aids, and as far as the actual health of your engine, that will really be helpful."
The challenge to this point has been to manage all the signals and feed a database with the right algorithm. "And it's always been a challenge with how many signals you have across the entire propulsion system," he said.
"I say it's like a car, but you can think of the complexity of a propulsion system on a naval combatant, so now we have [the technology]," he added. "It's still going to be hard, but hard is authorized, and we're just going to go do it."
According to a Defense Department fact sheet, Constellation-class frigates are intended to conduct anti-air, anti-surface, anti-submarine, electromagnetic warfare and intelligence, surveillance and reconnaissance operations.
According to a March 2023 Congressional Research Service report on the Constellation-class program, the first four ships have been funded, and the Navy's 2024 budget request includes $2.2 billion for the procurement of the fifth and sixth ships in the program.
The CRS said that Congress funded the procurement of the first frigate at $1.3 billion, and the second through fourth vessels at an average cost of $1.1 billion.
According to the report, a 2020 analysis by the Congressional Budget Office "estimated that the first 10 [frigates] would cost 40 percent more to build than the Navy estimates."
Fincantieri is under a fixed-price incentive contract for the first 10 frigates and could be at risk to bear cost overruns, the CRS report stated.
Smith said that the Navy is expecting delivery of the USS Constellation in 2026.
Correction: an earlier version of this story said the Aegis lab was in Morristown, New Jersey. The lab is in Moorestown, New Jersey.
Topics: Shipbuilding