SEA-AIR-SPACE NEWS: Service Chiefs Emphasize Need to Invest in People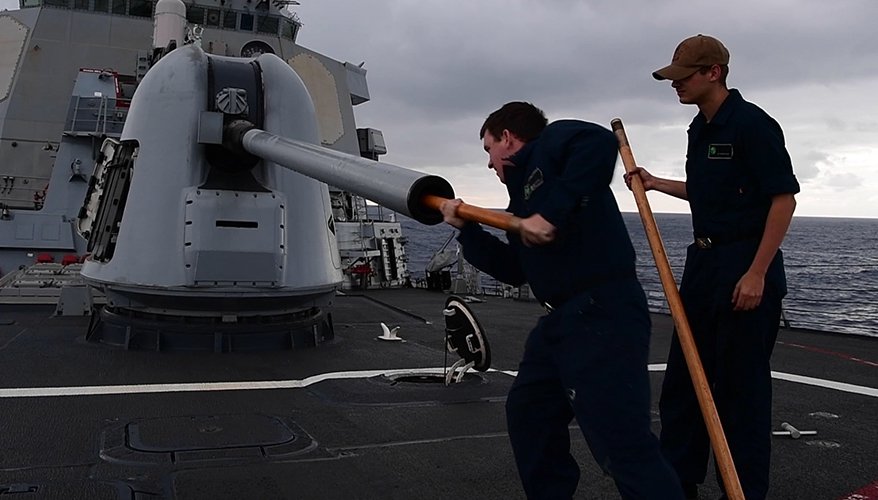 Navy photo
NATIONAL HARBOR, Maryland — While there are ongoing challenges with recapitalizing ships and aircraft and acquiring new platforms, the greater challenge is recruiting the right talent to operate and maintain America's fleets, service chiefs said Apr. 3.
Speaking at the Navy League's annual Sea-Air-Space exposition, heads of the Navy, Marine Corps, Coast Guard and Maritime Administration said they are generally satisfied with current budgeting and procurement for ships and aircraft, but they are in a war for talent, and if they and Congress do not invest in the facilities, training and support services, then the platforms are meaningless.
"It's great to be on budget for new assets — new ships and aircraft," said Adm. Linda Fagan, Commandant of the Coast Guard. "If we don't make the investments in the people, the aircraft won't operate, the ships [won't] be able to maneuver."
Similarly, Commandant of the Marine Corps Gen. David Berger said that the Corps' modernization effort is in good shape, if there is enough focus on people.
"I think for us and the Marine Corps, the focus has to be on people, because our force design modernization effort is not primarily about formations or how to organize units, the centerpiece for the Marine Corps' modernization program is the same place that the Marine Corps focus has always been which is our people," he said.
It's not that complicated, he continued. Marines need good homes, places to work out, childcare options, healthcare and facilities where they can work safely.
"All these are things that some people call quality of life, but for us, I think they're they are the centerpiece," he said. "We have to keep the focus on that for years. You can't take anything for granted."
Navy Rear Adm. Ann Phillips (Ret.), the Maritime Administrator, said the Merchant Marines are also short on personnel, and culture changes are needed to improve working conditions and career path opportunities for potential recruits.
"We are working to develop a strategy with the many stakeholders involved in this process," she said. "It's really a whole-of-government process to recruit, train and reduce barriers to joining."
Safety on the job is a key concern for recruits, she said. That includes the physical condition and safety of vessels and safety from sexual assault, which is an ongoing challenge for all the services.
Fagan said that one of the recruiting challenges for the Coast Guard is name recognition. Many young people are not aware of the service and its mission. The Coast Guard is adding recruiting centers, standing up a Junior Reserve Officer Training Corps program and focusing on marketing and awareness.
Chief of Naval Operations Adm. Mike Gilday said that transparency is critical for talent management. "What we're trying to do with the Navy … is to truly be much more transparent in terms of what's available. So that if it's a single sailor or one with a family, they play a much greater role, have much more leverage in deciding what they're going to do next and how they manage their own career."
Expanding on the definition of quality of life, Berger said that having the best trained Marines is critical to winning a fight.
"So, quality of life means the most realistic training we can provide," he said. "We have to modernize our training and education and bring that into today's date and not the way perhaps that we trained 30 years ago, which was great then, but we have better methods of training. We have to evolve."
That involves making training more flexible. "We all learn at different paces, and we have to match that we have to incentivize performance and training and education."
"We have to be able to link to the ships that are training off the East Coast with an exercise that's going on in the South China Sea with something unmanned that's happening in Fifth Fleet in Bahrain with some Marine unit that's flying F-35s in Twentynine Palms," he continued. "We have to tie all that together so that virtual, live constructive — all aspects of that are all woven together."
Gilday said the Navy is focused on getting away from "brick and mortar training" and embracing technology to get the right information in the hands of sailors and Marines.
"We are leveraging the technology from the gaming community in Orlando for a generation of games," he said. "That is the future we've got to be highly effective, and we're going to continue on that path."
Berger added that training needs to take place with partners and allies, and that the services have made progress in reducing classification barriers that prevent information sharing and joint operations.
Gilday noted that the war in Ukraine has added pressure to the effort to share classified information with partners. "I think that has caused us to really take stock in the framework that we have and what the potential is in terms" of sharing sensitive information with allies and partners.
Ukraine has reinforced the importance of focusing on people, Gilday said. Ukrainians have quickly learned and adapted technology on the battlefield.
"The fact that they are bringing technologists from the private sector to the frontlines is actually force-feeding new technology that you typically wouldn't get through our much more laborious [planning, programming, budgeting, and execution] process into the fight today," he said. "And so I think, as everybody here has foot stomped, that people remain our asymmetric advantage, and that's where the priority investment is."
Topics: Navy News