COMMENTARY DEFENSE DEPARTMENT
Investing in People Is the Real Key to Integrated Deterrence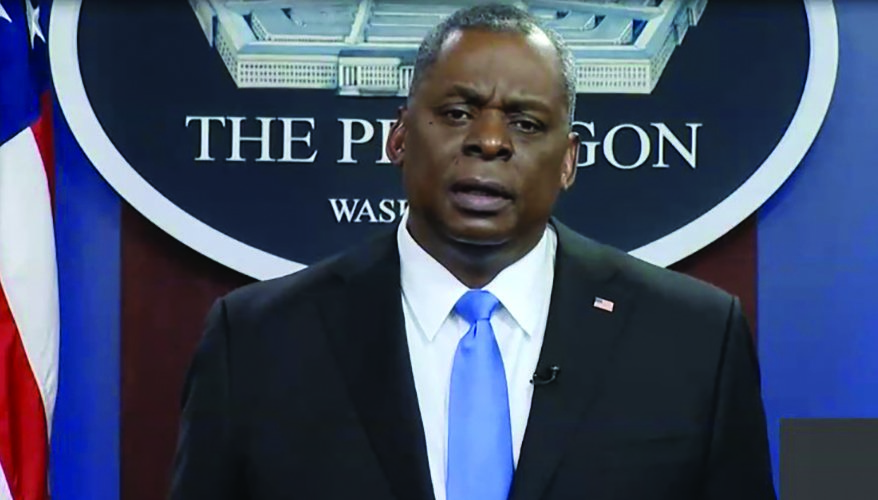 Lloyd Austin
Defense Dept. photo
The United States' capacity to conduct uncontested operations anywhere in the world has provided it a unique advantage for more than a century. Today however, the United States is adapting to a world in which near-peer competitors are increasingly able to challenge its interests and contest its operations.
In November, the Institute for Defense and Business in Chapel Hill, North Carolina, cohosted a panel alongside the National Defense Industrial Association on the topic of contested logistics. It was a professionally diverse panel, representative of the nation's approach to integrated deterrence and consisting of individuals from both defense and business.
Alan Estevez, the Department of Commerce undersecretary for industry and security, and Marine Corps Lt. Gen. Steve Sklenka, deputy commander of Indo-Pacific Command, both spoke about the logistics challenges facing the United States and the need for leaders from both the military and industry to think and act faster and integrate more than in the past to succeed in today's contested security environment.
The nation has entered an era never witnessed in the history of modern warfare. This rings true across the Defense Department, as discussed in the National Defense Strategy released in October. The document offers that "the scope and scale of threats to the homeland have fundamentally changed." Not only has the magnitude of potential conflict grown, but the battlespace itself has been expanded through advancements in technology, with more powerful, lethal and autonomous weapons systems employed across multiple domains, including cyber and space.
These advancements have made conventional operations more challenging, as they have increased our competitors' ability to operate in the "gray zone." China sits comfortably in this space and challenges America's ability to determine what actions constitute crossing a "red line" and require a military response.
This obligates the United States to closely examine its strategic decision-making process together with its tool kit of potential responses. This also poses the related question, is the nation adequately equipped to integrate across its government, or as the National Security Strategy defines it, "leverage the full array of American advantages, from diplomacy, intelligence, and economic tools to security assistance and force posture decisions"?
Many would argue that, as a whole, the United States is on the correct path to achieving an effective and necessary level of integrated deterrence.
In his forward of the strategy, Secretary of Defense Lloyd Austin makes its principal objective to "develop, combine and coordinate our strengths to maximum effect." In fact, the central focus of the document is the concept of integrated deterrence.
I would argue, however, that the collective investment in the education and professional development of the Defense Department and the defense industrial workforce to execute this strategy is currently lacking. The words on paper will ring hollow without accompanying deliberate and measurable implementation actions.
In his 2021 "Message to the Force," Austin named his top three priorities as defense, people and teamwork. It's worth noting that he chose to include "people" in this list, and the guidance has clearly trickled down as each of his service chiefs has written and spoken about the importance of talent management and investing in the development of their personnel.
The National Security Strategy and National Defense Strategy each depict a future where conflict will be faster, wider-reaching and more complex than ever before. It is imperative that the services better develop the people who will be doing the innovating, building, sustaining and leading. Top-down guidance and intent must translate into real investments and intentional efforts to advance the education and development of these leaders.
This includes the Defense Department's civilian workforce, which has been historically overlooked and underserved in terms of educational opportunities. We must change this element of our preparations if we are truly going to deliver on the strategic guidance and priorities for the Joint Force. To quote Austin once again, "Business as usual at the department is not acceptable."
Professional military education will continue to be a critical component of our training, education and development effort, but it alone is inadequate to address the people investment requirement. Individual service and joint schools and universities are simply not designed to support the required throughput, nor do they provide the diversity of class composition necessary for the cross pollination of ideas, perspectives and experiences necessary to help generate innovative new processes and ways of doing business.
The National Defense Strategy describes the security environment as "rapidly evolving." The nation will need critical thinkers able to seamlessly unpack complex challenges presented by near-peer competitors like China and Russia while concurrently addressing climate change, the evolution and use of artificial intelligence and data and chemical and biological warfare.
To tackle this massive challenge, the department needs its people to not only better understand the capabilities and limitations of all major players in the Joint Force, but also be able to plan and execute their employment in a fast-paced, rapidly changing and uncertain environment.
This imperative does not belong exclusively with the Pentagon. The intersection between the Defense Department and the private sector has also never been so important. Service members must further close the gap with industry partners to leverage their proven best practices that have applicability to military business. A simple look at the ramifications for U.S. equipment stockpiles as the country continues to support Ukraine demonstrates the need for innovative thinking.
This public-private partnership and collaboration requires an intentional bridging of sectors, facilitated in the education space to shed existing perceptions and stereotypes. This is especially important when reflecting on Austin's focus areas that he presented to the Defense Innovation Board this past fall, which was recounted on the Defense Department website. He listed four areas of focus, including an innovative workforce and talent. The readout further describes his emphasis on the "importance of working in close partnership with America's private sector to build enduring advantages for the warfighter."
In speaking with the defense acquisition workforce and reflecting on his own career to date, Assistant Secretary of Defense for Sustainment Christopher Lowman urged everyone to be a "lifelong learner," emphasizing that they must "strive to understand the current state of the world." His comments align with the central topic of this article and the critical value of developing people. Educating those talented people who comprise the department's most important resource and encouraging them, like Lowman encouraged the defense acquisition workforce, to "take a risk" will allow them to discover new areas for collaboration and make them further capable of aligning efforts to achieve success.
While much remains to be done to make full use of what Austin describes as the "department's most-critical asset," there are reasons for optimism. For example, the Army's Civilian Implementation Plan lays out a strategy to help ensure the effective utilization of civilian personnel across the service. This plan, together with their recent creation of the Army Civilian Career Management Activity, focuses on developing a government civilian workforce that is agile, flexible and capable of responding to the evolving needs of the service.
The Defense Logistics Agency has implemented several initiatives to invest in its workforce. These include training and development, leadership and mentoring programs. The Navy's Naval Air Systems Command fully embraced the Institute for Defense and Business' Aviation Industrial Readiness Program, which is a comprehensive program aimed at ensuring the readiness of the organic industrial base and the Navy's acquisition and sustainment workforce. This program provides training, development and other resources to the Navy's professionals, with the goal of ensuring that they have the skills and knowledge necessary to effectively manage complex programs to include exposure to private industry best practices.
Going forward, it's vitally important that the services, defense agencies and other major organizations who employ large numbers of people develop programs in support of continuing education and professional development. While intentional words from the top leaders serve a necessary purpose, without dedicated annual resourcing they are not much more than a vision statement.
Continuing education and professional development programs should be an inherent part of an organization's program objective memorandum. Education and professional development cannot continue to be a bill payer for other priorities if we are truly serious about it. It is a leader's business and responsibility to establish a culture of innovation, collaboration and experimentation within their commands by driving home the need for broadening and creative thinking.
It's this mentality that is required to win in a contested environment by mitigating the current and future challenges facing the United States and its allies and partners.
The education and development of the Defense Department's people called for by Austin in the National Defense Strategy will not occur without investment. The old idiom "put your money where your mouth is" has never been more important to national security.

Retired Marine Corps Lt. Gen. Mark Faulkner is president of the Institute for Defense and Business, a nonprofit education and customized solutions institute based in North Carolina. The views expressed here are strictly his own. The institute delivers professional education programs to clients across many different types of organizations including private industry, government agencies, military, nongovernmental and international organizations.
Topics: Defense Department