SEA-AIR-SPACE NEWS: Consistent, Combined Presence in Indo-Pacific Needed to Deter China, Officials Say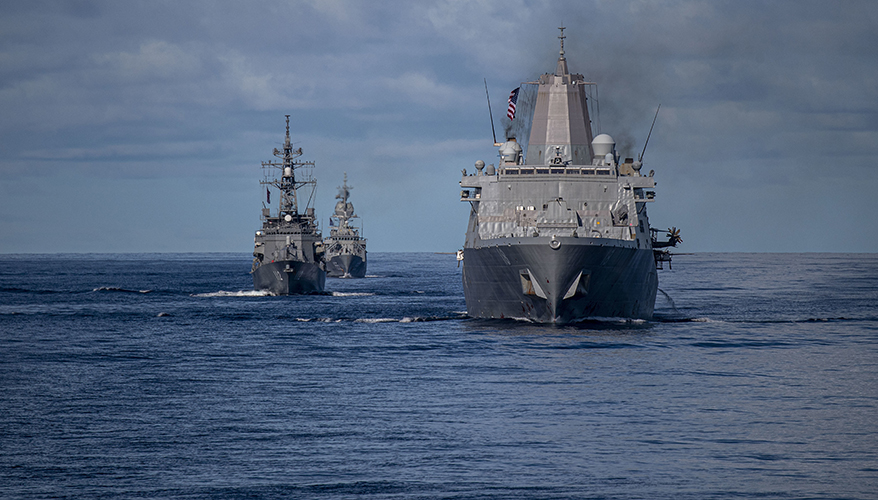 Navy photo
NATIONAL HARBOR, Maryland — The United States' sea services are looking to increase both intra-service and partner collaboration and capability in the Indo-Pacific to prevent China from dominating the region, officials said Apr. 3.

Half of the world's fishing fleet operates in the South China Sea, and Chinese maritime forces are subjecting civilian fishermen in the region to a "campaign of intimidation and harassment," said Hunter Stires, a non-resident fellow at the Center for Maritime Security.

"Beijing's strategic objective is clear: rather than seek to undo the freedom of the sea by war, China is trying to circumvent us in the gray zone [and] cumulatively and coercively impose its will on the civilians who dwell in the places that Beijing wishes to make its own," Stires said during a panel at the Navy League's annual Sea-Air-Space exposition. "This type of strategy has a name: it's called insurgency."

The United States' maritime forces, from the Navy to the Marine Corps to the Coast Guard, must maintain a consistent presence in the Indo-Pacific to offer effective deterrence to this malign activity, said Dr. James Holmes, a professor in the strategy and policy department at the Naval War College.

"Come and go operations, such as [freedom of navigation operations] and military exercises, are helpful in many ways, but they apply a feeble deterrent at best in the gray zone," Holmes said. "Coming and going is not enough. You have to go and stay. … Controlling something is the goal of military strategy in wartime and peacetime, and control is how you win."

The sea services should "experiment with how to harness, deploy and combine maritime forces along the geography for strategic and political gain," he said.

The Coast Guard specifically is expanding its operational presence in the Indo-Pacific, said the service's Pacific Area Commander Vice Adm. Andrew Tiongson. Along with developing partnerships with countries and agencies in the Indo-Pacific, the Coast Guard is increasing National Security Cutter deployments in 2023 in support of Seventh Fleet headquartered in Japan, pushing fast response cutters further out from their home port in Hawaii to Guam and Australia and will be receiving an Indo-Pacific Support Cutter in fiscal year 2024, he said.

"That's a big deal for us," Tiongson said of the Indo-Pacific Support Cutter. "That's a 270-foot cutter, it will go around throughout the region focused on building partner capacity. And it will be in the region always," he said, adding that the Coast Guard has been and always will be in the region.

When countering insurgency efforts such as China's in the Indo-Pacific, "the first thing you need is actionable intelligence," said Brig. Gen. Simon Doran, the director of strategy and plans at Headquarters Marine Corps.

The Marines have "organic capabilities to sense and make sense," he said. "They can see what's out there. They can help build the picture for the fleet commander of the maritime domain awareness."

Along with sensing capabilities, the Marine Corps could deploy "expeditionary vessels on expeditionary bases that are forward next to our allies and partners. That again allows us the staying power, because virtual presence is actual absence, and so you have to be there," Doran said.

In addition to working alongside regional allies and partners, all the sea services "have to be able to operate together at every level, in many, many locations" to provide a strong presence and demonstrate the capability of the nation's combined maritime force, said Vice Adm. Eugene Black, the deputy chief of Naval Operations for operations, plans and strategy. "When you bring this kind of sea service capability together, it attracts partners of every capability level."

Tiongson echoed Black's remarks. "If you want to keep that maritime domain safe, secure … connected, resilient and open, it does require that unity of effort," he said.
Topics: Navy News