Partnership, Presence Key to U.S. Strategy In the Arctic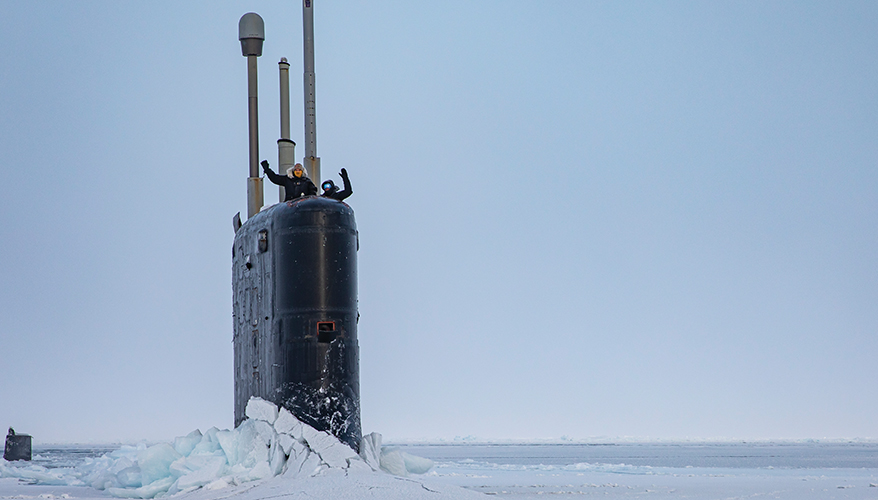 Navy photo
NATIONAL HARBOR, Maryland
— With climate change opening once impenetrable Arctic sea lanes, great power competition is heading north, leading the United States and its allies to invest more in partnerships and presence in the region to maintain free and open seas.
According to the White House's National Strategy for the Arctic Region, released in October 2022, climate change in the Arctic has thawed permafrost and degraded ice sheets. The Arctic Council affirmed in 2021 that the Arctic is warming three times faster than the rest of the world.
A more accessible Arctic means more opportunities — and more challenges.
The Arctic is a "key area to operate" in, and China and Russia are militarizing it "because it's so important for world trade," said Vice Adm. William Houston, commander of naval submarine forces, Submarine Force Atlantic and Allied Submarine Command.
As the Northern Sea Route opens, it will be the shortest passage for many international trade routes, he added during a panel discussion at the Navy League's recent Sea-Air-Space exposition.
For the Coast Guard, the Arctic region is one of strategic significance.
"It's an area of increasing activity … [and] increased global competition, whether it's resources, whether it's for access, whether it's for presence," said Adm. Steven Poulin, vice commandant of the Coast Guard.
Both the Navy and Coast Guard agree — presence is paramount.
"It's about protecting America's sovereignty and sovereign rights," Poulin said. "And that's what we're committed to do at the Coast Guard. Presence matters."
One way the Coast Guard intends to maintain presence is by acquiring new Polar Security Cutters, Poulin added. Designed for open-water icebreaking with reinforced hulls and specially angled bows, the new heavy icebreakers will be the first commissioned since the 1970s.
The Coast Guard's Polar Security Cutter program seeks to acquire three new heavy polar ice breakers, according to the Congressional Research Service report, "Coast Guard Polar Security Cutter (Polar Icebreaker) Program: Background and Issues for Congress," published in March.
The Coast Guard and Navy awarded a contract for the Polar Security Cutter to VT Halter Marine Inc., out of Pascagoula, Mississippi, for detail design and construction in April 2019. The Navy and Coast Guard estimated in 2020 the total procurement costs of the three Polar Security Cutters in then-year dollars at just over $1 billion for the first ship, $794 million for the second, and $841 million for the third, for a combined estimated cost of about $2.7 billion, the CRS report stated.
The Coast Guard originally estimated delivery in 2024, according to the CRS report. However, a senior Coast Guard official testified to Congress in December that the program is behind schedule, and initial delivery could slide into fiscal year 2027.
"It's a complex ship," Poulin said. He called the thickness of the steel a "profound" difference from the materials of the 1970s, creating challenges for its development and construction and requiring new techniques and retooling of shipyards.
Design details aren't as far along as the Coast Guard would have hoped, but it's a "really significant challenge for them that they're excited about in a positive way, and my hope is that we'll start working on prototypes here very soon," he added.
The Coast Guard's 2024 budget request includes $170 million to continue the procurement process for the polar cutters, plus $125 million to purchase an "existing commercially available polar icebreaker that would be modified to become a Coast Guard polar icebreaker" to bridge the capability gap until the new cutters deploy, according to the CRS report.
Below the ice, the Navy has operated submarines in the Arctic since 1947, but maintaining presence and enhancing operations are more critical than ever, Houston said.
Improved technology has ensured the Navy can conduct exercises — such as ICEX, which is designed to evaluate operational capabilities in the Arctic region — by predicting cracks in the ice.
ICEX 2022 involved fast attack submarines and the creation of a temporary encampment on an ice sheet, according to a Navy news article.
Camps are typically threatened by fissures and cracks in the ice, Houston said. "We have a new technology that allowed us to predict [where] those ice cracks were going to be. And instead of having to stop our ICEX, we were able to safely continue it. That type of technology is absolutely critical."
Meteorologists used satellite readings to direct Arctic Submarine Laboratory scout teams to ice 10 feet in thickness and worked with ASL scientists to deploy sensors at the camp to track early warning signs of cracking ice, according to a Navy release. Model data can tell analysts, based on weather, drift and other indicators, the risk level for ice fracturing in a given area.
While temporary camps are needed for exercises, permanent infrastructure is required for the Coast Guard and the Navy to maintain presence in the Arctic. Poulin said the Coast Guard is "trying to invest to support coastline assets," because a sustained presence is "hard with a lack of infrastructure."
Iris Ferguson, deputy assistant secretary of defense for Arctic and global resilience, said, "Assuring that we have the right mix of architecture [in the Arctic] is critical."
She called domain awareness a focus for the Pentagon. "We need to figure out what we need out there," she said.
The punishing conditions of the Arctic require a different set of tools, and operating in the region means understanding what that means. Ferguson said her office is driving "hard conversations" on capability development and building Arctic literacy as a "profound way" of helping troops understand the changing needs in the region.
Understanding the complex meteorological piece of the puzzle is "really important," Ferguson said. "Climate change in the region is happening faster than anywhere else in the world. It's pretty profound understanding what that means for the environment and operating environments."
The reality is, the Arctic doesn't have the same weather sensors as the Lower 48, she said. "We're really taking a look at what sort of meteorological needs we might have in the region as well."
Requirements can differ drastically across the Arctic depending on what part of the region forces are operating in, she said. Canada is going to thaw much less quickly than the Northern Sea Route, which has "big" implications for operational ability. One region might have troops periodically removing their boots to check socks for moisture, while another would strictly forbid it at the risk of frostbite.
Understanding geographical distinctions and what's required is "paramount as we look at the future," she said. The Defense Department recently announced they are working on rewriting the Arctic Strategy, last updated in 2019, Ferguson said. Part of the new document's focus will look closely at understanding the implications of climate change and capabilities needed for domain awareness, she added.
"There's a real danger in operating out there," said Vice Adm. Angus Topshee, commander of the Royal Canadian Navy. "Some of the passages you go down may not have the depth of water that you're expecting, and ships run aground, which is a particularly challenging thing so far from help."
Communication is a pervasive challenge in the Arctic, but also imperative.
"It's a very dangerous environment. If you can't communicate … you can get yourself in a lot of trouble," Houston said. From a submarine standpoint, solidity creates difficulties operating under the ice, with challenges from noise to how sonar systems operate, he said.
Ferguson called the communication challenge a "perennial issue" across every single service's Arctic strategy. She said the department is working with the private sector to take advantage of low-Earth orbit technology to bring widespread communications to the Arctic.
The United States is partnering with Norway to host a payload that will provide strategic communications capabilities and cooperating with Canada on over-the-horizon radars, she said.
Working with allies is a crucial piece of the Arctic strategy, which relies on partnerships with Canada, Norway, Sweden, Finland and Denmark to enhance understanding of the region, share resources and participate in joint training exercises.
"We understand we can't do this alone," Poulin said. "We need partners and allies."
Houston noted that ICEX involved more than nine different partner nations, "so being able to communicate and support each other is absolutely critical. It's where everybody brings something to the game."
Joint exercises also allow partner nations to show and learn each other's capabilities and build experience. Recurring exercises extend to the North Atlantic and other areas such as Iceland, where the Coast Guard brought its Coast Guard cutter Eagle in 2021. Poulin said the trip provided a "great foundation for us to talk about mutual interests of concern and share ideas."
A NATO anti-submarine warfare exercise called Dynamic Mongoose most recently gathered nine NATO nations in the North Atlantic in June 2022, and included three submarines, 11 surface ships and 15 maritime patrol aircraft. Participating nations included Canada, Denmark, France, Germany, the Netherlands, Portugal, the United Kingdom and the United States.
Partnerships with Arctic nations give the United States the ability to operate and resupply on the scene as maritime nations, Houston said. "It's very easy for us to operate together and see our platforms all meeting a NATO standard that allows us that interoperability with our comm systems, our weapon systems and we involve each other in major NATO exercises."
Houston called the exercises "critical to showing and protecting that world order that we all have benefited from."
Poulin added, "We want to collaborate with anybody who believes that the Arctic should be free, open, stable, and an area where there is high safety, security and stability."
Topics: Maritime Security, Coast Guard, Navy, Internation Cooperation