ALGORITHMIC WARFARE ELECTRONICS
Microelectronics Funding Surge Shows Onshoring Progress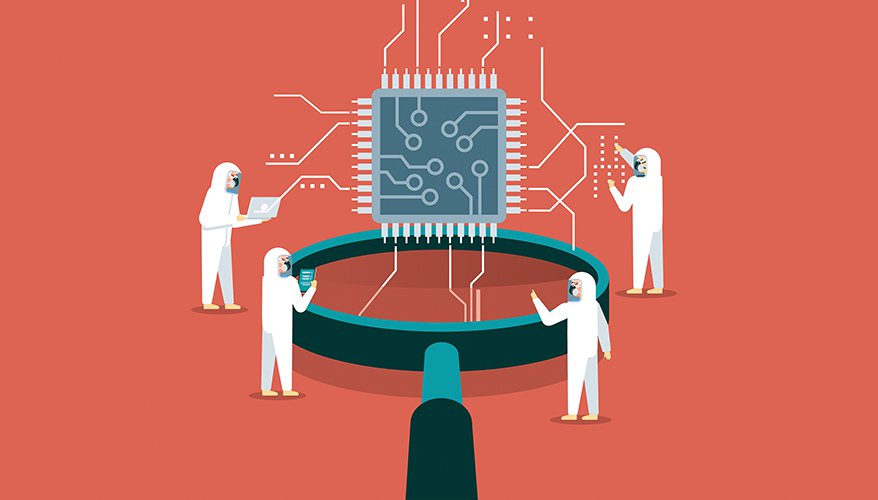 iStock illustration
A recent surge in microelectronics funding from the Defense Department includes a hefty sum directed to dual-use technology, expanding a pool of opportunity for both the department and its suppliers, a recent report said.
The report, "Government CHIPS On The Table: How Higher DoD Microelectronics Funding Is Here to Stay," recently published by McKinsey & Company, noted that the department's funding for dual-use technology research in 2023 jumped to $1.1 billion, more than double the $531 million in 2022.
Government investment in microelectronics is nothing new. The CHIPS Act, signed into law in August 2022, directed $280 billion over 10 years to scientific research and development, semiconductor manufacturing and chip production, among other investment areas.
Dale Swartz, a partner at McKinsey & Company and co-author of the report, said the percentage of semiconductor production unique to the defense world is "relatively small," with most now being dual-use, meaning the semiconductors can be utilized by the defense and commercial sectors.
Historically, the Defense Department drove much of the demand for semiconductors, dating back to the Apollo program, Swartz said.
"Silicon Valley was actually built on the back of … the incredibly advanced needs" generated by NASA and the Minuteman intercontinental ballistic missile, he said.
Not so much anymore. While semiconductors may power precision-guided munitions, artificial intelligence and the most advanced satellites and radio communications in the world, they also receive images and power radio waves in your smartphone.
"Anything that has any level of electronics in it in some way fundamentally [uses] semiconductors," Swartz said. "Some of the most advanced chips in the world are within the iPhone."
The commercial rise of the semiconductor has incentivized the Defense Department to invest in dual-use technology and the suppliers that make up its ecosystem.
The idea of dual-use is "that you can basically pull a certain chip off the line, tailor it in some way," and plug it in to any number of end markets, Swartz said. Many of the chips are "fairly basic in some ways," and can serve military or commercial needs, he added.
So why does the Defense Department care about tech that can also be used by the commercial sector? Because it gives the department more opportunity, said Christian Rodriguez, an associate partner at the firm and co-author of the report.
Designing and manufacturing microelectronics is expensive, and having access to a broader pool is an opportunity to reduce cost and reduce risk for suppliers, he said. Less military-specific technology reduces supply chain risk and provides more sources of innovation.
The widened pool is part of a complex ecosystem that Rodriguez said comprises three cohorts: chip makers; defense industry production and packaging capabilities; and commercial foundries designing, producing or packaging chips for both dual-use and military requirements.
Foundries, in many cases, are truly just a contract manufacturer of semiconductors, Swartz explained. Another cog in the wheel is fabless players: companies that don't have a fabrication facility, but do their own research and development and design. Integrated device manufacturers can do both.
The complexity of the ecosystem is a blessing and a curse, he added. Its reliance on multiple sources creates opportunities in innovation and partnerships between defense and commercial sectors, yet the overlap inevitably creates risk.
From the defense perspective, the term "trusted" is "probably as important as cyber, even if it's not quite as provocative," Rodriguez said. Trusted microelectronics is a "really important national security issue," he said.
Some $670 million of the budget's $1.1 billion for dual-use appropriations is carved out for trusted microelectronics, the report stated. The goal is to ensure that the Defense Department can securely access state-of-the-art commercial microelectronics through partnerships and domestic commercial foundries.
"Those are semiconductors that we have to be able to trust, because there's always a chance that somebody did something that we don't like to them," Rodriguez said.
One "hugely important" component of supply chain security is the packaging process, which comes once the chip is off the production line with its full suite of capabilities, but needing a package around it to be moved, he said.
"And that's often provided on a secondary production line by a third party that does that work as part of this ecosystem of design, fabricate and ultimately package," he said.
Rodriguez said much of the investment taking place is in secure local packaging, where work can be done in the United States with presumably trusted employees and better visibility into the process.
The need for trusted technology has positioned companies to potentially bring capability for semiconductor production and packaging on shore, Rodriguez said. The department has allocated about $560 million to custom and dual-use packaging and integration designed to foster a viable and domestic alternative to existing packaging technologies, the report stated.
Ultimately, the funding boost indicates "the dollars were actually behaving in the way that the policy and government intent is driving," said Rodriguez — which he is "really happy to see."
"That's exciting," he said. "It creates opportunity for industry, and it's an important lens for some of these titans of the semiconductor industry to think about how to partner with the U.S. government on delivering secure semiconductor supply chains."
Topics: Electronics, Defense Department, Supply Chain