BREAKING: Commercial Tanker Refuels Navy Poseidon Aircraft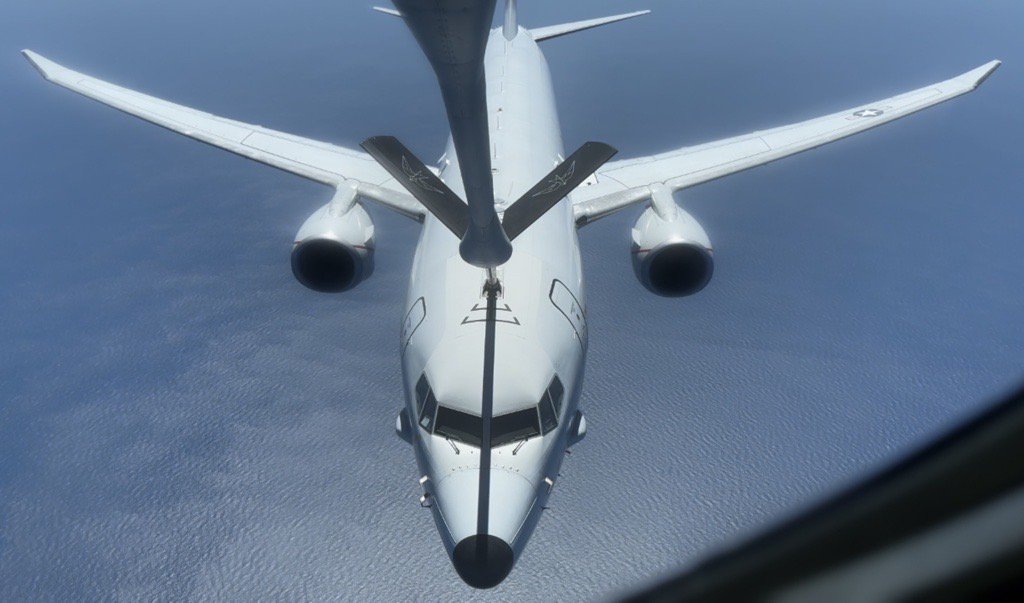 In what is being touted as a first, a commercial tanker operated by a contractor — rather than the military — has refueled two U.S. Navy aircraft.
A KC-135R tanker operated by Metrea Strategic Mobility based in in Temecula, California, performed what the company said was the first aerial refueling of a receiver by a commercial tanker, according to a company press release.

The historic refueling took place earlier in April during a training exercise off the coast of Florida, in which two P-8 Poseidon aircraft were refueled over a period of four hours, the statement said. Metrea Strategic Mobility owns and operates a fleet of KC-135R aircraft.

"This is a major milestone in the 100-year history of air-to-air refueling. A commercial tanker has never done this before," said Jon Thomas, head of Metrea's Air and Space Group. "Teamwork with the U.S. Navy, NAVAIR, and the P-8 unit led to this success, which is a testament to the significant value commercial tankers present to augment national military tanker fleets."

Aerial refueling, also known as air-to-air refueling, is the process of transferring fuel from one airborne aircraft to another.

The process is made possible by a flying boom — a rigid fuel pipe flexibly joined between the tanker and the receiver. The tanker flies ahead at an elevated position with the receiving aircraft trailing behind and below, according to a Defense Department article. A boom operator inside the tanker is responsible for connecting the flying boom to the receiving aircraft.

The KC-135R aircraft are equipped with two wing-mounted multi-point refueling system pods, which facilitate refueling with probe equipped Navy and Marine Corps aircraft, according to a Metrea fact sheet. They are also equipped with an air refueling boom to refuel receptable equipped receivers such as the Navy's P-8 and U.S. Air Force aircraft.
The announcement comes as the Air Force and contractor Boeing have struggled to fully field the KC-46 tanker due to problems with its remote vision system. A January 2022 Government Accountability Office report: "KC-46 Tanker: Air Force Needs to Mature Technologies in New Aerial Refueling Design," said the service is studying the use of contracted air refueling to make up for potential shortages in capacity as the KC-46 program faces further delays.
Topics: Air Power