ROBOTICS AND AUTONOMOUS SYSTEMS
Company Unveils Unmanned VTOL System for High Seas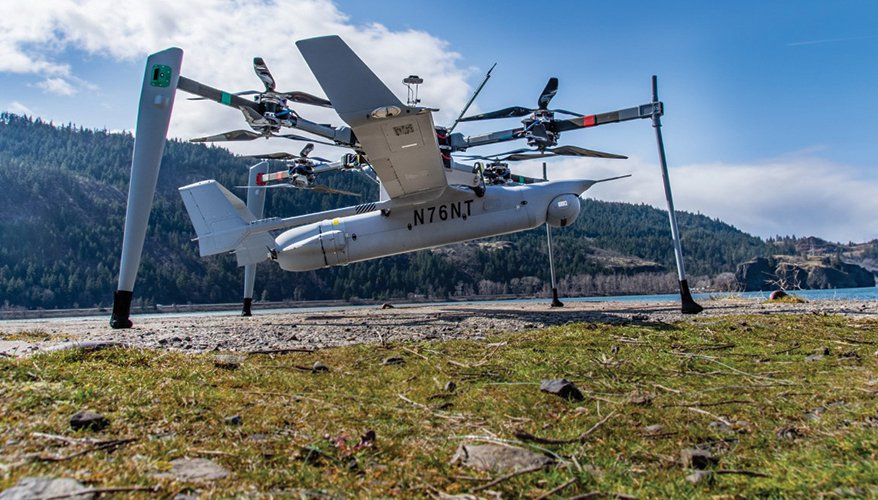 Insitu photo
ARLINGTON, Virginia — Boeing subsidiary Insitu announced a new vertical take-off and landing version of its existing Integrator unmanned aircraft system, which could prove useful to Navy sailors operating in rough waters.
The company unveiled the system at the Navy League's Sea-Air-Space exposition in April. It consists of two parts: Insitu's Integrator fixed-wing air vehicle and the Flying Launch and Recovery System octocopter, or FLARES, which lifts the Integrator vertically into the air, serving as a "pneumatic catapult" and getting the Integrator "up to flight speed quite rapidly," said Justin Pearce, Insitu's vice president of engineering.
When the Integrator returns from its mission, FLARES once again takes to the sky, deploying a recovery rope to catch and retrieve the Integrator.
When recovering a vehicle, "you want to be as safe as possible in the smallest space as possible," Pearce said in an interview. "There's no major lifting surfaces of the VTOL subsystem, so FLARES doesn't have wings. So, it's very stable in gust conditions and dynamic ship decks," removing any effects of ship motion and allowing the Integrator to be recovered even during "high sea states."
The Integrator fixed-wing aircraft offers 16 hours of endurance while carrying a 40-pound payload, he said. The aircraft has a "center-of-gravity bay" that "allows customers to readily integrate their own payloads," giving the system flexibility to perform a variety of missions, he said.
Insitu demonstrated the Integrator VTOL system's capability to the Navy during a mission demonstration on the USS Paul Hamilton last July.
"When we look at what the Navy is trying to do with the National Defense Strategy and pivot to the Pacific, we believe that payload and endurance and range [are] going to be important," Pearce said.
And while the system offers the Navy "enhanced capability … in terms of what they need to operate safely aboard ships," Integrator VTOL could also perform land-based operations, he said.
"We expect there's kind of two customers broadly that would want this," Pearce said. "There's a new customer who just wants Integrator VTOL, and we'll provide them a turnkey solution that gives them … best-in-class endurance and payload with the VTOL," and then there's current Integrator customers that might want a "more expeditionary launch and recovery subsystem by adding VTOL."
"We're talking to all of our current Integrator customers, about, hey, does this make sense for you?" he said.
Topics: Robotics