GOVERNMENT CONTRACTING INSIGHTS GLOBAL DEFENSE MARKET
U.S. Foreign Military Sales Bounce Back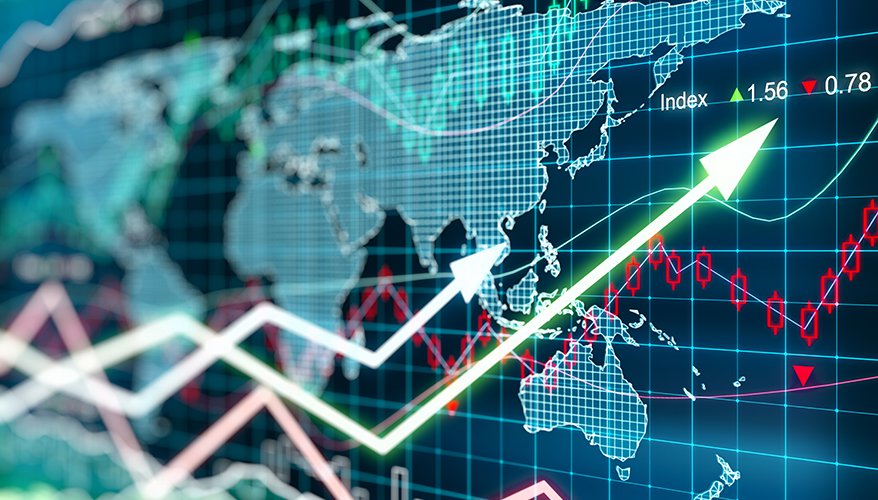 iStock illustration
In January, the Defense Security Cooperation Agency announced the U.S. arms transfer figures for fiscal year 2022, showing that U.S. defense sales to foreign militaries bounced back after two years of decline. Arms transfers through the Foreign Military Sales program increased year-over-year by 49 percent up to $51.9 billion, and Direct Commercial Sales transactions increased by the same percentage up to $153.7 billion.
As experienced industry participants know, FMS and DCS are alternative legal frameworks for the sale of U.S. defense materiel or services to foreign governments. The core distinction between these frameworks is the role of the U.S. government. In FMS transactions, the U.S. government is a contractual party acting as an intermediary between the contractor and the foreign government. In contrast, DCS transactions are directly between the contractor and the foreign government.
These enormous single-year jumps in both FMS and DCS arms transfers reverse declining sales during the two preceding fiscal years, including a precipitous decline in 2021, and arms transfers have now returned to nearly match 2019 levels. Unsurprisingly, Russia's unprovoked invasion of Ukraine was a major driver, as Ukraine's FMS transactions increased more than fivefold, and several European countries near Russia significantly increased their FMS purchases, as seen in the table.
In total, these six countries accounted for $24.7 billion in 2022, after accounting for only $635 million in FMS transfers in 2021. Naturally, some of the arms transfers contributing to these totals were long planned and unrelated to recent geopolitical events, but these significant increases across several countries suggest that the invasion of Ukraine had a material impact on the FMS program, and this is a trend that looks likely to continue through 2023.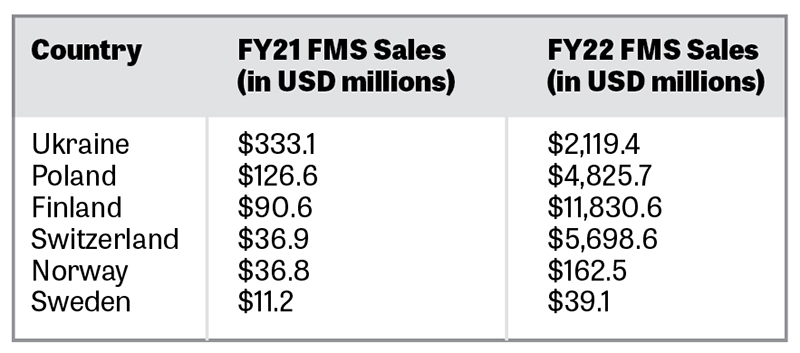 The increased demand from these six countries helped offset predictable declines elsewhere. At this time last year, we anticipated sales declines for certain countries in 2022. For example, the 2021 figures included approximately $1.26 billion in sales to Afghanistan, an amount that dropped to zero in 2022 given the regime change. We also anticipated regression in sales to France and Germany given high-value nonrecurring transactions in 2021 for France's naval carrier program and Germany's anti-submarine warfare program. Indeed, sales to France dropped from $1.5 billion to $665 million, and sales to Germany dropped from $1.1 billion to $440 million.
On the other hand, we predicted that 2022 would see an increase in sales to Australia because of the United States' commitment to the Australia-United Kingdom-United States, or AUKUS, enhanced security partnership. As it turns out, 2022 was a banner year for security cooperation between the United States and Australia, and FMS sales to Australia increased more than sixfold, from $937 million in 2021 to $6.67 billion in 2022. This increase was driven in large part by major defense systems sales, including sales of CJ-130J Super Hercules military transport aircraft, UH-60M Black Hawk helicopters and M142 High-Mobility Artillery Rocket Systems.
In addition to arms transfers, DSCA's announcement highlighted its efforts in its institutional capacity building, international military training and education and humanitarian assistance programs. In particular, the United States trained more than 24,900 international military students and completed more than 600 advisory, education and training engagements with civilian officials and military officers of allied nations. And on the humanitarian assistance front, DSCA coordinated $112 million in funding for worldwide humanitarian assistance and $5.2 billion for the Department of State's work supporting Afghan refugees.
In our article last year noting the decline in FMS sales totals over the two preceding fiscal years, we wrote that two points do not make a trend, and similarly the bounce back in sales in 2022 may not be permanent. However, the 2022 figure of $51.9 billion in FMS sales is in line with the three-year average of $53.9 billion from 2018 through 2020, which indicates that the current volume of arms transfers may be sustainable and even grow further.
Indeed, security cooperation with allies around the world appears to be top of mind for American policymakers. In addition to signaling a continued commitment to providing defense assistance to Ukraine, the United States has taken significant steps toward other major security cooperation initiatives. For example, the National Defense Authorization Act for 2023 included authority for Foreign Military Financing, or FMF, support for Taiwan for the very first time, allowing Taiwan to tap into FMF loans and loan guarantees. And just this March, the AUKUS enhanced security partnership announced a pathway for Australia to enhance its nuclear-powered submarine capability as its current fleet is retired. This pathway includes the planned purchase of three American submarines in the early 2030s, and the combination of U.K. submarine design and American technology to develop a new class of attack submarines for both Australia and the United Kingdom.
In all, U.S. foreign military sales bounced back over the last year, and early indications are that this level of arms transfer activity appears to be sustainable.

Nooree Lee is a special counsel in the government contracts practice of Covington & Burling LLP.
Topics: Global Defense Market