ROBOTICS AND AUTONOMOUS SYSTEMS
Navy Task Force Charts Course for Future of Unmanned Systems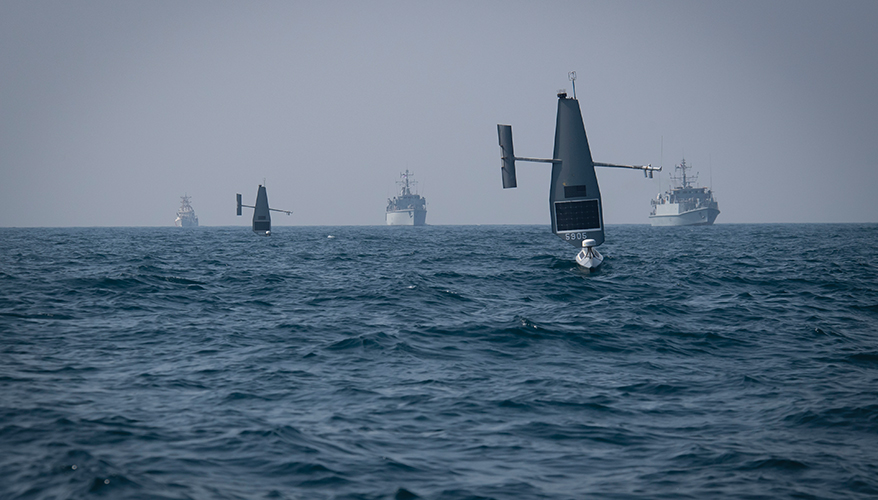 Navy photo
ABU DHABI, United Arab Emirates
— Over the last three decades, unmanned aerial vehicles have become a mainstay in modern warfare. Now, the Navy is leveraging emerging autonomous technology to change the tides of maritime operations in the same way.
The Navy's 5th Fleet — which operates in the Arabian Gulf, Gulf of Oman, Red Sea and parts of the Indian Ocean — has been spearheading experiments focused on unmanned surface vessels and artificial intelligence as part of a specialized group called Task Force 59.
The harsh and inhospitable waterways of the Middle East offer ideal conditions to test and mature unmanned surface vessels that can be integrated into naval operations, said Vice Adm. Brad Cooper, commander of U.S. Naval Forces Central Command and commander of the 5th Fleet. At the same time, nearby adversaries present threats to the security of critical choke points at the Strait of Hormuz, the Suez Canal and the Bab el-Mandeb Strait.
"It's 8,000 kilometers from Suez all the way around the Arabian Peninsula into the North Arabian Gulf. … The Red Sea alone is just about the length of the U.S. Eastern Seaboard," he said during a presentation at the International Defence Exhibition, or IDEX, in Abu Dhabi. "That's a lot of water to cover for enhanced maritime security. No navy acting alone can cover this vast region. It's simply not possible."
Hence, Task Force 59 is working with its partners and allies in the Middle East like the United Arab Emirates to establish a multi-national surface vessel fleet, Cooper said.
The vision is to integrate 100 robotic boats into everyday maritime operations by the end of summer 2023 — a goal that the group is nearly halfway done accomplishing, he added.
"Momentum continues to build as we quickly discover the enormous value unmanned and AI systems have in expanding our collective capabilities," he said. "We believe integration efforts will enhance regional information sharing and, ultimately, maritime threat evasion."
In terms of how the vessels contribute to daily maritime operations, the USVs are crucial force multipliers for navies in the region, said Juma Al Kaabi, CEO of ADASI, an autonomous systems company based in the United Arab Emirates.
"Autonomous systems will allow ships to move farther and stay out longer," Al Kaabi said during a panel at IDEX. "Also, the advantage is that you don't need to forecast for humans and crews onboard these ships."
As the Gulf's waterways become increasingly complex and congested, the boats are coupled with artificial intelligence capabilities to help sailors monitor the environment, Cooper noted.
"In the Arabian Gulf there are thousands of vessels that are on the water at any one time — it's impossible for a human to track all of them," he said. "But using AI, [you] map the pattern of life around you. And when something is different and when there's an anomaly, the drone takes a picture of it and sends it back to a command center for humans to make a decision."
With numerous AI-enabled platforms placed increasingly farther out into the waters, a nation's navy and their partners can multiply their domain awareness, he added.
Since the Navy stood up Task Force 59 in September 2021, the service and its partners have operated unmanned vessels in the region for more than 30,000 hours — which is equivalent to 13 years of nine-to-five testing five days a week — and seen a number of significant breakthroughs in the technology, Cooper said.
"I believe that we are on the cusp of an unmanned technological revolution at sea," he said. "For the first time in history, the United States and our partners in this region are leading the world in both experimentation and operationalizing new technology."
The group currently operates two types of unmanned surface vessels, both outfitted with additional subsystems to aid in their missions, Cooper noted.
Its long-endurance drones are equipped with radars, optical sensors and communication devices connected to satellites, he said. They have had two of these drones operating continuously in the Red Sea for more than 200 days, "out there watching what's happening — which is what most of the navies in the world do each and every day out at sea," Cooper said.
In addition, Task Force 59 also deploys medium- and high-speed USVs that are designed to quickly respond to anomalies on the water. Some of the group's drones in this category are able to travel at speeds of 180 kilometers per hour, he said.
Still, Cooper noted that unmanned surface vessel technology is relatively new. While aerial and undersea drones have been around for 30 years and 10 years, respectively, the technology to operate drones on the water's surface is less mature, he said.
That's because the domain USVs have to operate in is more severe than the air or underwater, said Adam Watters, program manager for maritime domain awareness solutions at Saildrone. The U.S.-based company is one of the firms working with Task Force 59 on their experiments in the Middle East.
"Uncrewed aircraft and undersea vehicles are actually in a pretty stable medium. … On the surface, you have everybody. We're very exposed. It's just a very harsh environment," Watters said on the sidelines of NAVDEX, the naval counterpart to IDEX.
The week prior to the trade show, Saildrone participated in the first unmanned vessel exercise between the U.S. Navy and the United Arab Emirates navy — one of Task Force 59's partners. Two Saildrone Explorer drones sailed alongside an L3 Harris Arabian Fox MAST-13 and an Ocean Aero Triton, according to a U.S. Navy press release.
During the exercise, cameras and sensors from various robotic boats took images and videos of other vessels in the water, which were sent to operational centers onshore where artificial intelligence was able to analyze the data, the press release said.
As the Navy strives for a more diverse fleet of unmanned surface vessels, the technology for AI and robotics is accelerating at a much faster pace than the Pentagon traditionally takes to acquire new capabilities, Cooper noted. That's why Task Force 59 is doing what it can to work with the commercial industry as teammates along the way, he said.
At the end of 2022, 5th Fleet conducted a three-week unmanned and artificial intelligence exercise with 17 industry partners called Digital Horizon. The event tested 15 advanced systems — 10 of which had never operated in the Middle East before — to look at a range of different use cases.
During the exercise, the task force created an interface on a single screen using AI that displayed data from multiple unmanned systems for operators to monitor at Task Force 59's Robotics Operations Center, a Navy press release said.
Cooper also noted that at Digital Horizon, the task force launched an unmanned aerial vehicle that created a mesh network — which is a group of connectivity devices, similar to Wi-Fi routers, that act as a single network to create multiple sources of connectivity rather than one.
Task Force 59's mesh network allowed unmanned systems to transmit images to command centers both onshore and at sea in a communications denied environment during the exercise.
"Continued development of the mesh network is critical as we scale the integration of unmanned systems and artificial intelligence," Cooper said.
Industry participants were selected for the exercise by the Defense Innovation Unit, Cooper said.
The organization was able to send requirements from Task Force 59 to industry and narrow down which technologies best fit the mold in just six months, he said.
"Sometimes things look good on a PowerPoint, but when they're actually in the actual environment — and this is a tough environment — they may not perform well," Cooper said.
Task Force 59 will host another industry exercise in the near future, which will allow the group to keep a pulse on the newest unmanned and AI technologies, he added.
Task Force 59 is part of a larger effort in the Department of the Navy to integrate a variety of unmanned systems into its fleet.
Chief of Naval Operations Adm. Michael Gilday wrote in the service's 2021 Unmanned Campaign Framework that a "hybrid fleet will be necessary for the Navy to meet emerging security concerns. We need platforms to deliver lethal and nonlethal effects simultaneously in all domains across multiple axes."
The Navy is ushering in a number of unmanned systems, including four unmanned surface vehicles that were developed by the Pentagon's Strategic Capabilities Office in the sea service's Ghost Fleet Overlord program. Two of those platforms — the Nomad and the Ranger — sailed alongside two other unmanned vessels developed by Pentagon research projects — the Sea Hunter and the Sea Hawk — during the 2022 Rim of the Pacific military exercise.
The service is also pursuing the Orca XLUUV, an unmanned submarine to deploy undersea mines, and the MQ-25 Stingray, an aircraft carrier-based aerial refueling drone that is also armed with offensive strike weapons.
While the technology for maritime autonomy continues to advance, there is still much to do before every Navy vessel is accompanied by robotic ships while it patrols the waters. With numerous systems that can each perform different functions, it is crucial that they all talk to each other, said Tim Allen, CEO of Houbara Defence and Security. The company, which specializes in unmanned systems, has roots both in the United Arab Emirates and in the United Kingdom.
"If you're a commanding officer on a vessel, and you're sitting in your office and you suddenly get all of these unmanned systems brought to you — each one of these unmanned systems are operating proprietary, single solutions in terms of how that system operates," he said. "We've got to crack the integration thing and start thinking harder about how we do that."
Allen also emphasized that as the technology becomes commonplace, it is crucial for militaries around the world to consider how their adversaries will use it against them.
"The big one for actors is the electromagnetic spectrum," he said. "If that is denied, then we have a world of problems. So, we need to think very hard about how we're going to deal with them."
Topics: Robotics and Autonomous Systems, Maritime Security, Navy News