Navy Installs 3D Printers on Assault Ship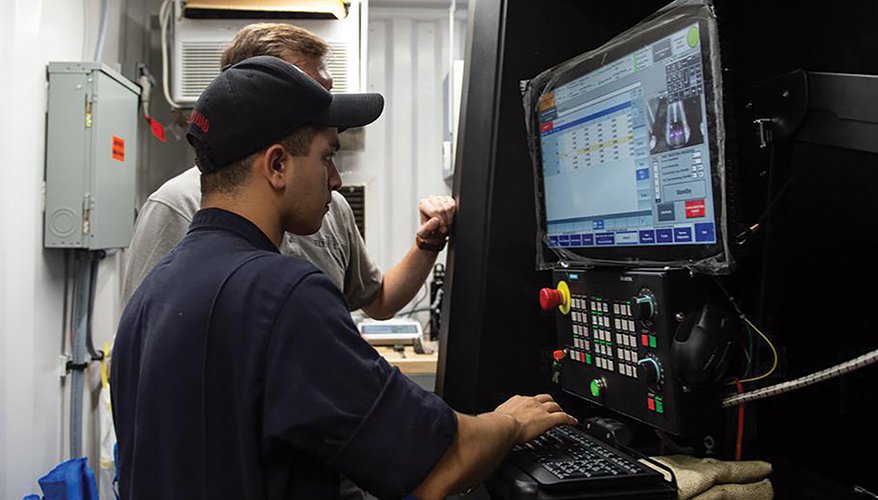 Navy photo
ARLINGTON, Virginia
— The Navy is evaluating how 3D printing technology could enable sailors to build replacement parts for vessels while at sea.
The Navy has tested 3D printers aboard its ships — including a test conducted by the USS Essex during the Rim of the Pacific exercise in July 2022 — that allow sailors to build replacements for damaged or missing parts instead of waiting on the traditional supply chain.
In November, the service completed the installation of several different additive manufacturing capabilities on one of its amphibious assault ships, the USS Bataan.
The Navy installed one system that manufactures metal components, and another that produces polymer parts, said Scott Storms, deputy program manager for additive manufacturing at the Naval Surface Warfare Center's Philadelphia division.
The metal system, called the Phillips Additive Hybrid Laser Metal Wire Deposition, allows for both "additive deposition and subtractive cutting in the same unit," meaning the system can both add or remove material to create components, Storms said recently at the Surface Navy Association's annual conference.
The polymer system utilizes a nylon and carbon fiber composite material and has "sophisticated motor controls" that allow it to weather any effects of the ship's motion, Storms said.
Five sailors on the Bataan were trained to operate the equipment, he added. Currently, the polymer system is being used to print parts "that fall below the lowest replaceable unit" such as knobs and switches, he said.
"Normally the alternative is vice grips or pliers, and in many cases those vice grips or pliers eventually … break the shaft that it's connected to," Storms said.
Along with the additive manufacturing equipment, the Navy is also piloting its Digital Manufacturing Environment, or DME, onboard the Bataan. The DME will "address the need for advanced manufacturing cybersecurity and streamlined communication between ashore and afloat activities," according to the presentation.
The DME is "one of the first of its kind that we've seen," Storms said. The environment allows for communication between a workstation on the Bataan and the Navy's network which houses technical data files, he said.
"This has the ability to be expanded to beyond just additive manufacturing equipment, [to] really anything that's digital that requires some data transfer element to it," Storms added.
Topics: Emerging Technologies, Navy News