ROBOTICS AND AUTONOMOUS SYSTEMS
JUST IN: Valkyrie Uncrewed Jet Readied for Air Force's Big Drone Buy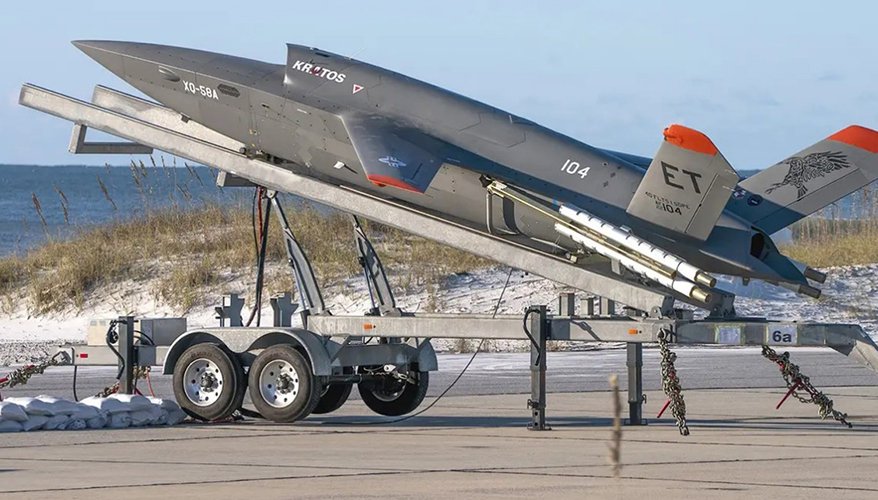 Kratos Valkyrie Aircraft on launcher
Kratos Unmanned Aerial Systems photo
HONOLULU, Hawaii — Kratos Unmanned Aerial Systems has been preparing for the day when the U.S. Air Force goes in big on loyal wingman jet fighters.

That day appears to be coming after comments made by Secretary of the Air Force Frank Kendall on March 7 that the service was prepared to start purchasing in 2024 up to 1,000 jet-powered drones to accompany piloted aircraft into battle.

The "collaborative combat aircraft," or CCAs, are envisioned as unpiloted jets flying along with F-35s or a future sixth-generation aircraft still under development called Next-Generation Air Dominance. They could serve a variety of missions such as communications relays, decoys, reconnaissance and surveillance, carrying bombs or electronic warfare payloads.

"We were thrilled to hear Secretary Kendall's comments today for their plans for 2024 and the high quantity of CCAs and tactical unmanned systems that are coming," Steve Fendley, president of Kratos' unmanned systems division, told National Defense on the sidelines of the Pacific Operational Security Technology conference, organized by the National Defense Industrial Association and U.S. Indo-Pacific Command.

The Air Force would hold a full competition to buy the collaborative combat aircraft, Kendall said at the Air Force Association's Air Warfare Symposium in Aurora, Colorado.

"We've invested. They're ready. And if the customer says we want them, we can deliver them either immediately, or in a couple of months — not, say, 12 months," Fendley said.

Meanwhile, the Air Force Research Laboratory has already purchased and been experimenting with two of Kratos' XQ-58A Valkyrie tactical unmanned aerial systems as a run up to the NGAD program. Fendley said those experiments — known as Skyborg — have moved on from basic flight tests to performing specific missions such as carrying sensor payloads and small diameter bombs.

The Valkyrie was designed to carry four such bombs internally to reduce its radar signature, he noted.

"The experimentation has evolved from the focus on the basic airplane itself and autonomy to a focus on mission payloads," he said.

The Valkyrie has flown in formation with piloted jet fighters. It is envisioned that pilots will be "quarterbacking" the unmanned jets during missions.

The Air Force also wants the collaborative combat aircraft to be runway independent, as any conflict with peer competitors might involve the destruction of airfields. "If you can take off from somewhere, let's say a jungle on the west side of an island and have substantial endurance, then you have a really effective system," Fendley said.

The Valkyrie is 30 feet long with a 27-foot wingspan. It can carry up to 600 pounds, cruise at Mach 0.72, up to 45,000 feet with a maximum range of 3,000 nautical miles. It can use parachutes to land when runways are not available.

Kratos' headquarters are in Sacramento, California, but it intends to build the aircraft in Oklahoma City, he said. The company has spent its own funds to ready the facility for high-rate production. It has built 12 of the aircraft so far, with two of them late last year being sold to the Navy, which is handing them over to the Marine Corps for experiments.

The Marines are interested in flying the uncrewed jets in expeditionary settings, where they can be transported by container, then pulled out and launched without runways, he said.

"I think it will be interesting to watch the Air Force and the Marines both operating at a fast pace and to see who will end up in front" in fielding uncrewed tactical jets, he said.
Topics: Robotics and Autonomous Systems