JUST IN: Forget Hardened Bases, Pacific Conflict Requires Agile Combat Employment, Commander Says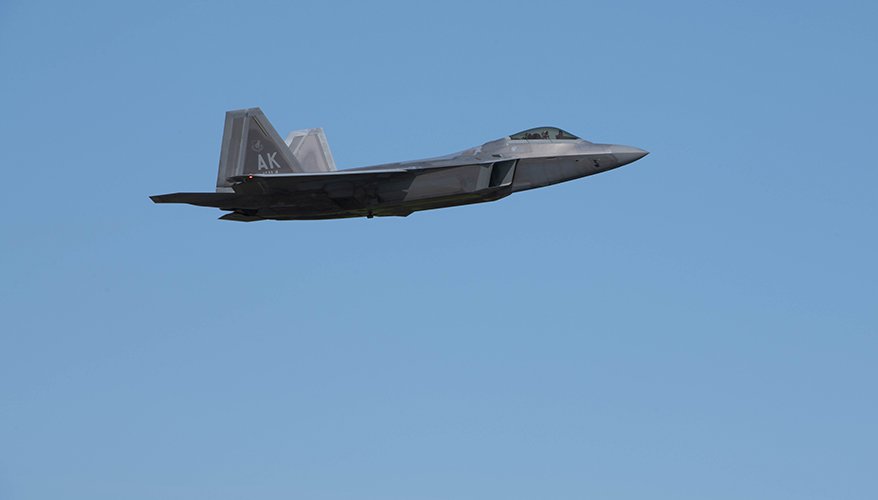 F-22 Raptor departs for Agile Reaper exercise
Air Force photo
AURORA, Colorado — Given that U.S. adversaries today possess precision-guided weapons that can penetrate even hardened bases and facilities, it's not cost-effective to invest in hardening to protect U.S. forces and weapons in the Pacific theater, said the commander of Pacific Air Forces.
Instead of trying to make facilities withstand attacks from precision munitions, the goal of Agile Combat Employment is to develop a hub and spoke network of small bases and facilities so if one gets hit, the losses are small, Air Force Gen. Kenneth Wilsbach, commander of Pacific Air Forces, said March 8 during a conversation with reporters at the Air & Space Forces Association's Warfare Symposium.
"From the Agile Combat Employment standpoint, what we're spending our dollars on this year is expanding the number of places that we can go to, and of the places that we're already at, expanding the capability at those places," he said.
For example, the Air Force just deployed F-22 Raptors to the North Marianas Island of Tinian as part of operation Agile Reaper, which involved cross-training with Japanese and Australian forces.
"All of our airmen [in] PACAF have to be proficient in Agile Combat Employment, not one person is excused from being an ACE airman," he said. "And I've told all the wing commanders and the numbered Air Force commanders in PACAF that I expect them to take risk, I expect them to expand the ACE envelope, and I expect them to get better and better."
Some form of ACE training is taking place every day now, he added.
"Simple examples, like having people launching aircraft from the flight line that don't normally launch aircraft, that's not their normal skill," he said. "Or medics will see patients in tents in a parking lot, just to be able to practice their expeditionary skills."
And the Raptor operations at Tainan are designed to improve ACE skills, he said.
"There's a runway, a taxiway, a very small ramp and a very small terminal, which acts as the commercial terminal. And the other half is our [operations] center," he said. "And we set up the rest of it with tents and other transportable facilities so that we can do our operations, and the crews have to operate out of that bare base."
Crews have to maintain communications with their parent wings located elsewhere and meet all mission taskings while operating from an austere base, he added.
"And then the whole big picture purpose of ACE [is] to disperse your forces," he said. "So that's exactly what we're going to do during a conflict, which is we're going to have jets spread out over many, many islands like that" to make it more difficult for an enemy to target. "It makes them use more munitions, and it gives us a chance to keep air power in the air to create effects," he said.
Another asset in ACE could be the collaborative combat aircraft, or CCA — unmanned craft that will operate in conjunction with the Next-Generation Air Dominance system, as well as the F-35 and other current aircraft. Air Force Secretary Frank Kendall announced March 7 that he had issued guidance for the service to plan for an initial tranche of 1,000 CCAs.
Wilsbach said he is looking forward to the development of CCAs.
"The reason why I am a fan of the notion of CCA is to present dilemmas and to amass firepower, sensors, decoys and weapons carriers so that you can achieve effects, and those CCAs perhaps will allow you to do those things," he said.
In the meantime, the Air Force is looking into making Tinian a formal piece of its ACE approach. There's an old World War II complex on the island that the Air Force is going to upgrade, he said.
"We're going to have multiple runways, [and] there are multiple taxiways, weapons and fuel storage and those sorts of things in lieu of hardening, which takes orders of magnitude more dollars to get a few hardened facilities," he said.
"The philosophy is a lot more facilities, defend those facilities, have the capability to repair them if they get hit," he continued.
Wilsbach said that, for the most part, he has the equipment he needs for Agile Combat Employment, and there aren't any significant gaps for conducting ACE operations with partners and allies.
"We really don't have any technical gaps per se," he said. "The technology that I want to improve on — these joint operations — is to speed up the process as well as harden it from cyber and electronic attack, as well as allow for greater volume.
"In some cases, we have communications that are not necessarily a mesh network, in other words … there's one line, or maybe there's two or three lines," he said. "Well, what I want is a mesh network. … So, that's what we need as far as communications, and so modernizing that mesh network that's self-healing and probably has some artificial intelligence."
In addition to better networking and communications technology, PACAF needs more investment in logistics and sustainment for ACE, he said.
"We can go places, and we've got all the equipment to take with us," he said. "To start up these hubs and spokes, we can do all that, and we've got the equipment, but to sustain that force for periods of time does take additional logistics.
"And fortunately, in the 2022 budget, the 2023 budget — and we're hopeful in the 2024 budget — there's a significant amount of dollars that are associated with prepositioning at our hubs and spokes — mainly our spokes — so that you have sustainment material at those places," he continued.
That involves fuel, parts, support equipment, water and food. "And we're starting to purchase those and put them out at the spokes. And that's probably the biggest area, is this prepositioned equipment," he said.
That includes technology like 3D printing to reduce supply chain lags and allow forces to be more expeditionary and self-sustaining. "All of our wings do 3D printing for various functions," he said. "Some of it is aircraft maintenance, some of it is in the dental clinic, too, right?"
Topics: Defense Department