Australian Companies Set Sights on Uncrewed Aerial Vehicle Market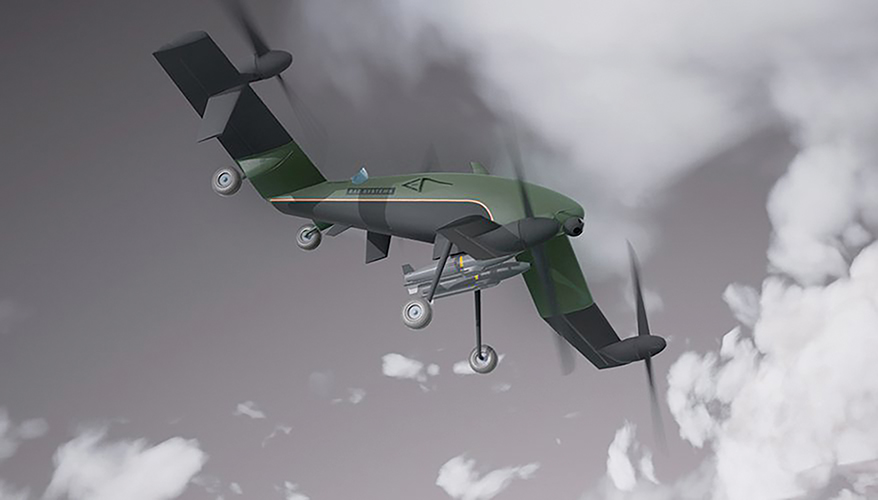 BAE Systems image
GEELONG, Australia
— Four years ago at Avalon — The Australian Air Show — Boeing's local affiliate unveiled a mockup of an unmanned jet fighter with the goal that it would be developed and manufactured locally.
The Ghost Bat, as it would eventually be called, was hailed as not only Australia's first indigenously produced aircraft since World War II, but a symbol of the nation's desire to not simply be an importer of high-tech military platforms, but to be a producer and eventually an exporter.
Four years later, BAE Systems Australia in similar fashion kicked off the air show by revealing a mockup of a large, vertical take-off and landing uncrewed system it called STRIX, which will be domestically designed and manufactured in partnership with Perth-based contractor Innovaero.
The two projects are emblematic of the nation's desire to create sovereign capabilities in a variety of defense sectors including ground vehicles, space and drones. There are even those who believe the nation should be considered part of the U.S. industrial base.
Pat Conroy, Australia's minister for defense industry, came to the show to mark the achievements of the Ghost Bat, which was on static display.
"Australia has underperformed on defense exports. Governments of all persuasions have also said they want to do more, but it's challenging. It's absolutely challenging," he told reporters.
The government and the Royal Australian Air Force has committed 600 million Australian dollars — about $405 million — to develop 10 Ghost Bats, which are envisioned as a so-called "loyal wingman" that can accompany piloted aircraft into battle to serve as decoys, bomb carriers or scouts.
"These unmanned aircraft are a really exciting opportunity and are part of the future of our air capability," Conroy said. There are now 55 local companies and 400 workers supporting the program, he added.
U.S. Air Force Secretary Frank Kendall said while visiting Australia last August that the service was interested in the Ghost Bat as part of its Next-Generation Air Dominance system of aircraft that will be a mix of manned and unmanned jets. The secretary said it could be part of a risk reduction for the secretive program or, with modifications, fly with next-generation fighter jets, as first reported by Breaking Defense.
Conroy said: "When I was in the United States in October last year, I can say the United States is really interested in the potential for this. They're running their own program, but we would say we're very interested in the opportunities to partner together."
Boeing has completed work on three of the 10 planned Ghost Bats and flown one in test flights. Boeing executives said it would have been too soon to fly the aircraft at the air show.
When Conroy was asked if the 10 aircraft would eventually be integrated into the Royal Australian Air Force, or if this was just a science experiment, he said it was too early to talk about when and if they would be deployed.
"Progress has been made. We have had our first flight tests being done and there is a development pathway for it. That's very exciting, but we have got to be very careful" when flying uncrewed aircraft, he added.
Boeing executives in a press conference declined to reveal details about the program, other than saying it was in "early stages" of test flights.
"Flight testing is going well," Bernd Peters, vice president for business development at Boeing, said. "We've spent a lot of time with our customer at this show and I'm pleased with our progress."
Boeing is working to make the aircraft exportable, but it will ultimately be up to the government to decide who can buy it, he said.
While not talking specifically about the Ghost Bat, Wing Group Cmdr. Paul Hay, director of the Royal Australian Air Force's Jericho Disruptive Innovation group, said the air force has a category of defense technology called "combat-ready prototypes," a term meaning that they have at least 80 percent of the capabilities needed, and that they can be used in operations.
Conroy and Boeing executives declined to say when the Ghost Bat might be ready to fly alongside crewed aircraft.
Meanwhile, the Royal Australian Air Force recently developed a small, flyable drone in two months by doing the work in-house.
The idea to develop a low-cost, expendable drone to augment current systems came up in August last year. By the end of September, the group — in partnership with the government's Defence Science and Technology Group — had the "paper" design finished. By November, "the Wanderer" as it was dubbed, had its first test flight, Hay said.
"These are the kind of timelines we want to get to," he said. The Wanderer drone was also on static display at the air show.
The innovation group now has seven of the Wanderer low-altitude, long-endurance UAVs. The design and the manufacturing of the drones was all done in-house, he said, acknowledging that the process would have taken longer if the groups had asked a vendor to do the work. To wit, the groups have issued a contract for the sensor payload, which will be delivered in March.
The Wanderer is no mere science project, but a drone that the nation's air force, army or navy can use to augment their current high-end reconnaissance and surveillance UAVs such as the Triton, which U.S. contractor Northrop Grumman is delivering to the Royal Australian Navy. It should be available to them by the middle of 2023, Hay added.
Although "we do want them to come back," the Wanderer is designed to be "expendable," he said. The cost should be about 50,000 Australian dollars each, or $33,000, which is in the attritable range, he said.
The Wanderer has a four-meter wingspan, a range of about 1,300 kilometers, can fly up to 1,525 meters and can carry a two-kilogram payload. It has commercially available avionics, GPS and mission planner, so there are no export restrictions, he added.
The RAAF wants to locally produce mass, or swarms, of expendable drones that cost around 1,000 to 2,000 Australian dollars per kilogram, he said.
Other requirements include beyond line-of-sight operations at hundreds or thousands of kilometers, autonomous flight and runway independence.
"Runways are the air force's kryptonite," he said. They're very easy for the enemy to target and aren't always nearby, so the new drone was designed to be launched from the top of a moving vehicle. If the operators have a small stretch of road, they can put it aloft, he said.
The Jericho Disruptive Innovation group also wants drones with open architecture and low cost to operate and be scalable, Hay said.
As for the next big project, BAE Systems' STRIX, an animation of the proposed aircraft showed it being rolled out of a shipping container, its wings unfolding, then lifting itself up vertically and taking off, making it runway independent.
BAE Systems Australia CEO Ben Hudson compared its capabilities to the V-22 Osprey, flown by U.S. Marines, the Navy and Special Operations Forces.
"We're drawing on the expertise of Australian engineers around our nation toward a new capability that is truly sovereign," Hudson said in a speech after lifting the curtain on the mockup. There is "significant" potential to export the aircraft, he added.
Kisa Christensen, director of Red Ochre autonomy and sensors at BAE Systems Australia, which will spearhead the design and development of the aircraft, said "the intent of this project is to be responsive to customer needs, and the emerging threat environment."
A secondary goal is to build up the nation's prowess in defense technology, she added. "Our work with Australian industry is a critical part of what we do at BAE Systems."
STRIX will carry a 160-kilogram payload more than 800 kilometers or loiter for about five hours, depending on the weight of the payload, Hudson said. It could be used for air-to-ground strike, surveillance and reconnaissance or act as a "loyal wingman" for crewed helicopters, he added.
The project will be funded through internal research-and-development dollars and furthers the Australian government's goal to boost its local defense industry. Prior to the show, BAE announced that it was seeking to fill 6,500 positions in Australia over the next five years.
"STRIX will look to increase Australian sovereign capability by leveraging domestic expertise, such as Innovaero's aircraft concept design and rapid prototyping," a statement said, adding that it would be inviting other Australian companies and universities to participate in the project.
Philip Swadling, technical director of avionics at Thales Australia, said at the conference that Australia has some advantages and disadvantages when it comes to developing its uncrewed aerial vehicle market.
It has wide open spaces and low-density populations for testing and many companies are working in the sector, but the Australian government has been slow to change regulations, he added. It is also lagging in creating standards.
"A lack of harmonized standards [is] holding back business development," he said.
Topics: Global Defense Market, Robotics and Autonomous Systems, International