EDITOR'S NOTES INTERNATIONAL
Australia, AUKUS and the Pursuit of Defense Jobs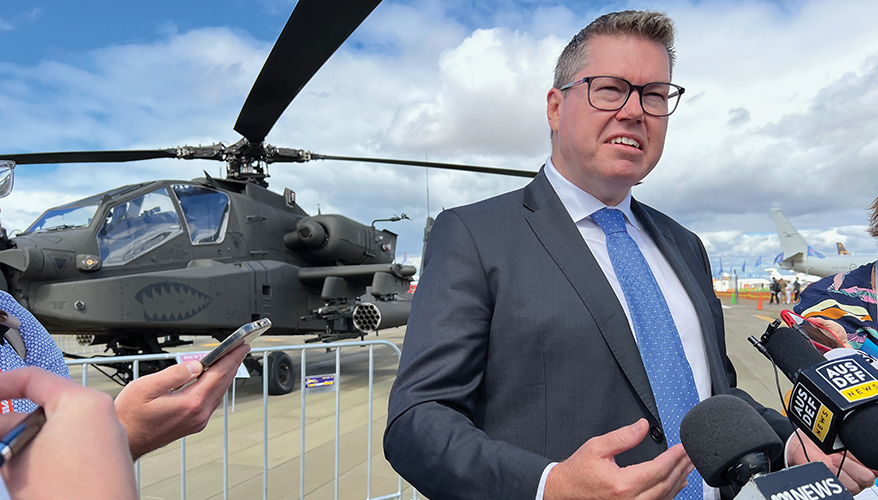 Australia's Minister of Defense Industry Pat Conroy
Stew Magnuson photo
GEELONG, Australia
— The announcement that the Australian government had finalized a deal to purchase 29 AH-64E Apache attack helicopters from U.S. aviation giant Boeing brought the nation's Minister of Defence Industry Pat Conroy to Avalon — The Australian Air Show — for a photo opportunity and the chance to tally some more jobs in the nation's favor.
The headline wasn't the acquisition of the helicopter, but the fact that for the first time, Australian contractors would be joining the program's supply chain by providing parts.
The deal "is all about driving opportunities for Australian companies into the supply chain for both the acquisition of the helicopters and the sustainment of them," he said, standing in front of cameras with a Romeo model of the Apache in the background.
Yes, he did also mention the fact that the Apache would make the nation's army more "capable," and later said ensuring that the Australian Defence Force had the best equipment when needed was his no. 1 job.
Making Australia's defense industry robust enough to where it could be considered an arms exporter rather than primarily an importer has been a policy in place for some seven years and has coincided with big boosts in the nation's defense funding. It is also seeking "sovereign" capabilities in areas such as space, so it doesn't have to depend on partners such as the United States for launches and satellite communications.
The oft-quoted number at this year's air show was 100,000. That's roughly the number of Australians employed by the nation's defense industry. It seemed to be on the tip of every politician and company executive's tongue.
Conroy touted the Bushmaster Protected Mobility Vehicle as an Australian success story.
The vehicle is exported to eight foreign customers and nearly 2,000 have been built.
As for the Apache, four Australian suppliers will now be part of the program.
Kathleen Jolivette, vice president and general manager of Boeing vertical lift, joined the media event and welcomed the four Australian suppliers who will now be part of every Apache built or refurbished going forward. "By partnering with the Australian government and investing in local businesses, including small and medium enterprises, this agreement will help create jobs, develop Australia's aerospace and manufacturing capability and grow the local economy," she said in a statement.
For every winner, there is a loser. I asked Boeing later if the gain in Australian jobs was a net loss for U.S. defense industry workers.
A company spokesman responded: "As the previous supplier contracts were set to end, Boeing conducted a global competition to ensure continuity of our supply chain for this critical program. [They] were selected due to their technical expertise, quality and affordability. It was the first time Boeing explored Australian suppliers for those particular components," he said.
Conroy acknowledged that turning Australia into an arms exporter was a tough assignment. His is not the only country that wants to build up its economy and score points with local voters — or in some cases in the Middle East — "subjects."
Not long after the air show, details of the AUKUS deal were released. The trilateral agreement among the United States, United Kingdom and Australia to build nuclear-powered submarines announced that most of them would be constructed in Great Britain and Australia. Regarding technology transfer, there won't be much at first. The submarines will need purpose-built port facilities, so there will be construction projects, though.
As Kym Bergmann, the dean of Australia's defense reporters, put it in a recent column in Asia-Pacific Defence Reporter, "There might well be thousands of jobs created in the U.K., but there will be none here, unless you count pouring concrete."
The submarines are a long-term project. The day when Australian sailors are heading out to sea in their own nuclear-powered submarines may not happen in my lifetime. If it does, it will be a testament to the three nations' acquisition communities — as well as my family physician.
But there is a second part of the AUKUS deal, the so-called "second tier" technologies on which the three nations will cooperate: hypersonics, quantum computing, cybersecurity and submersibles are a few of them, and there is no reason why this list can't expand.
That is where the real benefits of AUKUS may come, including jobs for citizens of all three nations.
Cutting edge weapon systems in this second tier that serve as deterrence against China will probably be fielded long before the submarines. The United States and Australia have already been pursuing a hypersonic vehicle called SCIFiRE, which could benefit from British input.
Partnerships are the way forward as both a means to provide warfighters with the best of the best technologies, and for nations such as Australia to build up its sovereign capabilities.
Australian companies almost always have a pavilion at the major trade shows. For U.S. defense executives, it would be wise to stop by and see what they have to offer, and conversely, invest the extra money it takes to buy a booth at one of Australia's three major defense expositions.
Today and yesterday's weapon systems are being used in Ukraine. But tomorrow's defense tech is being developed for a potential conflict with China in the Indo-Pacific. Partnerships with companies in Australia, Japan, South Korea, Taiwan and other allies in the region are the way forward.
Topics: Defense Contracting, Workforce, International