Power-Hungry Navy Ships Require New Engine Tech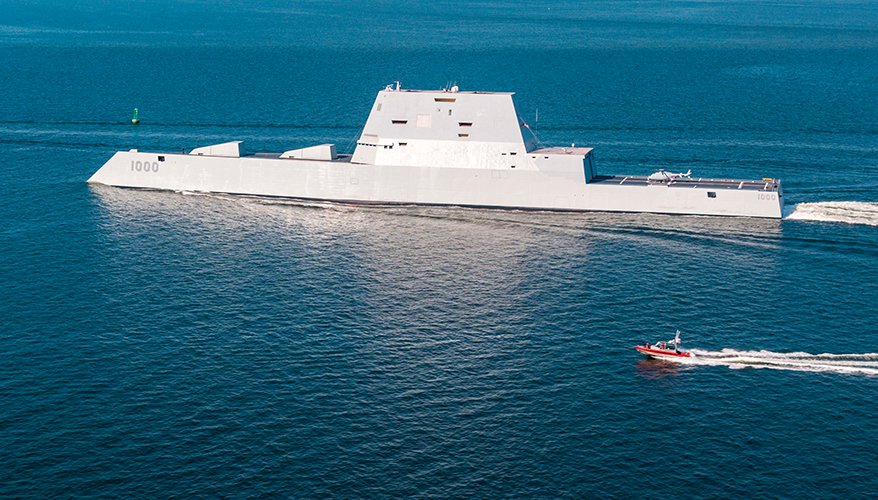 USS Zumwalt
Navy photo
The Navy is looking at a variety of new propulsion systems — from gas turbines to electric engines — that will get surface ships where they need to go, and give them the energy they need to power new weapon systems.
Naval Sea Systems Command released in 2019 the "Naval Power and Energy Systems Technology Development Roadmap," which provided a strategy for the service to modernize its power and energy systems to meet the changing nature of naval warfare.
As the service introduces "high-power pulsed mission systems" — such as directed energy weapons, electronic warfare capabilities and updated radars — the fleet's power systems need to advance as well, the roadmap said.
"Legacy power systems found on all existing ships do not possess the inherent electrical 'inertia' to withstand the ramp-up/down … or ripple (pulsation) effects of complex power profiles of these advanced mission systems," Stephen Markle, then-director and program manager of the Electric Ships Office, said in the document.
These effects include both thermal and mechanical stress on diesel and gas turbine engines. "Countering these harmful effects requires mitigation such as advanced controls or energy storage," Markle added.
In the roadmap, the Navy listed six "major drivers of requirements" for naval power and energy systems, one of which was "advanced electric propulsion."
"Advanced electric propulsion provides significant warfighting capability in the areas of enhanced survivability, future large unmanned platforms, flexible design and upgradeability and increased platform endurance," the roadmap said.
Responding to the service's needs, Fairbanks Morse Defense in January announced the launch of its nForcer FM 175D, the company's first engine designed for high-speed applications, said the company's CEO George Whittier.
A diesel engine, the nForcer FM 175D has "leading fuel economy" and provides more power than any other engine of its size, Whittier said in an interview.
Traditionally, Navy ships had a dedicated fuel-burning engine for propulsion and then separate generators to provide power for living and working quarters — known as the "hotel load" — combat systems and everything else, Whittier said.
Modern ship designs have begun to use a hybrid power system similar to a Toyota Prius car, with diesel generators providing electricity for both propulsion and other systems on the ship so that "you have way more efficiency across your whole entire electrical system," he said.
"The Navy has two really big costs: one of them is manpower, and the other one is fuel," Whittier said. "So if you can do anything on the fuel economy side, the Navy's going to be interested in that because it's going to save them money over time."
The engine's compact design will allow the Navy to easily swap out an existing engine for the nForcer FM 175D, immediately giving the ship anywhere between a 10 and 25 percent power premium, Whittier added.
"That is a huge benefit," he said. "You're going to get another couple of megawatts of power available, whether it's hotel load … whether it's combat systems, whether it's energy weapons, anything like that," allowing the engine to continue powering new weapons and systems over the coming decades.
The engine can operate in a mechanical, "direct-drive" propulsion configuration like traditional engines, "but for the programs that we're looking at, it's going to be in an electric configuration," Whittier said. The nForcer FM 175D is "specifically targeted" for the Navy's Large Unmanned Surface Vessel program, or LUSV, he said.
Procurement of LUSVs is slated to begin in fiscal year 2025, according to the Congressional Research Service report "Navy Large Unmanned Surface and Undersea Vehicles: Background and Issues for Congress."
Fairbanks Morse Defense is working to ensure the nForcer FM 175D can operate in an "automated or autonomy manner," Whittier said.
"We're doing all the testing right now to prove that we can run [the engine] 30 days, no touch."
While the nForcer FM 175D will be "ready to integrate into the Navy's fleet in two years" per a Fairbanks Morse Defense press release, much of the Navy's surface fleet today is powered by gas turbines — and GE Marine is the primary provider of those turbines.
The company powers 95 percent of the service's gas turbine-powered ships and has its engines installed on more than 600 ships in 40 different navies across the globe, GE Marine's director of marketing and business development Steve Rogers said. The company's "bread and butter product" is its LM2500 gas turbine, he added.
"Our engine is actually an aero-derivative engine," Rogers said in an interview. "The CF6 engine that you've seen on 747s, that is the engine upon which the LM2500 was derived. … We're using that aviation background and [utilizing] it as basically a jet engine in a ship."
Currently, GE Marine is doing extensive work with the Navy on its Constellation-class frigates, Rogers said. Fincantieri Marinette Marine started construction of the USS Constellation, the lead ship in the class, in August 2022.
"The LM2500+G4 — which is the latest and greatest and most advanced version of the LM2500 — will be installed on all the Constellation-class ships," Rogers said. "And that's going to have our most advanced new features, like a composite enclosure … that goes around the engine."
The enclosure offers a variety of benefits for the Navy such as reducing weight and sound, eliminating corrosion and providing thermal protection, he said.
As for future vessels, while the Navy has not officially begun procurement of the propulsion systems for its Next-Generation Guided-Missile Destroyer, or DDG(X), GE Marine is "very closely aligned" with the service as it develops the program, Rogers said.
Established in 2021, the DDG(X) program is the Navy's follow-on to its Arleigh Burke-class destroyers. The Navy is planning to use an Integrated Power System — similar to the one found on the service's Zumwalt-class destroyers — on the DDG(X), noted a presentation at the 2022 Surface Navy Association conference by then-DDG(X) program manager Capt. David Hart.
The USS Zumwalt, or DDG 1000, is the Navy's "first full-electric power and propulsion surface combatant, a GE press release stated. Its Integrated Power System — consisting of two main turbine generators and two auxiliary generators built by Rolls-Royce, and two advanced induction motors built by GE Power Conversion — provides electric power to all of the ship's systems.
The system has "the ability to provide power to propulsion, ship's service and combat system loads from the same gas turbine prime movers," a Navy fact sheet states. "DDG 1000's power allocation flexibility allows for potentially significant energy savings and is well-suited to enable future high energy weapons and sensors."
GE can offer the Navy both the gas turbines and the power conversion capabilities for DDG(X)'s Integrated Power System, Rogers said.
"We're the only company that can do the full spectrum," he said. "So, GE Marine with the gas turbine, and then GE Power Conversion with the generator motors. So it's all under one roof, full electric power propulsion."
The Navy is developing a land-based test site for DDG(X), which GE Marine — along with other industry partners — is "excited to be part of," he said. The Navy wants to procure the first DDG(X) ship in fiscal year 2030, per a Congressional Research Service report titled "Navy DDG(X) Next-Generation Destroyer Program: Background and Issues for Congress."
"The whole concept of land-based testing is the Navy and Congress want a proven, tested solution before it goes into the ship," Rogers added.
As the Navy pivots toward electric propulsion, the service is unlikely to design a ship with a direct-drive system again, Whittier said.
"Of course, someone's going to say, 'Yeah, George, what about ship x, right?' Of course, there will be one outlier," he said. "But I think that over time … there's just going to be a move to all-electric ships.
"I just think it has to go that way," he added. "The fuel economy and the efficiency is going to drive that, and [the Navy is] not going to have choices otherwise."
Meanwhile, the Navy is standing up a new department focused solely on the service's energy usage, Secretary of the Navy Carlos Del Toro said at the 2023 conference.
"We're finally getting a [deputy assistant secretary of] energy candidate into the department," Del Toro said. One initiative will be to explore the work done over the past decade on biofuels, he said.
Due to the high cost of alternative energy sources like biofuels, it has been challenging to get "the price point down to where it's actually effective and useful to us in the Navy," Del Toro said. "But that's an area that we've got to continue to make investments in, because it can have a dramatic impact on our fuel usage, both in aircraft and on ships."
Topics: Maritime Security, Shipbuilding