JUST IN: Space Development Agency to Mark Major Milestone with Upcoming Launch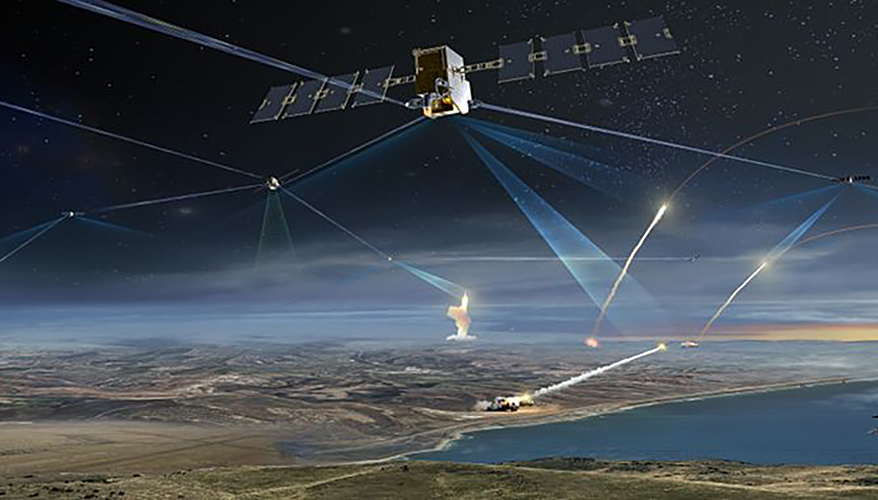 Northrop Grumman concept
The Space Development Agency is set to launch its first batch of missile-tracking satellites on March 30, which will be a milestone for the four-year-old agency tasked with speeding up the delivery of space capabilities.
After being established almost exactly four years ago by the Defense Department's office of the undersecretary of defense for research and engineering, the agency is now under the Space Force. It has been tasked with looking at new ways to speed up deliveries of space-based capabilities.
To get satellites in orbit as soon as possible, the agency has utilized an acquisition strategy called "spiral development," aiming to acquire and field capabilities on two-year centers called tranches. Rather than wait for the best platform possible, the agency incentivized solutions that maintain the architecture's rapid fielding schedule over cost and performance.
Formerly known as the National Defense Space Architecture, the Proliferated Warfighter Space Architecture is a satellite constellation primarily in low-Earth orbit that will provide war­fighters beyond-line-of-sight targeting of mobile objects such as ships and advanced missiles in flight.

The initial Tranche 0 launch was originally scheduled for September 2022, but as vendors identified challenges to the "aggressive delivery schedule," it was pushed to December 2022 and then again to March 2023 "after careful analysis and with input from our performers," an SDA spokesperson said in an email.

The initial launch's payload — which will be carried on a SpaceX Falcon 9 rocket taking off from Vandenberg Space Force Base in California — includes eight "tactical communication" satellites that will be part of the architecture's Transport Layer and two "advanced missile detection and tracking" satellites for the architecture's Tracking Layer, said SDA director Derek Tournear and Tranche 0 program director Mike Eppolito, tod reporters March 29.
A second Tranche 0 launch, consisting of 12 Transport Layer and six Tracking Layer satellites, is scheduled for June, according to an SDA fact sheet.

Once in orbit, "it will take single-digit weeks to get through tests and checkout of the satellites, initialization and initial calibration, and that's when we can start to actually do the warfighter immersion to participate in exercises and things like that," Tournear said during a media roundtable ahead of the launch.

Tournear had previously stated the plan was for Tranche 0 satellites to participate in U.S. Indo-Pacific Command's Northern Edge exercise, which is scheduled to occur in May, according to the Air Land Sea Space Application Center's website. However, due to delays in getting Federal Aviation Administration approval of the satellites' Link 16 capability, the Tranche 0 satellites will "likely not participate directly in Northern Edge," Tournear said.

While the agency expects the satellites will be through test and checkout when the exercise gets underway, it backed out of the Northern Edge planning due to the Link 16 issue, he added. The satellites will participate in "smaller level training exercises" in the U.S. Indo-Pacific Command theater later this year, he added.

The Marines have some smaller exercises on the schedule in the Indo-Pacific region, he said. One of those will likely be the system's first opportunity to show what it can do, he said.

Despite the delays that have faced Tranche 0, the agency still has faith in its spiral development model, Tournear said. Tranche 1 is "on schedule" for its first launch in 18 months, he said.

For Tranche 0, the agency is "right at two-and-a-half years from order to orbit, so pretty excited to show that the model actually does work to be able to do that proliferation to get the capabilities to the warfighter at speed," he said.

"There were a lot of lessons learned. Lessons learned from how we do things internally, as well as how we interact with industry and what we asked them to do," he added.

The Tranche 0 team has passed lessons learned along to those working on future tranches, Eppolito said.

"We provided lessons learned in terms of working with the vendors, working with commercial companies … I will tell you that it's quite different working with the commercial companies than it is working with the typical defense contractor just in how they do business," he said. "So, there's definitely been some lessons there that have been passed along to the future tranches."
Topics: Space