Navy, Marine Corps at Odds Over Fleet Requirements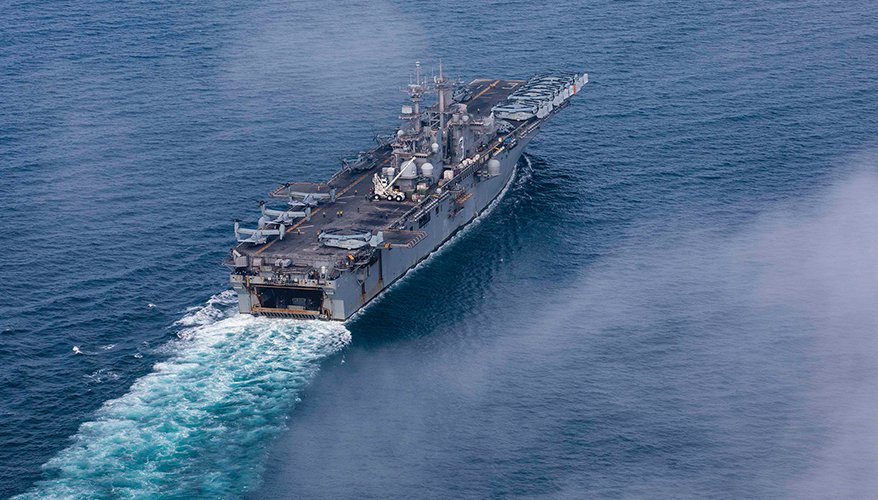 Defense Dept. photo
The possibility of conflict in the Indo-Pacific and a rapidly evolving technological landscape have reshaped the nature of expeditionary warfare, but the Navy and Marine Corps have differing views on what ships and systems they need to deter potential foes.
The world is changing at a "lightning pace," said Secretary of the Navy Carlos Del Toro at the National Defense Industrial Association's Expeditionary Warfare Conference in February.
"On the other side of the world, the People's Republic of China continues to operate its maritime forces in a way that threatens free, uninterrupted economic activities in the South China Sea," he said.
As the threat evolves, so must the response, he added.
Both the Navy and the Marine Corps have launched substantial modernization efforts, from an updated Navigation Plan to a complete restructuring of the Marine Corps with Force Design 2030.
Released in July 2022, the Chief of Naval Operations' Navigation Plan 2022 emphasized integrated deterrence and global mobility.
"We must become more agile in how we develop our future force," Rear Adm. James Pitts, director of naval warfare integration, said during the conference. "And we must be more combat credible."
Navigation Plan 2022 outlined six imperatives: expand distance, leverage deception, harden defense, increase distribution, ensure delivery and generate decision advantage.
The world is entering a new age of warfare, "one in which the integration of technology, concepts, partners and systems — more than fleet size alone — will determine victory in conflict," the plan stated.
Fleet size is important, and the Navy's capacity is one of its top priorities, Pitts said. However, if money talks, the Navy's 2023 budget request said submarines.
The Navy's 2023 budget request included nearly $3.1 billion in continued procurement funding for the first of its Columbia-class ballistic missile "submarines" and about $2.8 billion in advance procurement funding for subsequent boats in the class. The 2023 National Defense Authorization Act, passed in December 2022, authorized all of it.
The Navy's budget submission estimated the procurement cost of the first Columbia-class boat at about $15.2 billion, with the total procurement cost of a 12-ship class coming in at $112.7 billion, according to the Congressional Research Service report "Navy Columbia (SSBN-826) Class Ballistic Missile Submarine Program: Background and Issues for Congress," released in December.
The Navy's updated Navigation Plan cited the 2022 National Defense Strategy as the rationale for the revised plan, which specifically identified a shift in national security objectives from counterterrorism to long-term competition with China.
The budget request listed the service's priorities as strengthening maritime dominance and strategic partnerships to expand fleet capabilities for distributed operations. The request called for a deployable battle force of 285 ships in fiscal year 2023, and procurement of nine battle force ships: two each of Virginia-class attack submarines and Arleigh Burke-class destroyers, and one each of the Constellation-class guided-missile frigate, America-class amphibious assault ship, San Antonio-class amphibious transport dock, John Lewis-class replenishment oiler and Navajo-class towing, salvage and rescue ship.
Meanwhile, the Marine Corps is focused on one main procurement objective: amphibious ships.
In May 2022, the Marine Corps released Force Design 2030 — a restructuring effort to reshape and prepare the service for potential conflict with China. The modernization effort targets "new and emerging threats" that necessitate a change in how the Marine Corps is organized, trained and equipped.
Specifically, the service needs to transform into a more dispersed and mobile force to fight in the evolving area of operations in the Indo-Pacific.
That requires amphibious warships — no fewer than 31 — which Marine Corps Commandant Gen. David Berger articulated in response to a letter from Rep. Rob Wittman, R-Va., and Rep. Mike Gallagher, R-Wis., in March 2022, and echoed by Congress in the 2023 National Defense Authorization Act.
The ship count includes 10 amphibious assault ships and 21 amphibious transport dock types, as mandated in the 2023 NDAA.
"I don't think amphibious ships are a defense issue," Berger said at an Amphibious Warship Industrial Base Coalition congressional forum recently. "I don't think it's a Navy/Marine Corps issue. I think amphibious ships are a national issue. They are a strategic issue."
They are also a logistical issue. Amphibious ships need to be able to accommodate the growing and evolving equipment needs of expeditionary forces.
The cargo is bigger and heavier than it was 25 years ago, such as the F-35 and the supporting gear that goes with it, said Marine Corps Brig. Gen. Steven Lightfoot at the Expeditionary Warfare Conference. That means more fuel and bigger ships. In order to support the 31-ship requirement, dock landing ships "need to stick around," he added.
Also included in the Marine Corps' modernization effort is the Ship-to-Shore Connector, the evolutionary replacement for the existing fleet of Landing Craft Air Cushion vehicles.
Angela Bonner, deputy program manager for PMS 317 within the program executive office for ships at Naval Sea Systems Command, called the Ship-to-Shore Connector a "one-for-one replacement" for the Landing Craft Air Cushion vehicles that are primarily used to transport vehicles, troops and systems from amphibious ships to beaches.
Larger and heavier equipment requires the updated design and technology of the connector, she said. The Ship-to-Shore Connector program of record is 74 vehicles, with six delivered so far and a seventh "on the cusp" this year, Bonner said.
The Landing Ship Medium program is another crucial platform for the Marine Corps' path forward.
A new Marine Corps operational concept called Expeditionary Advanced Base Operations, developed with an eye toward potential conflict scenarios with China, envisions reinforced, platoon-sized Marine Corps units maneuvering around the theater, moving from island to island and firing anti-ship cruise missiles, according to the Congressional Research Service report "Navy Light Amphibious Warship (LAW) Program: Background and Issues for Congress" released in December.
"The [medium] ships would be instrumental to these operations, with them embarking, transporting, landing, and subsequently reembarking these small Marine Corps units," the report said.
The Navy envisions procuring 18 to 35 of the ships to support the Marine Corps, particularly in support of expeditionary advanced base operations. The updated 2022 Navigation Plan mentions 18 Landing Ship Mediums. The Marine Corps requires 35, Lightfoot said at the Expeditionary Warfare Conference.
"I'm sure you're … aware of the 18 versus 35 issue," said Ron O'Rourke, naval affairs specialist for the Congressional Research Service, during a panel discussion at the conference. Uncertainty surrounds when the lead ship will be procured — whether that is fiscal year 2025, or the year will change once again — and the survivability and procurement cost of the design, O'Rourke said.
According to the Congressional Research Service report, the Navy had previously envisioned procuring the first medium ship in fiscal year 2023, but their most recent budget submission deferred the first platform to fiscal year 2025.
The Navy has expressed concerns over the survivability of the medium ships, which are considerably smaller and less expensive than the service's current amphibious ships. The Navy has not yet allocated funding for the program, as the service has yet to settle questions and disagreements about requirements and costs.
"The commandant has made it very clear, because you can't just drop someone off on an island somewhere and then just say, 'It's all you, you've got this, you know, good luck.' They have got to be supported," said Lightfoot.
A big piece of that is going to be shore-to-shore capability, he said. Shore-to-shore connectors that are not reliant on piers open a "wide range of possibilities" with their ability to move between islands and move equipment, he said.
Lightfoot said he would, by extension, consider the Landing Ship Mediums part of the Marine Corps' "non-negotiables."
Berger addressed criticism surrounding survivability and viability of amphibious ships at the congressional forum, saying they are "exactly the right tool to deter our competitors." He cited two exercises currently being conducted in the Philippine Sea — "in other words, inside the PRC's weapon engagement zone" — an area in which some have said the ships are not survivable.
He called criticism of the ships' vulnerability "completely illogical."
"We're going to lose … destroyers and cruisers. So, does that mean those platforms are not viable, we should stop buying them? Of course not. We need them. That's an empty argument," he said.
The non-negotiable number has been supported by Congress, which endorsed the 31-ship requirement in the 2023 National Defense Authorization Act. However, keeping up with that number is easier said than done.
When asked at the conference what he considered a pacing risk, Marine Corps Brig. Gen. Marcus Annibale said money and resources.
"We have a pretty big budget, but you would be amazed," he said. "We sit down at these program reviews where program managers give us a laundry list of stuff that you need to modernize, upgrade, maintain, and … just a ton of requirements. And then you look at your resource bucket, and it's just never enough."
Ultimately, the buck stops with Congress. The next budget submission and congressional language will decide "where it goes from there," Annibale said.
There is an elephant in the room, he said. In the office of the chief of naval operations' "Report to Congress on the Annual Long-Range Plan for Construction of Naval Vessels for Fiscal Year 2023," the Navy attempted to drop the fleet to as low as 24 amphibious warships before Congress intervened last fall. With a budget controlled by the Navy, the Marine Corps may not always see eye to eye on how the Navy spends it.
Another source of tension is the production rate of the ships. From the industrial base perspective, the ideal scenario would be a shipbuilding plan that arrives at San Antonio-class amphibious transport docks, or LPDs, on four-year centers — meaning the pace at which ships are bought and subsequently built — and America-class amphibious assault ships, or LHAs, on two-year centers, said Dave Forster, chairman of the Amphibious Warship Industrial Base Coalition, in an interview.
Berger agreed with the industrial base perspective, saying at the congressional forum, "We have bought these one at a time. That's not the way you do it. We do block buys for other platforms … for all the right reasons. We need to do it also for amphibious ships." The Navy has 10-15 years' worth of work ahead, and two- and four-year centers are "how this nation produces," he added.
Congress has proved supportive of both the Navy and Marine Corps' efforts, in what Del Toro described as a "strong partnership," with a priority in investing in the United States' fleet force.
Eric Labs, senior analyst for naval weapons and forces at the Congressional Budget Office, agreed. "Congress remains, as they have been, very supportive of shipbuilding — increasingly so, if I might say so," he said, adding that 2023 numbers indicate shipbuilding support not seen since the Reagan administration.
Del Toro sang the praises of the 2023 National Defense Authorization Act and the funding received for construction on the San Antonio class.
The NDAA included multiple provisions supporting the amphibious fleet and the Marine Corps, including a requirement for consultation with the commandant on "major decisions directly concerning Marine Corps amphibious force structure and capability." Section 1022 of the act affirmed the commandant's 31-ship floor, stating the Navy shall have "no less than 31 operational amphibious ships," comprising Whidbey Island-class dock landing ships, Harpers Ferry-class ships, San Antonio-class Flight II ships, Wasp-class ships, America-class Flight 0 ships and America-class Flight I ships.
The NDAA also authorized up to 35 Ship-to-Shore Connectors and procurement of up to five covered ships, meaning a San Antonio-class or America-class ship. Furthermore, Congress prohibited the Navy from carrying out proposed retirements of certain ships, including the dock landing ships.
While Congress ultimately decides the budget, its ability to make an informed decision could be hampered by an indecisive Navy, Labs said.
"The Navy's requirements — warfighting analysis, goals that they want for ships — [have] been bouncing around all over the place over the last five years, basically since about 2016 on after the 355-ship force requirement," Labs said. "It is not clear what those goals are for any particular category of ship."
The lack of clarity impedes planning and makes budgetary decision making even muddier. The large surface combatants goal fluctuated from 63 to 65 in the 2022 Shipbuilding Plan and 96 in the Chief of Naval Operations' Navigation Plan, Labs said.
"It is difficult for … an observer and an analyst on the outside to truly understand what is going on in the Navy's force planning process, but clearly there is uncertainty there that they still need to work out. And this is no less true for amphibious ships," he said.
The Navy's current numbers will "undoubtedly change," Labs said, because Congress has put advanced procurement money against both LPDs and LHAs in future years, but how it will change and by how much is anybody's guess.
The Navy's budget request for fiscal year 2024, released March 13, offered little clarity, with officials referencing decisions hinging on an uncompleted 30-year shipbuilding plan at a budget briefing.
"The question really is what is the right mix of capabilities for today and for tomorrow, and that's where we're taking time to look at what that right mix of capabilities looks like, including, of course … amphibious forces," said Deputy Secretary of Defense Kathleen Hicks. She said she anticipates the shipbuilding plan being submitted to Congress "in the near term."
O'Rourke said the Navy needs a successor to the 355-ship goal to move forward. "It's long recognized that that goal is out of date," he said. "It doesn't reflect the new, more distributed force architecture that the Navy wants."
Just when that successor will come is unclear, but O'Rourke said it's been discussed and debated since 2019, with no closure in sight. The longer the uncertainty and "chronic unsettledness" persists, he said, the greater the chance Congress will step in and "essentially take the ball away from the Navy and [the Office of the Secretary of Defense]." Legislation that Congress passed in the 2023 NDAA could be viewed as initial steps in that direction, he said.
"And so, one issue to continue tracking as we go into this new [fiscal year 2024] cycle is what this new force level role is going to be, when we are going to see it and how Congress continues to react to the absence of a successor goal," he continued.
Congress will continue to react, but the services will need to tell them what they need to fight the war, Forster said.
"Congress is the ultimate adjudicator as to what they're going to be able to buy," he said. "But the services are going to be the ones to ask for what they think they need to go fight the war."
Topics: Expeditionary Warfare, Amphibious, Navy