Army Finalizing Requirements for 'Heavy' Watercraft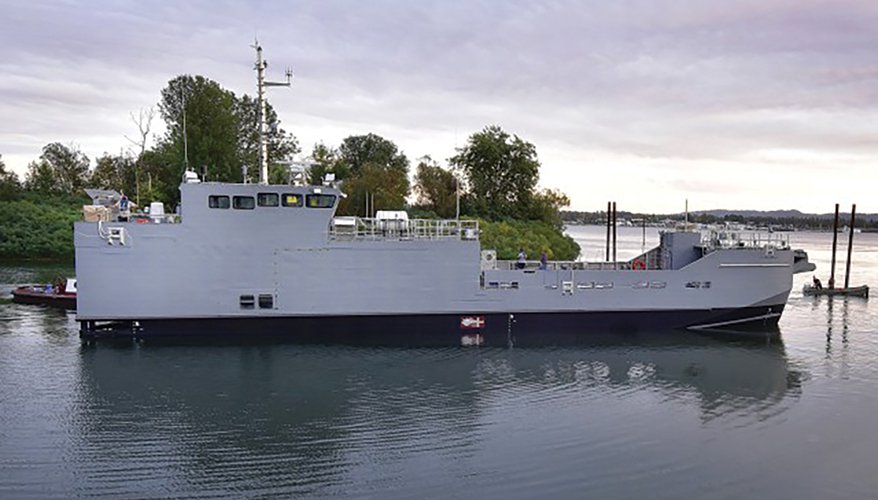 Maneuver Support Vessel (Light)
Vigor LLC photo
COLUMBUS, Ohio
— The Army is modernizing its watercraft to ensure the service's combat systems and vehicles get where they need to go in austere, coastal environments.
In October, the Army launched a Maneuver Support Vessel (Light) prototype, which will eventually replace the service's Vietnam-era Landing Craft Mechanized-8. The vessel — developed by Vigor LLC — is the service's "first new major watercraft system acquisition in more than 20 years," Brig. Gen. Samuel "Luke" Peterson, the Army's program executive officer for combat support and combat service support, said in an Army release.
The Maneuver Support Vessel (Light) prototype is currently undergoing testing and "already demonstrating capabilities that we are extremely excited about," Peterson said at the National Defense Industrial Association's Tactical Wheeled Vehicles Conference.
"The speed on this vessel is tremendous, and the capabilities it will provide for resupplying and augmenting forces in an [Indo-Pacific] type of environment is truly tremendous," he said.
Now, the Army is finalizing requirements for a larger version of the Maneuver Support Vessel, Peterson said.
The Maneuver Support Vessel (Heavy) is "a key requirement coming out of my user community," he said. "We've worked very hard to make sure we understand what it is the Army needs in this type of capability — partnered with our Navy and Marine Corps partners as well — to make sure that we've got the right requirements going forward."
In comparison to the 117-foot-long Maneuver Support Vessel (Light) — which "can haul one combat configured M1 Abrams tank, or two Stryker combat vehicles, or four Joint Light Tactical Vehicles," per the Army release — the Heavy version will be "probably in the 400-foot range," said Wolfgang Petermann, the Army's project manager for transportation systems.
The larger vessel will have a crew of "around 30" and feature "smart subsystems" to reduce crew load, he said.
As of March 1, the Army was "on the cusp of taking … a recommendation" to Assistant Secretary of the Army for Acquisition, Logistics, and Technology Doug Bush to initiate the Maneuver Support Vessel (Heavy) program, Peterson said. The Army is planning to issue a contract in the second quarter of 2024, Petermann said.
Topics: Army News, Tactical Wheeled Vehicles