JUST IN: Report Advocates for Air Force to Buy at Least 20 B-21s Per Year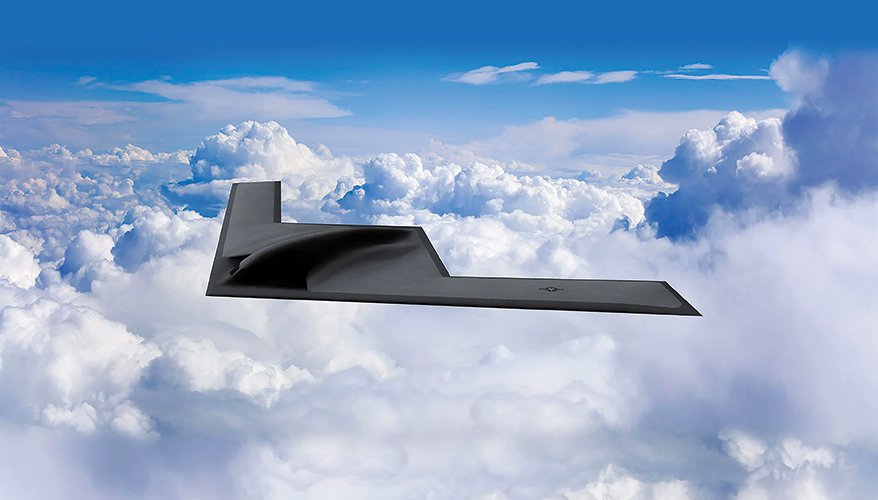 Air Force illustration
The Air Force must ramp up the production of its next-generation B-21 Raider strategic bombers as quickly as possible in order to rebuild the United States' long-range strike advantage, according to a new report released March 21.
Due to post-Cold War force cuts and poor modernization investments, "the U.S. bomber fleet is now the oldest, smallest, and most fragile it has ever been," said the Mitchell Institute for Aerospace Studies report, "Understanding the B-21 Raider: America's Deterrence Bomber."
"DoD's combat air forces are now overbalanced towards shorter range aircraft with smaller payloads and bombers … that are not designed for today's contested environments," said the author of the report, Mark Gunzinger, the institute's director of future concepts and capability assessments.
As the United States must now deter two peers that possess nuclear capabilities in China and Russia, the Defense Department must increase the size of its own nuclear triad, and "dual-capable" B-21s that could deliver both nuclear and conventional payloads. It "would be the more cost-effective way to do that, compared to building more ICBM silos and [ballistic missile submarines] which are very expensive," Gunzinger said during the report's rollout event.
Gunzinger recommended the United States build up a total bomber force of more than 300 aircraft, including 225 stealthy B-21s "to provide the penetrating strike capacity needed to defeat peer aggression." The current program calls for 100 of the aircraft.
The goal should be to "maximize the B-21 acquisition rate," he said. In its fiscal year 2024 budget request, the Air Force asked for $673 million more in procurement funding for the B-21 program than it received in 2023, as the service seeks to support low-rate initial production of the aircraft.
While the first B-21 is expected to undergo test flights sometime this year, the Air Force should ramp up B-21 production "as quickly as possible, to a rate of 20 or more per year," Gunzinger said. The average procurement cost of a B-21 is $692 million in 2022 dollars, according to the Air Force.
"[China] may be prepared to assault Taiwan in an attempt to reunify it with the Chinese mainland later this decade, a timeline that coincides with the Air Force reaching an all-time low in the size of its combat air forces," Gunzinger wrote in the report. "Throttling B-21 acquisition during this critical period will increase the risk of a conflict with an opportunistic China that would result in costs that exceed any temporary program savings."
From an operational standpoint, the B-21's range and "capacity for weapon stations" will give the Air Force increased "time and distance to work with," opening up "many, many possibilities for what's possible," said Maj. Gen. Jason Armagost, director of strategic plans, programs and requirements at Air Force Global Strike Command.
Along with producing more aircraft, "B-21 acquisition must be accompanied by the aggressive procurement of advanced munitions suitable for penetrating strike operations at scale in highly contested environments," the report said. The Air Force requested $4.7 billion for missile procurement in 2024, more than double what was enacted for 2023.
The service is "thinking really hard" about how to achieve "strike efficiency," Armagost said. "We don't want to buy things we can't use, are unnecessary, are too exquisite for a specific target, and can't be useful in a complex way."
"The Air Force is absolutely developing the right mix of weapons. My concern is buying enough of them for a peer conflict," Gunzinger said. "A rate of 500 [Joint Air-to-Surface Standoff Missiles], for example, year by year by year isn't going to give us the capacity we need. And the [Long Range Anti-Ship Missile] production count is much lower than that and is split with the Navy.
"All those new weapons, they are going to be fantastic, but they're not in production." he continued. "We need to move them into production and begin buying them as fast as possible."
While China and Russia are both rapidly modernizing their nuclear capabilities, the United States is "kind of in a modernization pinch right now across the triad," Armagost said.
"Now, I would say some of the benefits of having waited to where we are now, we've been able to make some very interesting and good choices with both Sentinel [ICBMs] and [B-21], with regards to where we are on open mission systems and open architectures," he added. "So, that has actually resulted in what I think is going to be a better outcome for the sustainability, maintainability [and] operational effectiveness of those platforms going forward."
A dual-capable platform such as the B-21 will provide the United States more ways to deter and, if necessary, fight a conflict with a near-peer nuclear power, he said.
"If your adversary has composed their force such that they will escalate to win, you have to say, 'If you're going to fight that fight, you do not get to escalate to win,'" he said. "We have options across conventional and nuclear to respond in the ways that the president sees fit. But if you take those options off the table, you potentially reduce the response options.
"Those who say that a dual-capable bomber force is not needed … I would call that a self-deterring response to an adversary," he added. "You're essentially ceding that territory to them."
Topics: Air Power, Air Force News