Army to Receive Test Package for New Squad Weapon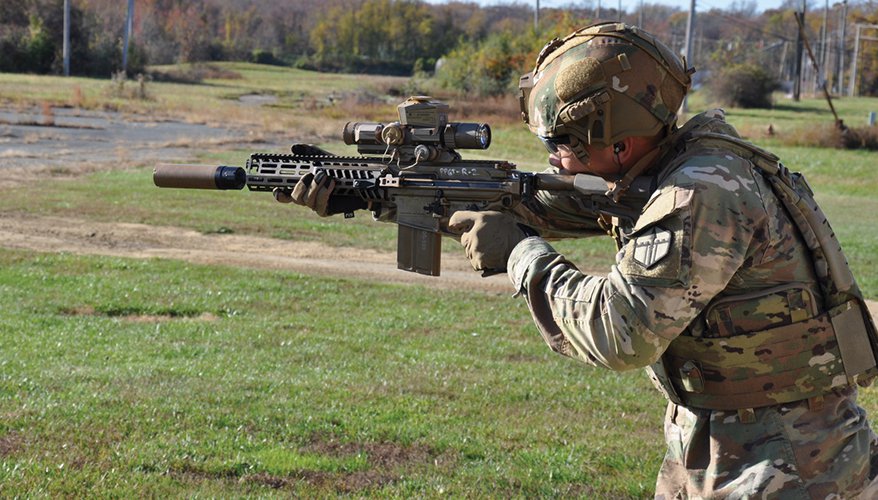 Army photo
LAS VEGAS, Nevada — The Army will soon receive the "drop one" production qualification test package for its 6.8mm Next Generation Squad Weapons. The package, which will be delivered beginning in April, will include both XM7 battle rifles and XM250 light machine guns as well as associated logistics.
The test package includes nearly four dozen rifles, approximately 30 light machine guns, suppressors, both linked and unlinked ammunition, blank kits, blank ammunition, tool kits, repair parts and spare parts, Jason St. John, senior director of government products at manufacturer Sig Sauer, said on the sidelines of the SHOT Show in Las Vegas.
The ammunition will be delivered from a Sig Sauer facility in Jacksonville, Arkansas, and the firearms from its Newington, New Hampshire, factory, he said.
The upcoming deliveries reflect the third "bundle" of Next Generation Squad Weapons and equipment submitted by Sig Sauer. The first batch of weapons, called prototype activity one, was delivered in May 2020 as one of three contractor team submissions that allowed the Army to refine its test protocols for the program. A second submission occurred in January 2021, with those guns undergoing extensive Army testing and soldier touchpoints through the summer of 2021. Following that testing, industry proposals were submitted in October 2021, with the contract award going to Sig Sauer in April 2022.
"If you look at it from a very holistic approach, the upcoming [production qualification test] will allow the Army to look at things like reliability, durability, dispersion and fumes from the suppressor," St. John said. "They will give us our ratings, but regardless of those ratings, we are going to continue to evolve and improve on all areas of the weapons and the ammunition. The machine never stops and waits for feedback. We are constantly looking at all of those issues ourselves."
The Army and company representatives will test the weapons together at Aberdeen Proving Ground, Maryland.
"They tell us what they're seeing. We tell them what we're seeing. So now the development process can accelerate," St. John said.
Another recent change to the program involves the redesignation of the XM7 battle rifle. Formerly designated XM5, the Army subsequently discovered that the initial designation was already used by Colt Industries for one of its 5.56mm carbines.
Topics: Land Forces