Air Force Pressing for Rapid E-7A Production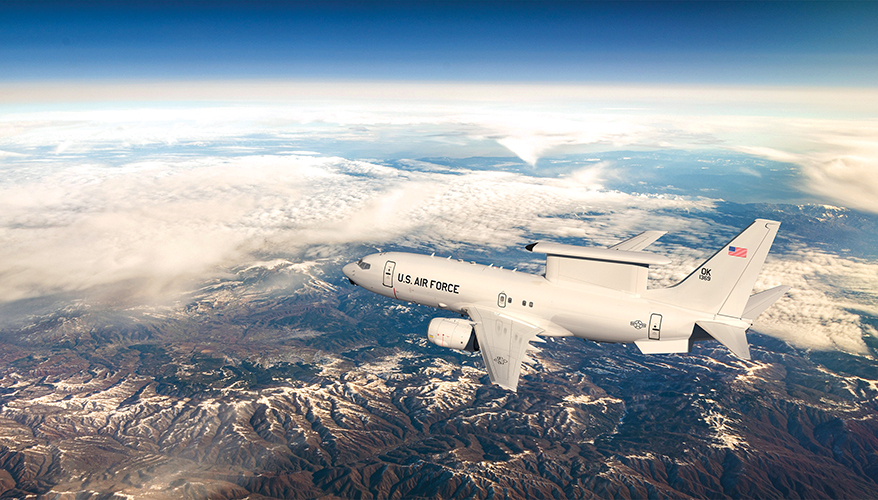 Air Force illustration
AURORA, Colorado — Air Force officials are hoping to accelerate the production process for E-7A battle management and command and control aircraft, but it will be difficult to deliver the plane in fewer than 60 months, according to manufacturer Boeing.
The Air Force announced the award of a $1.2 billion "undefinitized contract action for the E-7A Rapid Prototype program" Feb. 28. According to the announcement, the first two airframes will begin production in fiscal year 2025, and the service intends to acquire 26 Wedgetails to replace the service's 31 aging E-3 Sentry aircraft.
Gen. Kenneth Wilsbach, commander of Pacific Air Forces, said the E-7A is his top modernization priority for the Pacific theater, "and I want it fast," he emphasized to reporters at the Air & Space Forces Association's Warfare Symposium.
He was preparing to visit Boeing "to talk to them about making the E-7 as fast as they can make them, because I want them very quickly," he said, adding that the aircraft is significantly more capable than the E-3, which is increasingly difficult to maintain and fly.
However, Boeing officials at the symposium told reporters there is little they can do to trim the plane's production time.
It starts with a two-year process to construct a 737-700NG, which serves as the base platform for the E-7, said Carson Elmore, business development for Boeing's international E-7 Program. "We put 800 wings on it" to increase lift capacity, then install CFM-56 engines and "we beef up the trucks underneath it, so we can carry that militarized weight," he said inside an E-7 simulator featuring a cockpit and five operations stations with screens simulating sensor feeds.
Then, Boeing spends two years chopping up the aircraft to install the electronics systems, including the signature "Wedgetail": the Northrop Grumman Multi-role Electronically Scanned Array, or MESA, sensor.
Rod Meranda, business development for Boeing's domestic and international E-7 program, said it may be possible to shorten the lead time needed to acquire parts and prep for production. "So, if we have that money in hand, you can cut off about six months," he said.
"The mod piece may be a few months there, but typically it's four years," he continued. Since the two aircraft beginning production will be the first E-7s for the Air Force, the planes will have to go through Defense Department testing and FAA certification, which will add around 12 more months to the 48-month delivery process.
That's a long wait for an Air Force eager to divest the 707-based E-3 airframe in service since the early 1970s.
Aside from being based on a current model aircraft with readily available parts and service, the E-7 electronics are a substantial leap forward, said Elmore and Meranda.
The Northrup Grumman MESA sensor is powered by four 90-volt generators built into the jet engines, and it has "104 square feet looking at each side in the L band, and you are able to reach out and see radar cross-section assets at a very, very good range," Elmore said.
That's a substantial advancement over the E-3 airborne warning and control system, or AWACS, he said.
"You have a mechanically scanned array that's on AWACS," he said. "Once every 10 seconds, it's looking where you want it to look at a tactical asset, and that tactical asset can be moving 400 knots," which means it can travel a significant distance in the 10 seconds it takes the sensor to rotate.
The MESA sensor allows for managed, directed energy that provides "the ability to stare at something. So, you're not doing once every 10 seconds … I'm looking constantly," he added.
Australia, Turkey and South Korea currently fly E-7s, and the United Kingdom has begun production. The goal is to maximize interoperability, Meranda said.
"The airframe is the same, the sensor is the same, a lot of the mission equipment is the same," Meranda said. "There are some mandates the Air Force has asked us specifically for them. And so, this will be the first platform that will have an open mission systems software suite."
Topics: Air Force News, Air Power, Defense Manufacturing