ROBOTICS AND AUTONOMOUS SYSTEMS
JUST IN: Japanese Company Creates Float Plane Drone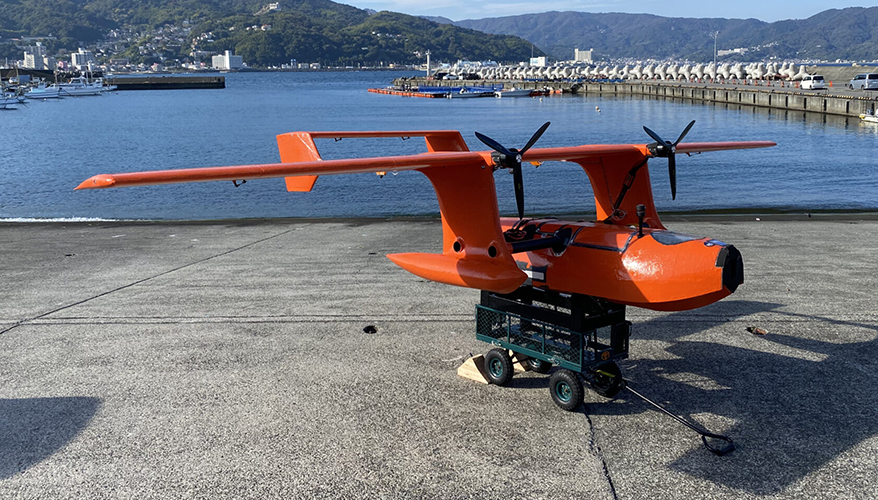 Space Entertainment Laboratory photo
CHIBA, Japan — A Japanese company is marketing a small- and medium-sized unmanned aerial float plane.

Space Entertainment Laboratory is offering its Hamadori Seaplane Unmanned Aerial Vehicle at the DSEI Japan conference in Chiba this week.

Takenori Hashimoto, lead of the research and development and corporate strategy departments, said the Fukushima-based company invented the aircraft with Japan's geography in mind.

"Japan doesn't have a lot of flat land," he said in an interview. "Sometimes it is difficult to operate fixed-wing drones because they need runways."

What Japan does have, however, is lots of water surrounding its islands, as well as many rivers and large lakes, he noted.

The company is offering two sizes of its Hamadori aircraft.

The smaller Hamadori 3000 is battery powered and comes equipped with an electro-optical/infrared camera and can be loaded and launched from small boats. It has a 10-foot wingspan, is six and a half feet long and weighs a little more than 40 pounds. It can fly for about 120 minutes at 35 knots and has a range of some 95 miles. It can land and take off with waves of up to six feet, Hashimoto said.

The twin-engine Hamadori 6000 is twice the size of the 300-model, is powered with gasoline, has a satellite link, weighs 220 pounds and can carry larger payloads of up to 22 pounds. It has a 20-foot wingspan and is 13 feet long. It has 480 minutes of endurance, can fly at 60 knots at a range of 460 miles.

It can take off and land in sea states with nine-foot waves, he added.

Hashimoto said the Japanese navy and coast guard have experimented with the aircraft, but so far, they have not made a decision as to whether they will acquire it.
Topics: Robotics and Autonomous Systems