BUDGET 2024: Air Force Budget Continues Divest to Invest Strategy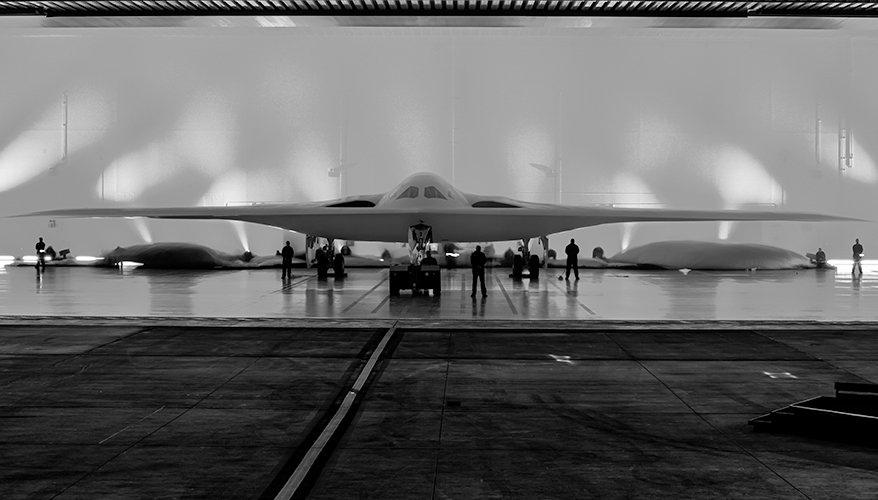 Air Force photo
If the Air Force gets its wish, it will clear out 310 older aircraft in fiscal year 2024 and acquire 95 new ones while investing in research, development, testing and evaluation to develop future platforms like the B-21 Raider, Next-Generation Air Dominance system — including unmanned Collaborative Combat Aircraft — and new tankers to refuel the fleet. However, Congress has routinely blocked the service from divesting platforms, raising questions about whether the Air Force will get everything it wants in 2024.
The topline 2024 Defense Department budget request comes in at $842 billion — $26 billion, or 3.2 percent, more than Congress appropriated for fiscal year 2023. The Department of the Air Force's slice of the pie is $259 billion, but once the $44 billion in classified "non-blue" funding that is passed through the Air Force budget is removed, the net is $215 billion, according to budget documents released March 13.
Of that, $185 billion goes to the Air Force, a 3 percent increase over its 2023 budget, and the Space Force would receive $30 billion, a 15 percent raise from its 2023 funding.
The Department of the Air Force acquisition budget climbs $1.3 billion to $35.4 billion, a 3.8 percent boost. However, much of the increase is in the purchase of missiles — ballistic and otherwise — as the requested aircraft procurement budget for 2024 is $20.3 billion, a $1.9 billion decrease from 2023.
"Our budget request includes continued investment in 72 fighters in fiscal year 2024, as well as the accelerated acquisition of new space-based missile warning architectures to improve our sensing capabilities and enable defenses against the full range of ballistic missile threats," said Kristyn Jones, who is performing the duties of undersecretary of the Air Force, during the service's budget briefing March 13.
"Our [2024] budget request includes 20 new requirements and $4.8 billion in new funding to further the essential transformation of the department to the next generation of capability," she added.
The 2024 shopping list includes 48 F-35As, 24 F-15EXs, 15 KC-46s, seven MH-139 Grey Wolf helicopters — pursuant to a recently announced contract with Boeing — and one E-11.
Research, development, test and evaluation, or RDT&E, grows in both the Air Force and Space Force budgets. The Air Force is seeking $36.2 billion, a 6.8 percent increase, and Space Force is requesting $19.2 billion, a 16 percent increase over 2023 funding.
Programs seeing a plus-up in RDT&E include the Advanced Battle Management System, advanced engine development, E-7 early warning and control aircraft and Next-Generation Air Dominance and Collaborative Combat Aircraft, which the Air Force announced last week.
The Air Force also announced last week it intends to revamp its tanker acquisition strategy and scrap the KC-Y and KC-Z programs. Instead, it seeks to develop a Next-Generation Aerial Refueling System, or NGAS, which will come online in the late 2030s and bridge to that platform with additional purchases of a KC-46 variant.
The 2024 budget request includes roughly $8 million in funding for an analysis of alternatives to shape the NGAS acquisition program.
The budget request includes funding for the CCA program announced by Secretary Kendall last week. At the Air & Space Forces Association's Warfare Symposium, the secretary said the service was planning for acquisition of 1,000 CCAs to accompany an initial tranche of 200 NGAD fighters and 300 F-35s.
"Our [2024] budget request allows us to research, test, acquire and build the enduring advantage of tomorrow, with joint allied and partner integration at the forefront of our efforts," Jones said.
One program that is not moving forward is the Adaptive Engine Transition Program — the second or replacement engine for the F-35. The Air Force determined it is not cost effective, as it only applies to one of the three variants of the airframe, Jones said.
"As a result, we've decided to move forward with the engine core upgrade," she said. "We have $254 million in this year's budget for that particular effort."
As it has done in recent years, the Air Force has requested to divest a substantial number of aircraft — 310 in the proposed budget — to free up resources to invest in next-generation technologies. On this year's chopping block are 42 A-10s, 57 F-15C/Ds, 32 Block 20 F-22s — which the service said are not combat certified — 37 HH-60G rescue helicopters and the last 24 KC-10 tankers in the fleet.
Last year, the Air Force sought to mothball 150 aircraft, including A-10s, F-22s and F-15s, E-3s and KC-46s, but Congress pared back the request and prohibited divestment of the F-22s and F-15s.
Travis Sharp, director of defense budget studies at the Center for Strategic and Budgetary Assessments, said that each year the department is hoping to save $2 to 3 billion through divestments, and Congress routinely rejects some of the requests.
"Based on that pattern of behavior, it's safe to assume if DoD is seeking to save, let's say $3 billion again this year in divestments, they're not going to get the full $3 billion," he said. "They never are able to generate as much money through divestments as they hope."
It's a recurring pattern and difficult to put an exact percentage on how much Congress rejects each year, he added.
"It doesn't make a big difference when you look at it one year at a time," he continued. "But it makes a big difference if you look at it over multi-year periods, because every year that the Air Force is forced by Congress to continue carrying force structure that it would prefer to divest, it has a cumulative effect" that could add up to $15 billion in extra costs over a five-year period.
Another area where Congress tends to tinker with the budget is procurement, which could explain why the 2024 request for aircraft procurement is less than 2023 funding, he said.
"We can reasonably expect some of those categories are probably going to get additional funds beyond what's in the request," he said"Munitions and potentially aircraft represent two areas where infusions of more money seem pretty likely given what Congress has been doing in recent years."
During the budget briefings, Deputy Secretary of Defense Kathleen Hicks stressed that one of the focus areas of the 2024 budget is buying more munitions and building the capacity to increase production.
"We're investing $30.6 billion in [2024], a nearly 12 percent increase above [2023] enacted. Compared to the Defense Department's budget request from just five years ago, we're putting nearly 50 percent more money into munitions," she said. Almost one-third of the munitions funding is going toward "long-range fires to increase procurement and improve the capability of not only hypersonic missiles, but also our most lethal and survivable subsonic weapons, including those we've been buying at or near maximum capacity for several years."
The proposed budget would procure maximum quantities of "munitions that are most relevant for deterring and, if necessary, prevailing over aggression in the Indo-Pacific, such as the Tomahawk cruise missile and its latest maritime strike variant, the extended range Joint Air-to-Surface Standoff Missile, or the JASSM-ER, the Long Range Anti-Ship Missile, or LRASM, and the anti-ship capable SM-6 missile, among others," she said.
Hence, the substantial increase in funding for missile procurement — from $2.3 billion to $4.7 billion — in the proposed Air Force budget for 2024.
While the Defense Department and services are requesting increases in most budget categories, they are nominal — but not necessarily real — increases.
Undersecretary of Defense (Comptroller) Michael McCord said the total budget includes 0.8 percent real growth based on an Office of Management and Budget mandated 2.4 percent inflation calculation for 2024.
"Pay raises and other items such as housing costs are adjusted by separate factors, so the 2.4 doesn't literally apply to everything in this budget," he said.
Plus, the budget would go into effect on September 1, 2023, and there will be inflation until then, which changes the purchasing power of the budget outlined today, said Sharp.
In contrast to the OMB projection, the Congressional Budget Office came out with an estimate of 2.7 percent for 2024 inflation, he said, which would drop real growth to 0.3 percent.
"Of course, both those figures could be wrong — inflation could be higher — and if it is higher, then that means the real growth level would be even lower, potentially even negative," he added.
Even 0.8 percent growth isn't going to cut it with the defense hawks on Capitol Hill who want 5 percent real growth, he noted.
"So, a 5 percent real growth budget would push the Pentagon top line up to about $875 to 880 billion. So, that's what the hawks are going to be aiming for," he said.
And that's what defense organizations and associations — including the National Defense Industrial Association — have been calling for as well.
"NDIA commends DoD leadership for its focus on investing in the critical defense capabilities and industrial capacity needed for the Pacific, to include multi-year authority for munitions," said David Norquist, NDIA president and former undersecretary of defense (comptroller).
"We remain concerned that this level of funding does not keep pace with the challenges our military faces," he continued. "And NDIA intends to continue to champion the importance of a stable and sufficient budget topline that adequately resources our National Defense Strategy and addresses the aggregated and ongoing impact of inflation on the U.S. defense industrial base."
While Congress has made significant increases to the defense budget in recent years, 2023 could be different, said Todd Harrison, managing director of Metrea Strategic Insights.
"I think this is going to be a much more difficult debate this year, because Congress is starting to tighten the purse strings," he said. "On the overall federal budget, there are calls for significant spending cuts … that could be a factor this year that limits the amount of growth we see in the defense budget. Congress is not going to be able to add as much or as freely as they have in the past."
While the Defense Department might not be relying on Congress to add to the 2024 budget request, the deputy secretary was emphatic in telling Congress it expects a budget on time.
"We ask Congress to support this budget, and we hope this support will include on-time, full-year appropriations for the U.S. government and our service members instead of defaulting to continuing resolutions," Hicks said. "If you add up the months DoD has been under a CR since 2011, it totals four years' worth of delays, delayed new program starts, delayed training … that's four years lost over the last decade-plus to outcompete [China]," she continued.
"We cannot have one hand tied behind our back for three, four, five, six months of each year. And let me assure you, more money cannot buy back this lost time," she said.
Topics: Air Force News, Budget