JUST IN: Army Futures Command Shifts Focus to 2040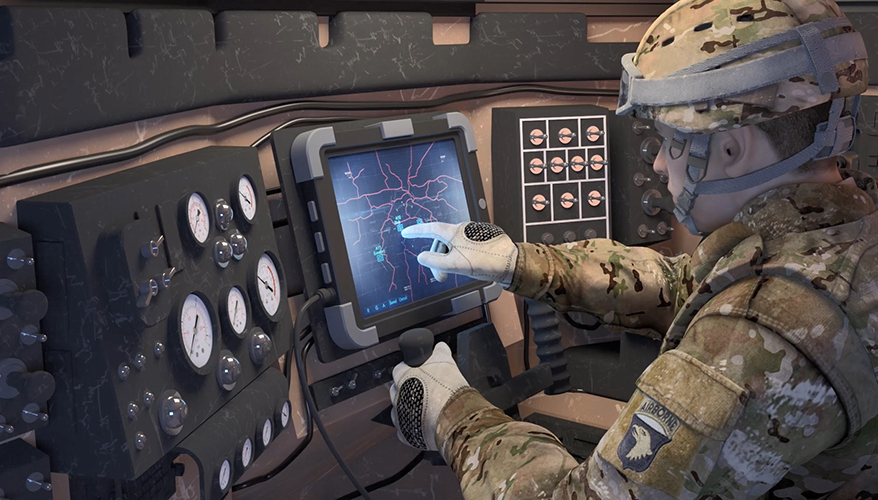 Army illustration
ARLINGTON, Virginia — Army Futures Command is living up to its name and starting to look beyond its current 2030 goal line. It is now focusing on 2040, its leader said Feb 8.

Gen. James Rainey, commanding general of Army Futures Command, said his mandate from the secretary of the Army was two-fold: deliver the Army of 2030 and design the Army of 2040. He has now "shifted his main effort" to transforming to the Army of 2040.
While the conversation on 2030 is not closed, "not a lot is going to change between now and 2030," he said at an Association of the United States Army talk in Arlington, Virginia.

Looking to 2040, the Army will be working toward an understanding of an operational environment, and what the enemy will look like. "We're not going to get it [completely] right, but we can't get it wrong," he said.
Rainey called the transformation of the Army "bigger and more ambitious" than modernization, and the driving force behind the Army's vision for future readiness.
Formation-based requirements will play a role in ushering in the Army of 2040, Rainey said. The Army acquires things, he said — helicopters, vehicles, radios, weapons – "but we don't fight that. We fight formations." The Army needs more lethality, more survivability, more affordability. "We don't want to just replace weapons with weapons. We want to build more meaningful formations."
Rainey sees a "huge opportunity" to increase the lethality and survivability of formations. He doesn't want them to have to "move 91-ton things around."

Lessons learned will continue to inform the Army's vision for 2040. Observations from Ukraine have both reinforced what hasn't changed and exposed what has, he said. One of those lessons is the need to operate under constant observation and constant contact, he added.
"That needs to translate into every modernization effort, but more importantly into our tactics and doctrine," he said.

"Everything starts with a good concept," Rainey said of the 2040 design. He is looking at "what's going to change, what is not going to change, and what are the implications of that."

Answering those questions will bring the Army to a point where it can "go to our teammates inside the Army and the Joint Force, to Congress, and say, 'hey, here's the things we're going to need to be able to do in 2040.'"

The number one priority to reach that goal is personnel. What hasn't changed is humans still matter, he said. "There's still a contest of will between human beings, which is good for the United States Army because that's our greatest strength," he said.

"There's a competition out there for talent," he added. He called Army Futures Command small by design, made up of over 80 percent civilians, collaborating with Army warfighters and leaders.
"There are clearly some skill sets that we're going to need, for sure, in the future, that we don't even have in the Army. So that takes time," he said.

Part of that will involve bringing in what he called the "power of our university systems" and harnessing the academic excellence at their disposal. Bolstering the analytic capacity of the Army to use data will be an ongoing goal leading to both 2030 and 2040, he said.

Rainey referenced a campaign of continuous learning as a stepping stone toward 2040, but also 2030.

"We [have] got to be better learners," he said. "Which takes curiosity, compassion, intellectual humility, the ability to learn from other people, to watch something, being able to say, hey, we might have this wrong, right?"

Meanwhile, delivering the Army of 2030 is "in a good place," Rainey said. Four of the six main functions of Army Futures Command are research, concepts, experimentation and requirements, he added.
One example of that is Project Convergence, the Army's version of all domain command and control, which seeks to link sensors and shooters and boost decision-making through the use of artificial intelligence. The Army wants to wrap up experimenting on the concepts and deliver capabilities by 2030.

"We develop concepts, we experiment with them, then we translate them into environments," he said.
Integration and cooperation with allies will also play a key role in shaping the Army's future, Rainey said. Fighting with partners and allies is "a certaint[y] about the future," he said.
Integration is a key element of transformation and something that is missing. Across material and non-material solutions lies an opportunity to be more integrated, he said.
Topics: Army News