ROBOTICS AND AUTONOMOUS SYSTEMS
AVALON NEWS: BAE Unveils Australia-Made Uncrewed Aircraft Project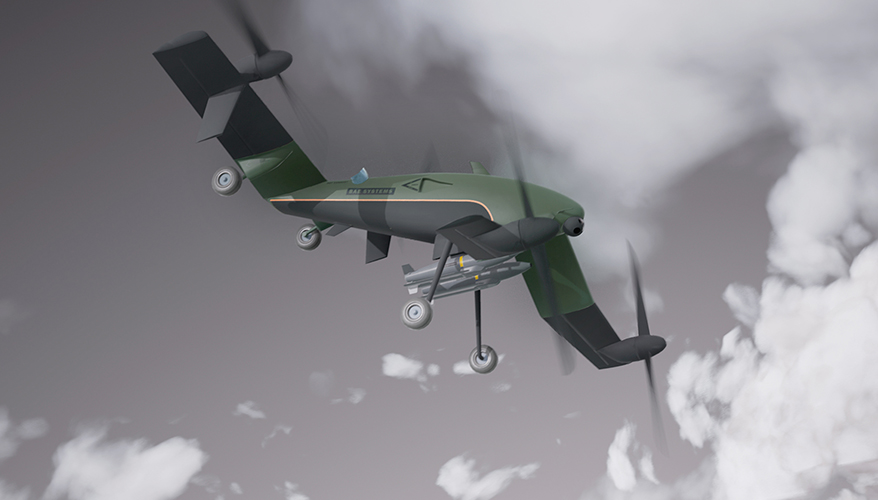 BAE Systems concept
GEELONG, Australia — BAE Systems' Australian subsidiary revealed a new vertical take-off and landing drone on Feb. 28 that can launch like a rocket, fly like an airplane and hover like a helicopter.

The uncrewed aerial vehicle dubbed "STRIX" and unveiled on day one of Avalon — The Australian Air Show — will be domestically designed and manufactured in partnership with Perth-based Innovaero.

The company, with much fanfare at the show, unveiled a mockup of the aircraft, which is still under development and expected to be operational by 2026.

The announcement comes four years after Boeing's Australian subsidiary at the air show announced the MQ-28 Ghost Bat unmanned jet project, the first Australian designed and manufactured aircraft since World War II, which will be on public display this week at Avalon. BAE Systems provides the vehicle management system for the Ghost Bat and will do the same for STRIX.

An animation of the proposed aircraft showed at the unveiling portrayed STRIX being rolled out of a shipping container, its wings unfolding, then lifting itself up vertically and taking off, making it runway independent.

BAE Systems Australia CEO Ben Hudson compared its capabilities to the V-22 Osprey, flown by U.S. Marines, the Navy and Special Operations Forces.

"We're drawing on the expertise of Australian engineers around our nation toward a new capability that is truly sovereign," Hudson said in a speech after lifting the curtain on the mockup. There is "significant" potential to export the aircraft, he added.

Kisa Christensen, director of Red Ochre autonomy and sensors at BAE Systems Australia, which will spearhead the design and development of the aircraft, said "The intent of this project is to be responsive to customer needs, and the emerging threat environment."

A secondary goal is to build up the nation's prowess in defense technology, she added. "Our work with Australian industry is a critical part of what we do at BAE Systems."

STRIX will carry a 160-kilogram payload more than 800 kilometers, or loiter for about five hours, depending on the weight of the payload, Hudson said. It could be used for air-to-ground strike, reconnaissance and surveillance or act as a "loyal wingman" for crewed helicopters, he added.

The project will be funded by internal research-and-development dollars and follows the Australian government's goal to boost its local defense industry. BAE prior to the show announced that it was seeking to fill 6,500 positions in Australia over the next five years.

"STRIX will look to increase Australian sovereign capability by leveraging domestic expertise, such as Innovaero's aircraft concept design and rapid prototyping," a statement said, adding that it would be inviting other Australian companies and universities to participate in the project.

Hanging off the mockup were two precision-guided bombs outfitted with a kit called RAZER, that was also designed and manufactured in Australia by BAE Systems. The kit — which is still under development — can convert 40-to-50-kilogram bombs into precision weapons that can glide toward targets, a statement said. The kit was developed with the Commonwealth of Australia's Guided Weapons and Explosive Ordnance Enterprise.

"Currently, there is a significant gap between inexpensive, short-range, land-based weapons of this caliber and expensive long-range, air-launched weapon systems," the statement said. RAZER is intended to fill that gap, it added.
Topics: Global Defense Market, International