Space Force Lacks Agility To Tap into Commercial Innovation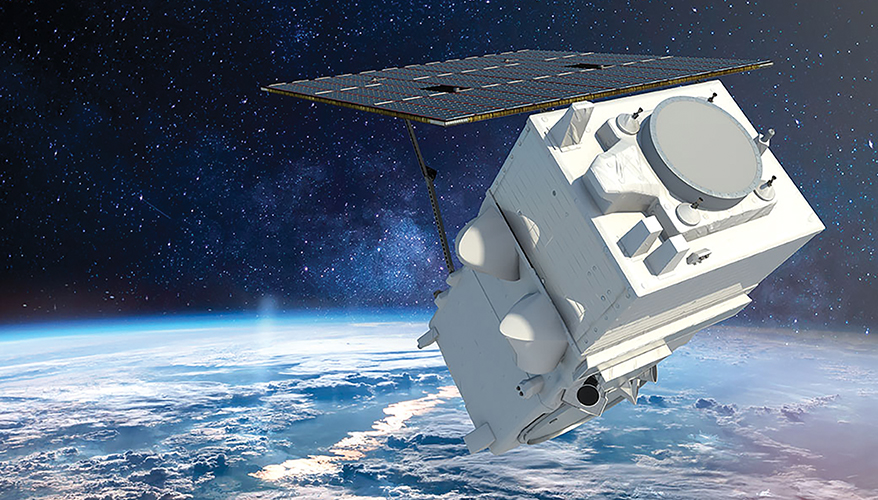 Maxar Technologies illustration, imagery
The Pentagon wants to capitalize on a soaring commercial space sector to stay ahead of adversaries in the domain. But the lack of a national strategic vision that focuses efforts and streamlines the government's contracting bureaucracy is leaving members of industry feeling lost in space.
For decades, the United States has been a leader in what has been called "the ultimate high ground." But recent reports from industry experts and from the Defense Department indicate that China is making significant advancements in the development of spacecraft and launch systems.
One strategy the Space Force is looking to employ to stay on top is accelerating the acquisition and adoption of commercially sourced platforms and services for its national security and civil space missions, said Col. Eric Felt, director of architecture and integration at the office of the assistant secretary of the Air Force for space acquisition and integration.
"What is so exciting to the Space Force and the space acquisition community about all this commercial innovation and these commercial technologies is that we can use those to maintain our technology lead and deter conflict with our competitors," Felt said during a January webinar hosted by the National Defense Industrial Association.
Buoyed by private investors, the commercial space sector has experienced a meteoric rise in recent years. However, money alone isn't enough to win the space race against China. Industry needs a cohesive national space strategy — a "north star vision" — from the United States that would help direct investment and innovations, according to the fourth annual State of the Space Industrial Base report titled "Winning the New Space Race for Sustainability, Prosperity and the Planet."
Published in August, the 110-page report was written by officials from the Space Force, the Defense Innovation Unit, the Department of the Air Force and the Air Force Research Laboratory. More than 250 participants from government, industry and academia contributed to its findings and recommendations.
"The U.S. lacks a clear and cohesive long term vision, a grand strategy for space that sustains economic, technological, environmental, social and military (defense) leadership for the next half century and beyond," the report read.
This is the fourth consecutive year the report has indicated that the government needs to develop a cohesive space strategy that integrates commercial, civil and national security space efforts.
The United States does have doctrines that discuss space strategies, such as the framework released by the National Space Council in 2021, the National Space Policy, the National Defense Strategy and the National Security Strategy. But participants in the report indicated these were not enough to compete with China, said Maj. Gen. John Olson, mobilization assistant to the chief of space operations and a co-author of the report.
"They said we need something that brings that into a much more cohesive, enduring north star vision for America," Olson said during the webinar. "And that's got to be inclusive of all those elements across the spectrum of commercial, civil and national security space activities."
"As we look at the broader context of that, really it's a reflection of the fact that commercial space technology has forever changed not just the civil and commercial [space] community, but we've seen that — this year ever more so — it's changed the nature of conflict," he added.
Commercial space technology has been critical for Ukraine's defense against Russia's invasion. For example, a constellation of satellites owned by Maxar Technologies has been collecting satellite imagery used to create intelligence for Ukrainians, while SpaceX's Starlink satellite internet network has kept Ukraine online since the beginning of the invasion.
In terms of a north star, the commercial sector is looking for a message that will build rhythm and excitement within industry that will eventually lead to funding, said Chris Shank, vice president and general manager of air and space programs at Maxar.
"I think there's an element that the Space Force will need to articulate a … I hate to say this, but it is a bumper sticker that we can all memorize and keep in our heads and that is our north star," Shank said at the webinar. "And then you have to be persistent about it, you have to communicate it."
Whether or not a north star vision will be defined within the year is yet to be determined, although the report urged the United States to take a "whole-of-nation" approach when articulating one. The messaging should be equally owned by the National Security Council, the White House, the National Space Council and the Office of Science and Technology Policy, Olson said.
Meanwhile, as the Space Force works with the government to articulate a unified vision for space, it is also moving forward with breaking down a number of barriers — including bureaucratic delays and an outdated acquisition culture — that contributors highlighted in the report as slowing down technological advancements in space, said Steven Butow, director of the space portfolio at the Defense Innovation Unit and a co-author of the report.
"We need to make sure that we're not putting our own economic system at a disadvantage because we're tightly coupled to policies that were written in 1960," he said during the webinar.
Butow emphasized that the Defense Department needs to be economical in where it makes investments. He cited prototyping, experimentation and validation of space capabilities as an area that has been historically underfunded, although the budget has increased in recent years, he noted.
"If we want to have robust capabilities that are really coupled to the state-of-art technology, we really need to make sure that we're investing properly in the research-and-development area to include prototyping activities that we do with commercial companies — new and old — that are doing really interesting things to give us that competitive advantage in space," Butow said.
The department also needs to emphasize "meaningful contracts" with industry that take those prototypes and turn them into new and tangible capabilities for warfighters, he said.
When trying to work with the government, many individuals in the commercial space industry often get lost within the "valley of death" — a phenomenon that sees novel technologies developed by industry fail to progress beyond the research-and-development phase and into large-scale procurement due to bureaucracy, the report said.
One way to bridge that gap is for the department to prioritize buying products already available from the commercial sector and only building new capabilities when it absolutely must, Butow said. Not only does this mean procuring platforms and widgets, but also services such as in-space communications, he said.
"Services contracts are not normally done in the Department of Defense," Butow said. "But most of the interesting things that are going to be offered in space are going to be available as commercial services, and we really need the U.S. Space Force to be the executive agent for the entire department to make a wide variety of services available."
Doing so would allow for more competition within the United States' economic base while also giving the Defense Department the ability to adapt new and emerging technologies much faster, he added.
In order to bring more commercially sourced platforms into the Space Force, the service is pushing a strategy that prioritizes speed during the acquisition in order to get the most relevant technologies into the hands of warfighters, said Felt, who also co-authored the report.
"That is very important because, again, there are all these new capabilities that are coming along, some of them are very useful to us and we want to buy those that are useful," he said. "And then, that sends the right signal to industry as to what our value function is, and then they can respond much faster than the government can to help fulfill our future needs and make sure we maintain the technology edge against China."
This means building smaller satellites that can be delivered quickly and — as recommended by participants of the report — buying more commercial products and services readily available, Felt said.
The Space Force also wants new technology development happening in industry and in research labs that can then be harnessed by programs as a way to reduce risk and not force programs to lock in on capabilities 10 years ahead of time only to receive them when they are outdated, he added.
In addition, the service is working to shorten the time it takes to launch spacecraft, which is absolutely essential if the United States wants to compete with China, he said. With shorter wait times between launches, the Space Force can roll out new capabilities each time and build upon previous layers, he added.
There are a number of projects underway in the defense sector that are aligned with the objectives of the commercial sector, Butow said. For example, the Defense Innovation Unit is leading development of the Hybrid Space Architecture, a network that will link commercial and government space assets across orbits to provide communications on and off Earth.
"There is no internet in space, and we need it," Butow said. "And what this is going to do is — not just from a national security standpoint, but economically — that's going to be the foundation for many new businesses that are already funded and putting things in space today."
With how much the space economy is growing and interest in bringing the Moon into Earth's economic sphere, the potential for a lively space industrial base is bright, Olson said.
"As we look at protecting this planet, it's clear that we've got to get off this planet to do so, and that involves big significant thrust in looking at power production and manufacturing and leveraged use of lunar resources and other resources," he said.
"Now we've got the technology, now we've got the capability, now we've got the will, now we've got the funding, and I think it's a matter of an existential race and an existential challenge to drive the significant benefits that come from being a first mover," he said.
Topics: Space, Space Policy and Strategy, Defense Department