IDEX NEWS: GM Defense Scores Partnership to Develop Vehicle Tech with UAE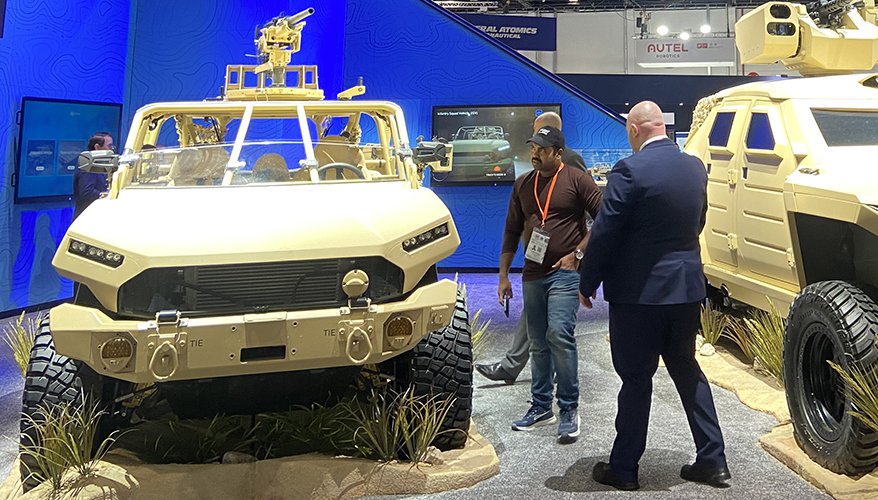 Mikayla Easley photo
ABU DHABI — American vehicle maker GM Defense has taken the first step in forming a new partnership with the United Arab Emirates to research and develop advanced mobility and vehicle power technologies, according to company officials.

GM Defense signed a collaborative memorandum of understanding with the UAE's Tawazun Council, which serves as the defense and security acquisitions authority for the country's armed forces. The new partnership was inked Feb. 21 during the International Defence Exhibition in Abu Dhabi.

GM Defense and the UAE plan to collaborate on vehicle technologies like hybrid-electric fuel sources, autonomy and connectivity, a company press release said.

The United Arab Emirates has been making significant moves to transition to a more sustainable economy both domestically and through international events, such as the 28th Conference of the Parties to the UN Framework Convention on Climate Change that will be held in Dubai later this year.

These efforts are one of the reasons GM Defense wanted to work with the nation, said Bradley Watters, vice president of international business development at GM Defense.

"We are moving forward with research and development with things that deal with fuel cells, research and development on [electric vehicles] and incorporating some of that capability into their platforms as well as ours," Watters said on the sidelines of IDEX.

One of the key interests for GM Defense's partnership will be hydrogen-based fuel cells and their range of uses to power both platforms and charging stations, he added. The United States Army's Ground Vehicle Systems Center is currently evaluating the company's hydrogen-based mobile power generators.

As GM Defense collaborates with the UAE, the work could help advance electrification technology for not just land vehicles, but also autonomous aerial systems and water vessels that the Emiratis have invested in, Watters noted.

"We're looking to be able to help each other in that market space — really the global market space," Watters said. "If the U.S. Army ends up being able to leverage off some of that, that's great."

The partnership with Tawazun Council is GM Defense's first in the Middle East, marking a significant step for the company as it plans to expand its global footprint with its newest business arm, GM Defense International, created in 2022.

"Our collaboration with Tawazun Council is an important step in expanding our reach to defense and government customers in the Middle East," GM Defense President Steve duMont said in a statement.
"We are committed to building long-term, lasting relationships in the region and to delivering solutions featuring some of the most advanced, commercially proven technologies that offer reliability and flexibility," he continued. "With this MOU in place, we can more effectively help our global customers transition to a more electric, autonomous and connected future."
Topics: International