SPECIAL REPORT: Why AUKUS Is Unlikely to Deliver Nuclear Subs Anytime Soon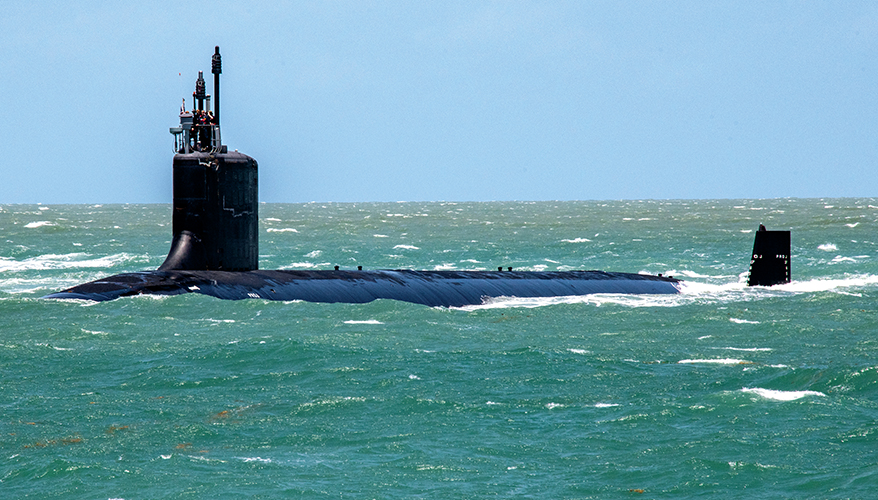 iStock photo
This is part 1 of a 4-part special report on the trilateral agreement known as AUKUS — Australia, the United Kingdom and the United States.
On the surface, the trilateral agreement known as AUKUS — Australia, the United Kingdom and the United States — has a clear objective: "to support Australia in acquiring nuclear-powered submarines." Below depths, however, the waters are murky, the options are limited and a solution could be more than a decade away, according to military experts.
In 2021, Australia abruptly scuttled a $40 billion deal with France to provide 12 diesel-powered submarines in favor of inking the AUKUS pact to acquire U.S. or U.K. boats. However, neither country is positioned to provide appropriate subs to Australia anytime soon, raising questions about what the three nations will announce as a path forward when the 18-month consultation period concludes in March, said Bryan Clark, senior fellow and director of the Center for Defense Concepts and Technology at the Hudson Institute.
One option would be for the United States to use its current production lines to produce new boats for Australia. "And that ends up being foreclosed because we're only building these Block 5 Virginia-class [submarines] right now," Clark said.
The Block 5 boat incorporates a vertical missile launcher payload that makes the submarine too large, complex and expensive for Australia to operate, he said. Retooling to remove the payload is cost and time prohibitive, he added.
Plus, "we need them to be able to replace the Ohio-class guided missile submarines when they retire," he added.
"The submarines we're building now are not the right ones for Australia," he said. "So, that's really not an option right now."
And once the Block 5 run is completed, the United States will move onto producing the Block 6 variant, which will include the same missile payload, he said.
It's possible that down the line the United States could switch production to a Block 7 Virginia-class that has a simpler design that suits Australia's needs.
"That's out at least eight to 10 years into the future before they even start building those submarines," he said. "And it's unclear at this point whether the United States will be building a Block 7 Virginia … or if they would be moving to SSN(X), which is a post-Virginia attack submarine that's probably more like a Seawolf than a Virginia."
And Sen. Jack Reed, D-R.I., told reporters in February that what ends up being built for Australia might not be any of the current boats or their future variants.
"One presumption is it's a new design. That whole new design phase will take several years," he said.
Then there's the fact that the shipyard base is maxed out building Virginia-class boats along with the new Columbia class, he added. (See story on page 33)
"And whenever they get into a first class of anything, there are unanticipated problems," he continued. That results in shifting resources to address problems with Columbia production, and that slows Virginia production.
"We have to effectively deal with Columbia, get back on track … and as a result, get Virginia back on track," he added. Next, the United States and Australia will have to invest more in shipbuilding capacity.
"We need skilled workers here in the United States," he said. "And we also want to develop skilled workers in Australia, too, because we want them to be a big part of this operation — not simply the purchaser — but also one of the major producers," he added.
"We have the opportunity in the context of a reasonable period of time to straighten out some of these issues," he continued. "But it's a challenge. And the good news is, we're not hiding that. We're not pretending that we can do everything. We're bound and determined to do what we must."
Like the United States, the United Kingdom is not poised to build submarines for Australia anytime soon.
The United Kingdom is completing its production run of Astute-class submarines, and there are no more reactors under construction, Clark said.
"To do that would require you to restart the production line for the reactors, and that production line is consumed right now building reactors for the Dreadnought class," the U.K.'s successor to its Vanguard-class ballistic missile submarines, he said.
If neither the United States nor the United Kingdom can build new submarines for Australia in the short-term, that undermines a major purpose of the AUKUS agreement, which is to send a strong signal to China by increasing submarine capability in the Indo-Pacific, said James Holmes, J. C. Wylie Chair of Maritime Strategy at the Naval War College.
"The optimal outcome is that we get the new boats out there in the requisite numbers as fast as possible," he said in an email. "We are trying to send a deterrent signal to China, and a project that could take a couple of decades transmits a pretty weak signal. Better an acceptable, if suboptimal, solution now than a perfect solution years and years down the way."
A suboptimal solution could end up being an ironic one. The only country that could possibly build a new nuclear-powered submarine for Australia in the short run is France, "the country that Australia snubbed at the very beginning of this whole thing," Clark said.
It is an open discussion whether to redo the AUKUS agreement and bring France into the deal, he said. Neither the United States nor Australia has given any indication whether that is being considered.
An Australian Ministry of Defence spokesperson said in an email that "the optimal pathway for Australia to acquire nuclear-powered submarines is being finalized, and an announcement remains on track to be made in the first part of this year. Australia, the United Kingdom, and the United States have been examining the full suite of requirements that underpin the delivery of the nuclear-powered submarines, including industrial requirements."
The Defense Department did not respond to questions about what options are being considered and whether France could enter the mix.
The French option is complicated, though. France produces reactors using low-enriched uranium, which means that about every 10 years a submarine comes offline for a lengthy refueling process. Given that Australia is a non-nuclear nation, refueling would have to take place in France, meaning Australia would lose the use of a boat for a couple of years every decade, Clark said.
Because the U.S. and U.K. submarines use highly enriched uranium reactors, they are sealed and can run for about three decades, which was one of the reasons the AUKUS deal made sense, he added.
"To sum up AUKUS and the submarine part of AUKUS, it's just been a story of one barrier after another that were completely predictable," Clark said.
"If they had talked to anybody over in submarine land in the United States, they could have said, 'Well, here's the paths that are available to you, they're all going to have problems — big problems, like big enough problems where it might preclude you from actually doing this,'" he said.
With the clock ticking on announcing a path forward, the only viable option might be a compromise: forward deploying U.S. submarines in Australia and dual crewing the boats, Clark and Holmes said.
"That would let us train Royal Australian Navy crews while adding allied undersea capability," Holmes said. "Dual-crewed boats would also telegraph to China and other Asian audiences that the United States has skin in the game of honoring its alliance commitments. Putting American sailors in harm's way is a good way to send a message."
For example, the United States could relocate submarine tenders currently based in Guam to western Australia and then deploy attack submarines there, Clark said.
That could begin a process of building crew capabilities and a maintenance infrastructure in Australia, he said. "So, it's like the first baby steps to establish a nuclear submarine capability in Australia by putting U.S. submarines there, and then the British could do the same," he added.
That path of forward deploying boats in Australia could evolve into either leasing or selling existing boats to Australia, which would take submarines out of the U.S. inventory, he said.
"They're still in the alliance inventory and they're based in Australia," and that puts them a week or two closer to China and the Indian Ocean than submarines based in Hawaii or the West Coast, he said.
"And you've got the strength of alliance, which gives you some extra push when you're trying to maybe deter China, and now they have to realize that these submarines are a product of both Australian and U.S. intent," he added.
"There's a lot of reasons to argue that there's benefit to this, this is actually better than the status quo where we just keep all of our own submarines," he said.
The question is whether lawmakers would get past a "simplistic" focus on numbers and inventory and focus on posture, he said.
In December 2022, Reed and now-retired Sen. James Inhofe, R-Okla., told the Biden administration that it is unacceptable to take a boat out of the U.S. inventory when the country is facing a shortfall and looking to grow the fleet to 66 attack submarines by 2045, according to the most recent Navigation Plan for the Navy.
"Given the rhythm of training, maintenance, and deployment, roughly one-third of that fleet will be sidelined or less than fully combat-ready at any given time," said Holmes. "Subtracting that number leaves 45 boats or so to cover every undersea contingency in the vast volume of water known as the oceans. Congress makes strategic decisions through what it funds, but I think shrinking the fleet would be a mistake."
However, it's possible to kick the can on that debate, Clark said.
"You've first got to establish a foothold in Australia that can support nuclear submarines before you even get to the point of talking leasing or selling," he said.
Even though the Australians would not be handling nuclear material, they would still have to build up their facilities and capabilities to host new submarines, he added.
"Even if you buy the French submarines, you still need to have a place to base them and maintain them and all that stuff that you need to put in place," he said. "I still think the two things could be complimentary, but I do think the French could be a wildcard here."
Part 2 - Sub Deal Poses Questions About Shipyard Capacity
Part 3 - To Come: AUKUS Partners Aim to Catch China in Hypersonics Race
Part 4 - To Come: AUKUS Countries Team Up to Develop Key Quantum Capabilities
Topics: International