ROBOTICS AND AUTONOMOUS SYSTEMS
JUST IN: US Navy Robotic Ships Sail to Australia for 'Autonomous Warrior' Exercise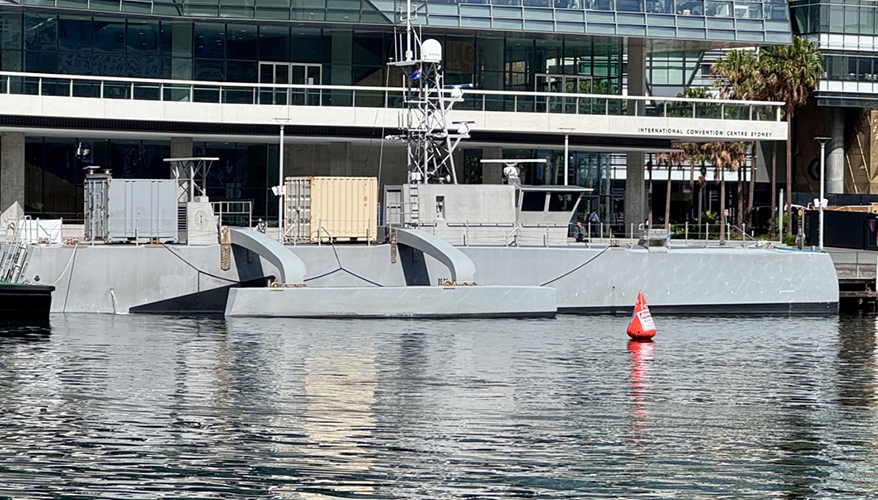 MDUSV Seahawk
SYDNEY — Darling Harbor is home to a range of pleasure boats, but for the last week, the U.S. Navy's unmanned surface vessel Seahawk has been moored in the harbor and turning heads.

The ship is one of four vessels that belong to Unmanned Surface Vessel Division One, or USVDIV-1, which is in Sydney after participating in the Royal Australian Navy's Autonomous Warrior exercise.

"We are in the Asia-Pacific theater conducting Integrated Battle Problem 23.2, which is a larger construct for integrating unmanned surface vessels into fleet operations," Cmdr. Jeremiah Daley, head of USVDIV-1, told National Defense outside the Indo Pacific 2023 International Maritime Exposition in Sydney on Nov 9.

The division's four USVs — which transited the Pacific fully autonomously — and the Independence-class Littoral Combat Ship USS Oakland arrived in Sydney a couple of weeks ago and then transited to the Royal Australian Naval College, or HMAS Creswell, in Jervis Bay to conduct the week-long exercise, he said.

"To start, we participated in the entire planning process for the exercise — very similar to how you would do a U.S.-based exercise … which was tremendous in the fact that we got to learn and collaborate and share ideas and concepts at a U.S.-Australia releasable level," Daley said.

The exercise involved working with medium, large and small USVs and involved interoperability among air, manned and unmanned surface vessels and subsurface vessels to coordinate different types of maritime domain awareness, he said.

"We collaborated tactically, sharing information real time with the Australians," he said.

The Navy had an operational cell at HMAS Creswell integrated with the exercise control team, he said. Navy personnel conducted remote monitoring of the functionality and performance of the USVs.

"And equally, my team on board USS Oakland, who also participated in Autonomous Warrior, was doing tactical coordination as well," Daley said. "So, shore-based operations, sensors, controls, afloat-based operations, sensors and controls, testing out those proofs of concepts and concepts of operation."

While no exercise or experimentation is ever 100 percent successful, the command "learned a ton," he said.

"We were very successful, though, in the process," he said. "Integration takes time. And more importantly, it takes time doing it together in person. We had about five, six working days — weather impacted some of our ability to execute, can't control that, but [it was] largely successful.

"And what we did learn, we are going to take with us into follow-on events as we look for more opportunities to work not just with the Australians, but with like-minded partners in the Indo-Pacific region," Daley continued.

USVDIV-1 has been operating the USVs for close to 18 months, and they have demonstrated the capability to perform well beyond current use cases, he said. The technology exists today to perform more complex operations like swarming or other large-scale operations that defense officials and analysts say will be needed to deter China, or worst-case, engage in conflict.

"But logistically and conceptually, it is much more of a challenge to have that in a coherent plan that is not just executable from an operational standpoint, but executable from a sustainability standpoint," Daley said.

USVs "have maintenance that's required at a certain point; they can stay out at sea for pretty long periods of time," he continued. "But if we have a destroyer with 330 people, it's unrealistic to expect an unmanned ship to not ever have to go somewhere to do maintenance. So, we have to work through those larger concepts, which we are doing."

A critical task is building trust with the manned fleet, "which we've been doing in the 3rd Fleet area of responsibility back on the West Coast, United States, but that doesn't get the real sense of what operational warfighting folks on deployment or forward deployed are doing.

"That is why we are here" in Australia, he said. "We are pushing forward in exactly those types of concepts in a concerted, deliberate, and not very slow way," he added.

"I think trust and autonomy is a generically used term," he said. But building trust requires getting into the right details, with the right type of capability for the right size of platform and understanding that it is not a one size fits all solution.

"People may tend to want to think that there is one widget that's going to fix all the problems," he continued. However, the mission types and technology needs vary widely across the different sizes and kinds of USV platforms.

"Understanding what the fleet and the operational commander desire and transitioning that into real requirements to produce and to scale — that's the real challenge," Daley said. "And it's going to take a concerted effort."

Then there is the challenge of changing the broader culture around moving from older, traditional platforms to new ones.

"Instead of viewing something that's new as taking away from what you have — whether it's from a bandwidth standpoint, from an operational planning level, or a fiscal take away — you're viewing it as value added and not taking away," he said. "So instead of looking at as a liability or an extra cost, people need to keep their eyes open and listen to the data as it's coming across and make equitable decisions based off of the capabilities that are being tested, presented and have the ability to scale."

Again, it won't be one single form factor as there are many requirements to meet, he continued.

"So, I think it's the diligence and an open mind, both inside of the of the Pentagon with many different competing efforts, and then with our civilian leadership to keep an open mind and listen to the data at face value," he said.
Topics: Robotics and Autonomous Systems, Shipbuilding, Maritime Security