JUST IN: Australia Needs Congress to Act for Canberra to Invest Billions in U.S. Shipyards under AUKUS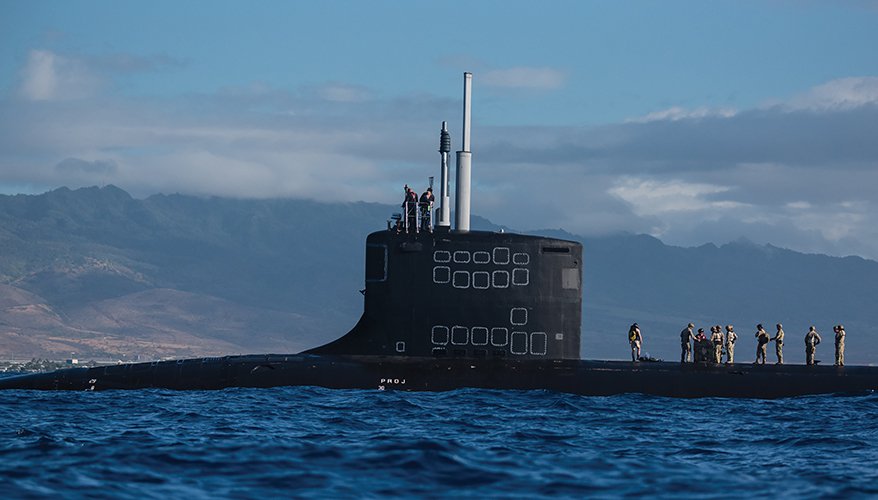 Virginia-class submarine
SYDNEY — Australia has $3 billion to invest in the U.S. submarine industrial base, but those funds won't flow into the economy until the U.S. Congress passes legislation to clear the way, Australian officials said Nov. 7.
The AUKUS agreement calls for the United States and the United Kingdom to at first procure and later build a fleet of nuclear-powered submarines for Australia, which will in turn invest billions to help boost U.S. shipyard capacity. But first Congress must pass legislation to make it easier to share top secret information.

Speaking to reporters at the Indo Pacific 2023 International Maritime Exposition in Sydney Nov. 7, Australia's Acting Prime Minister and Minister for Defence Richard Marles said he's confident the U.S. Congress will move forward.

"There is legislation which is going through the U.S. Congress as we speak, legislation which goes to reducing the export control regime as it applies between Australia and America, legislation which will enable the sale of the Virginias but importantly legislation which will enable the provision of the Australian contribution to the American industrial uplift," he said.
Under the terms of the AUKUS agreement, the United States will sell at least three, and up to five, Virginia-class submarines to Australia in the early 2030s. The longer-term goal is for the three countries to build a new submarine for Australia, the SSN-AUKUS.

Once that legislation is passed, the timing of Australia's contribution can be sorted, and the process of bolstering the U.S. submarine industrial base can begin.

"It is about uplifting United States industrial capability so that they can have a greater production rate of the Virginia-class submarines, but more significantly, that they can do greater sustainment to get a greater availability rate of their Virginia-class submarines, which enables them to provide us with the Virginias in the first part of the 2030s," he said.

That will require substantial growth of Australia's industrial base, and Marles noted that the bulk of Australia's investment in the AUKUS program will be directed toward domestic capability, particularly the Osborne shipyard in Adelaide.

"This will be one of the most significant industry endeavors in our country's history, getting onto the horse of being able to produce, actually manufacture, a nuclear-powered submarine is a massive endeavor," Marles said. "These are the most complex machines known to humanity."

One of the biggest challenges the country will face is building the workforce needed to construct and operate the submarines, he said.

"It's why we are establishing an academy at the Osborne naval shipyards, which will be focused on that trade-level skill, to make sure that we are growing that part of the workforce," he said. "That's why we are funding 4000 Digital University places specifically in respect of disciplines which will go into the production of nuclear-powered submarines in this country, I think that is going to be the most critical challenge that we face.

"Having said that, I feel confident that we can do that," he continued. "There's obviously a lot that we need to be doing in terms of developing the physical infrastructure, both at Osborne in terms of allowing ourselves to generate that production line, which will manufacture the submarines, but also in Western Australia and [naval base] HMAS Stirling so that we can begin hosting nuclear powered submarines, as we are already doing, but prepare ourselves for the submarine rotation, which will happen later in this decade with the United States and the United Kingdom."

AUKUS is a strategic program to deliver a strategic capability, and it will require strategic patience, said Chief of Navy Vice Adm. Mark Hammond.

"I recall the Collins submarine program — we have built submarines in this nation before — we are going to build another submarine," he said.

"So, whilst we're absolutely transparent about and embracing all of the challenges that come with this program, let's not lose sight of the fact that we have done this before — this is on a different scale, I acknowledge, a slightly different challenge, but the biggest thing is the strategic patience part, we will make progress.

"It will be incremental, but it also be quite foundational," he continued. "I think it's important to derive some confidence from where we've been in the past and have some confidence in Australian industry, and our partners here are really excited about the challenges that lie ahead."

Still, given the political situation in the United States and the difficulty getting the current defense bill and budget passed, there are questions about whether the United States will be able to achieve the submarine production rate needed to meet U.S. demands going forward, let alone produce additional submarines for Australia.

Marles said there will be challenges, but he came away from a recent visit to the United States and the United Kingdom convinced the countries are committed to delivering submarines for Australia.

"So, we have enormous confidence in the commitments that have been made to us by both the U.S. and the U.K. governments around working with Australia to acquire this capability," he continued.

"And I'm sure that as we go through what will be a multi-decade program, there are going to be moments that have their ups and downs, but the fundamental commitment to the strategic objective of Australia requiring this capability is there, and it is there in spades," Marles said. "And I am absolutely confident that across the political spectrum in the United States and the United Kingdom, also across the political spectrum here in Australia, this is a program that will be delivered over the coming decades."
Topics: International