AUKUS EXCLUSIVE: Q&A with Bonnie Jenkins, Undersecretary of State for Arms Control and International Security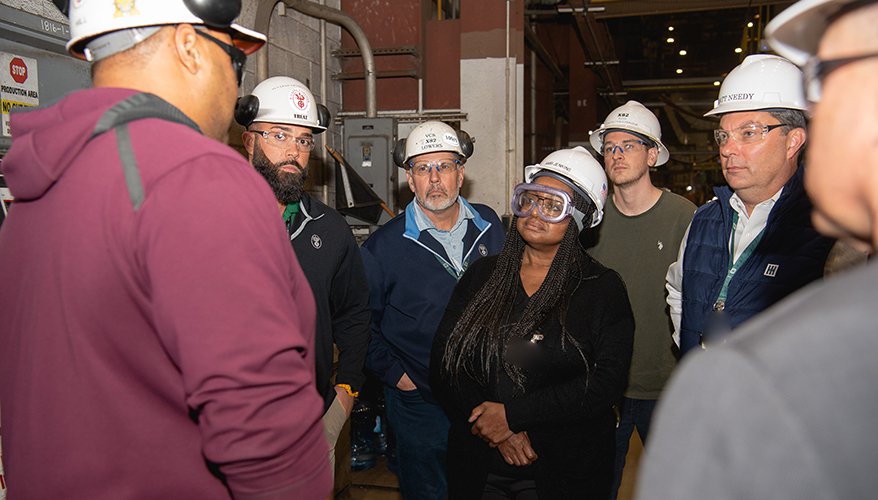 Undersecretary of State for Arms Control and International Security Bonnie Jenkins tours Newport News Shipbuilding.
Huntington Ingalls Industries image
HALIFAX, Nova Scotia — Undersecretary of State for Arms Control and International Security Ambassador Bonnie Jenkins is the State Department's point person for the trilateral agreement that will have the United States and the United Kingdom assist Australia to field a fleet of nuclear-powered submarines that will help serve as a deterrent to China in the Indo-Pacific. The AUKUS agreement calls for the United States to initially supply Australia with Virginia-class submarines as the United Kingdom develops a new class of vessels known as the SSN-AUKUS.
Along with the submarine program there is a second pillar of the agreement which calls for the three nations to cooperate in a handful of emerging technologies such as quantum physics, hypersonics, cybersecurity and autonomous undersea vessels.
But before the programs can get underway, the three nations have to iron out agreements on how to share the sensitive technology. Australia has some $3 billion to invest in the U.S submarine industrial base but is waiting for the U.S. Congress to pass legislation that will pave the way for the program to start,
National Defense Editor in Chief Stew Magnuson spoke to Jenkins Nov. 18 on the sidelines of the Halifax International Security Forum. The interview has been edited for brevity and clarity.
Q. What's happening behind the scenes with the three governments that the public doesn't know about?
A. Well, there's a lot of discussions. We are at the very early stages of AUKUS as you know. So, there are a number of things going on here on the Hill in terms of legislation. We are having regular trilateral meetings with the United Kingdom and Australia on the many aspects and many parts of both pillar one and pillar two.
Further, one is submarines and so obviously, that's going to take into the 2030s. I visited the Apprentice School in Hampton [Virginia]. They mentioned that they've had some Australians come and visit.
There are discussions that are going on at the International Atomic Energy Agency in Australia. There's training workforce development that we're doing. We're doing our engagements with the private sector and industry. We're starting to engage with academia. There's government-to-government engagements between the three countries on both pillars. So, there's a lot because of the reach of all of this.
Q. You mentioned you recently visited submarine builder HII's Newport News Shipbuilding Apprentice School. What did you learn from that trip?
I learned, which I didn't know, that it's one of the premiere schools that we have for shipbuilding. And so, we're going to be relying a lot on that school in terms of workforce development and providing the skills that are needed for building the submarines now and in the future. I got to actually go to Newport News Shipbuilding where we got to see the actual [shipbuilding] process.
I learned that it reinforced the importance of the people in the workforce. I think people focus a lot on the subs and they focus a lot on emerging tech. But all three leaders have said the workforce is a big part of it. But I think it really brought home that you need the people to do it; the expertise to make all of this happen. And so that was really good. And I'm encouraging others from my office to go down and visit the apprentice School because it just kind of brings home the real human aspect to all this.
Q. Australia wants to get going and is waiting for the U.S. Congress to pass legislation making cooperation in this highly sensitive technology easier. What's the Biden administration doing to help Congress move it along?
A. A lot. They have had lots of conversations, lots of briefings, with Congress on this to try to move all this forward. There are lots of questions from Congress about different aspects of AUKUS. I mean, it's a pretty complex thing we're doing in many ways.
And so, it's understandable there are lots of questions. But you know, as you can imagine, Australia wants to get going with this. And there's a lot to do even as we wait for legislation, because we're committed to this. It's going to happen. We just got to get through the early stages of what's going to be a 70 to 80 year — and beyond— effort. So, we're just laying the foundation now. So, there are questions from Congress about AUKUS.
A lot of people don't quite understand what it is or have misperceptions of what it is, or China has done a lot of disinformation on it. So, there's still a lot of education that needs to be done in terms of what AUKUS is even for the military.
Q. There are a lot of naysayers out there.
A. I don't know so much naysayers, or people just don't understand. I think that's more of it because I don't know if there's enough general understanding about AUKUS. I think internationally China has created a lot of disinformation so there were some naysayers in the [Indo-Pacific] region more so. But I don't have a sense of there's a lot of naysayers because I'm not sure there's enough education out there.
Q. As far as both pillars, what can move forward without Congress?
A. A lot of pillar one stuff is moving forward because there are things that have to happen. But you have to have a lot of agreements and understandings. You're talking about sharing technology. Obviously, the legal [departments] have to look at all the different documents and make sure that they are legally sufficient. There are lots of meetings just to lay the foundation of what pillar one wants to produce. We have developed a diplomatic strategy at the State Department to deal with the inter-agency. Things like that are what we're doing just to lay the foundation.
Q. What can the U.S. defense industrial base do to prepare at this point?
Just to get a little more familiarity with it. I mean, obviously, there's a lot of people in [the office of the secretary of defense] who will understand what's happening and [Indo-Pacific Command] has a good understanding of what's happening. But there's a lot of people, even in the military, they don't get it yet because we haven't really pushed it out that much because it's been such a rush, rush, rush, rush to try to get this thing going.
And Australia and the U.K. have been pushing, pushing, pushing, as well. So, we haven't really had a huge education effort. We've talked to industry, but it's still in the very early stages. I'm gonna be talking at the Atlantic Council [Nov. 27] so that will be an opportunity to get good education out there. There's so much we needed to do to get on the ground running that we haven't kind of done outreach to really explain it. And having [people] in the military writing more articles and explaining what AUKUS is and having some of our partners write the U.K. perspective, the Australia perspective is needed.
Q. Some people have described pillar two as a potential technology sandbox for these three countries to play in. What are the possibilities that other like-minded countries — such as Japan — can join in this?
A. The idea is that once we get to the point where the three countries have a good sense of how emerging technologies will play in AUKUS, at that point you can start to think about what other countries we can bring into this and that will depend on factors that we will develop. For example, what type of emerging tech? What kind of relationship we may have with a particular country? Does that country have a lot of expertise on these issues? So, we will develop some criteria that will help us decide which technologies we want to bring in and other countries.
Q. So, as far as those pillar two technologies, the list is flexible and not necessarily engraved in stone?
A. I think for two reasons. One, because we're still at the beginning stages, and AUKUS is going to be going on for many years. The second is that there could be new emerging technologies. We don't even know what emerging technologies will be revealed 10 years from now. So, I don't think we will put ourselves in a position to say we can't have something that we could maybe develop even faster than quantum, for example, because the field is still changing. We have an idea of what we think we want to do now, but with the field of emerging technology as it is, we're certainly going to want to take advantage of anything that's going to help in the AUKUS context and make it as effective as possible.
Topics: Shipbuilding, International, Global Defense Market, Industrial Base