WEB EXCLUSIVE: Big Investments Needed to Achieve Autonomy for Underwater Vessels, Report Says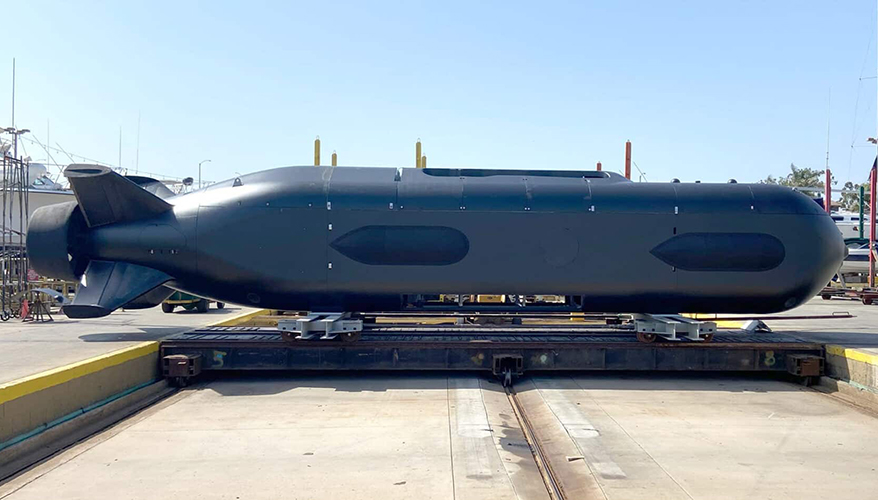 U.S. Navy program office
Full autonomy for underwater robots can be achieved in about seven years if industry and government can chip in about $100 million in research-and-development funding, a new report released Nov. 14 said.

"While autonomous underwater programs are certainly advancing and embracing [artificial intelligence] engines, the journey towards complete autonomy is far from complete," said the report, "Navigating the Deep: The Path to Underwater Autonomy by 2030," produced by PreScouter, a research intelligence firm based in Chicago.

The report did not specifically address military robotic submarine systems, however, the U.S. Navy and other sea services throughout the world are pursuing the technology for a variety of missions including reconnaissance, surveillance and mine-hunting and deployment.

The U.S. Navy is pursuing an extra large unmanned underwater vessel known as the Orca for mine laying operations. The Boeing Co. and its partner Huntington Ingalls Industries has a contract to build five of the submarines, according to a September Congressional Research Service report, "Navy Large Unmanned Surface and Undersea Vehicles: Background and Issues for Congress."

The ability for underwater vessels to operate without human interference has several obstacles to overcome, the PreScouter report pointed out. To "see" underwater, the vessels must handle and process sensor data, which are "the most complex unresolved tasks to achieve" in that environment, the report stated.

Processing that data is also complicated because the report's authors don't believe cloud computing is a practical solution because of the costs, practicality and latency issues that hinder communications underwater. In addition, the sonar data it collects to navigate is "noisy." Water also interferes with electromagnetic wave propagation, which leads to communication interruptions, it added.

"The state of the art has not identified approaches to overcome severe limitations such as overdrifting, noise and the presence of shadows," the report said.

The best path forward to solve the latency and communication issues is on-board processing — edge computing — rather than cloud computing, it added. That will require advanced microchips capable of performing trillions of operations per second in a unified architecture.

That is a tall order, the report points out. On the technology readiness scale, where one is the lowest and nine the highest, full underwater autonomy will need to leap seven levels if it is to be achieved by 2030, the report stated.

In the immediate future, there is still work to be done on some practical issues such as autonomous launching and docking, improving electrical engines, enabling the subs to communicate with surface vessels and enhancing cybersecurity, it said.

Despite the hurdles, if the global research-and-development community continues its work with present-day uncrewed underwater vehicles — rather than starting from scratch — it should achieve full autonomy with about $100 million in investments, the report said.

"This is a complex effort that will require a company or group of stakeholders with expertise in numerous technical areas," it stated. They include: precision navigation, sensor integration, electrical integration, AI and software expertise, and mechanical engineering.

Expertise in sonar will be critical as the subs will be expected to autonomously operate in variety of waters throughout the world. "Underwater environments in Europe will look different from those in the Americas or Asia," the report said.

Training the AI to perform complex tasks such as operating underwater takes time due to the need for extensive data, which is difficult to collect due to the harsh conditions undersea, it added.

"Considering the time and costs required to achieve full autonomy in terms of accuracy and resolution, [analysis] suggests that we still have a considerable distance to go," the report stated.
Topics: Robotics and Autonomous Systems