DUBAI AIRSHOW NEWS: Red 6 Advances AR Training with First Successful Test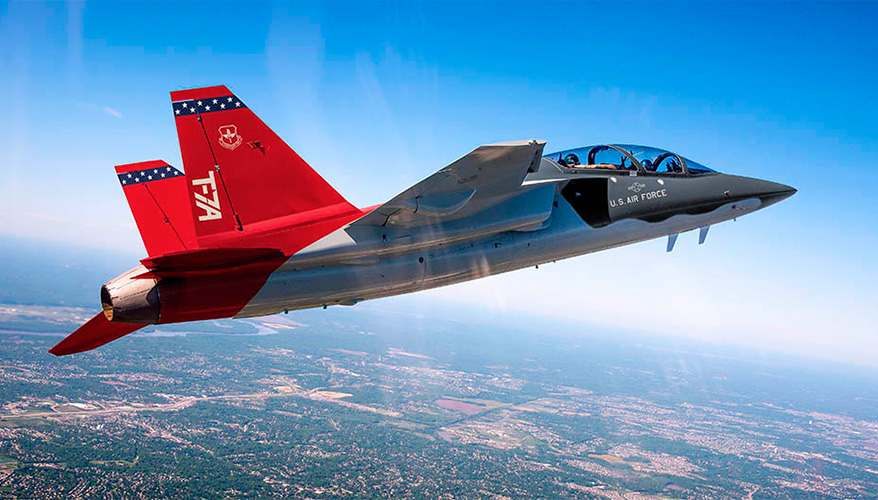 Boeing photo
Dubai, United Arab Emirates — As a precursor to integrating and testing the Red 6 augmented reality training system onto Boeing's T-7A Red Hawk, the companies successfully completed its first test flight on Boeing's TA-4J tactical aircraft in September, conducting another seven flights last week.

From pitch to test flight was about eight months, which is "unheard of," Kevin Fesler, chief revenue officer at Red 6, said during a panel discussion at the Dubai Airshow Nov. 14.

Boeing and Red 6 announced their partnership in September 2022 when they announced that Red 6's Advanced Tactical Augmented Reality System and Augmented Reality Command Analytic Data Environment would be integrated on future Boeing aircraft, including the Red Hawk and F-15EX.

The augmented reality system allows pilots to see virtual adversaries and threats during live training flights.

"When we can think about augmented reality, it's the way that we overlay digital data onto the real world," Fesler said. "So imagine sitting next to you right there … is a digital depiction of Winston Churchill, and he can interact with us through artificial intelligence to have a conversation. What we did is we took that to the sky. So right now it's revolutionary."

The system can simulate a training environment using "any scenario that you would want, any aircraft we want," he said. "And we can have that scenario driven through artificial intelligence." It can modify augmented reality renderings in real time, he added. "It's incredible."

It's also less expensive. Fesler said across the combat air forces in the U.S. Air Force alone, "you can save about $13 billion … and 700 million gallons of fuel can be saved" yearly.

"And while you're having all those savings, which are incredible, you're getting a much higher level of efficacy," he added. "You're going to … have … more readiness within your force, you're going to be more prepared for the near peer adversary threat because all of it can be coded. We are able to have … synthetic environments that can be iterated on in hours, not years, as the threat changes or training demands change."

While the eight month timeline is noteworthy, they need to go faster, Donn Yates, executive director for Air Force Fighters and Trainers, Air Dominance division for Boeing Defense, Space and Security, said.

"We could have gone faster," he said. "From the time we decided to execute to the time we put stuff on the aircraft could have been weeks. We could have gone faster. We held ourselves back based on process."

Yates said his hope for the future and further integration between the two companies is to go faster, "because we need to get this to the warfighter faster. And so that's going to be the commitment from us, from Boeing."

Fesler committed Red 6 to the same pledge, touching on the development of the T-7A Red Hawk and the benefits of building the training system into the aircraft, rather than integrating it after the fact.

"Think about where we are in the development of the T-7, " he said. "We could bring this technology to an aircraft that's already building and integrated [up front]."

Recalling his time in the Air Force as a test pilot, Fesler said emerging technologies were "brought to us all the time" and the "problem with them showing up after the fact is the airplanes have to be taken down," sometimes for months at a time.

"And so it affects readiness … [and] availability of training. Because Boeing has leaned so far forward with our technology, this is going to be delivered to the Air Force already fully baked in. They'll take the jet and they can immediately start executing with this technology."
The first Red Hawk was successfully delivered at Edwards Air Force Base Nov. 8, an Air Force press release stated. The milestone formally commenced the service's developmental flight test campaign for the aircraft, aimed at fielding a replacement pilot training capability for the 1960's-era Northrop Grumman T-38.
The aircraft achieved its inaugural flight in June in St. Louis, Missouri, marking the start of the program's engineering and manufacturing phase, yet the program remains behind schedule.
Suffering from extended delays, developmental issues threaten to further delay the program, according to a May Government Accountability Office report, "Advanced Pilot Trainer: Program Success Hinges on Better Managing Its Schedule and Providing Insight."The report said the Air Force set the "latest acceptable low-rate initial production date" as February 2026.
Regardless of when the aircraft is delivered, it will come equipped with the Red 6 training system, which Yates called "an amazing product … and if we get it right, will be a game changer for how we do training in perpetuity."

"This is real stuff. We've actually executed it and … there'll be more stuff in the future," he said, promising "some really awesome stuff" in the coming months.
Topics: International