AUSA News: Army Envisions Robots Taking 'First Contact' in Conflicts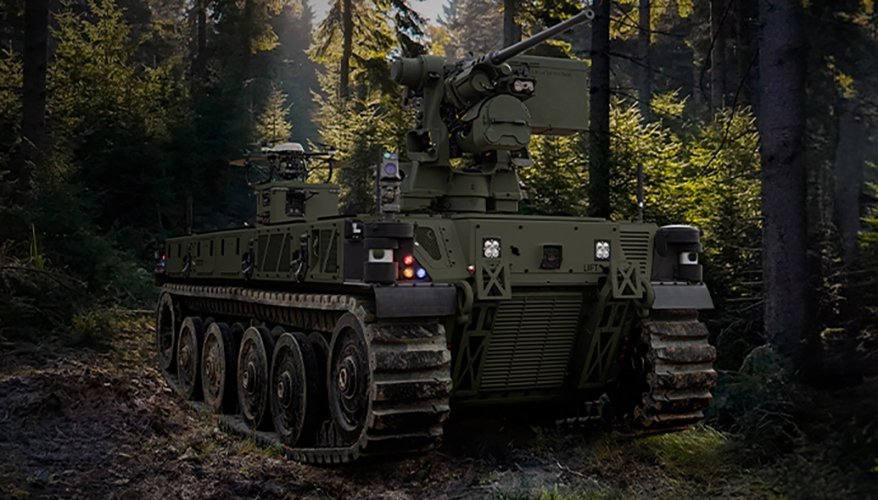 Oshkosh Defense image
WASHINGTON, D.C. — The Army of the future intends to let robots take all the risks during first contact with an enemy, senior leaders said Oct. 9 on the first day of the service's biggest conference of the year.

Secretary of the Army Christine Wormuth said the service is kicking off a new human-machine integrated formations initiative.

"These integrated formations will bring robotic systems into units alongside humans, with the goal of always having robots, not soldiers, make first contact with the enemy," she said in a keynote speech at the Association of the United States Army's annual conference in Washington, D.C.

"Shame on us if we're not focused on figuring out how to use robotics and human machine interface prior to first contact," Maj. Gen. Curtis A. Buzzard, commanding general of the Army Maneuver Center of Excellence at Fort Moore, Georgia, said during a panel discussion at the conference.

Buzzard laid out a vision for future formations where robotic systems were out in front of the main force collecting intelligence, doing surveillance, sniffing for chemical-biological weapons, setting up counter-drone systems and doing breaching missions.

Then, robots would be sent in to "kill and to have an impact lethally on our adversaries," he said.

"Think of this web of integrated air and ground sensors and different payloads moving forward," he said. After first contact, robots could then do casualty evacuation and resupply.

While this is a vision of the future, the Army believes it is coming soon enough to start reorganizing. "There's a large enterprise working on human-machine interface in robotics," he said.

"We're redesigning some of our formations right now, and we're looking at ensuring there are landing spots in those formations for" human-machine interfaces, he said.

"Human-machine interfaces" is what the Army formerly called "manned-unmanned teaming."

In the "next few weeks," the Army will look for one of those "landing spots" when it incorporates some robotics into a light infantry company, Buzzard said. It is also working hard to do the same with a heavy infantry company, he added.

Brig. Gen. Geoffrey A. Norman, director of the Next Generation Combat Vehicles Cross Functional Team at Army Futures Command, said the service has been conducting experiments with Robotic Combat Vehicle prototypes at the National Training Center at Fort Irwin, California, by mounting common remotely operated weapons stations, machine guns and Javelin weapons systems on robots.

"We had some really amazing effects with the opportunity to gain first contact with robotic systems — versus a soldier — achieving that desired situation where we make contact with a robot and don't trade it for blood," Norman said.

The experiments allowed the Army to "thicken" its formations without adding crewed platforms, he said. "What we're trying to achieve is to allow our formations to fight bigger than themselves without adding a lot of manned combat power to those formations," he said.

The Robotic Combat Vehicle is envisioned as being in a formation of three, with one crewed control vehicle and two robotic wingmen. The RCVs could carry a variety of payloads. During his tenure as Army chief of staff, retired Gen. James McConville included the RCV as one of the 24 technologies he challenged the Army to field or put into testing by the end of fiscal year 2023.

The experiments are giving the Army insights into what the best missions are for robotic systems and what tasks are best left to soldiers, Norman said. "We're really excited about the direction things are going," he added.

The biggest challenge "that really stands in the way of soldier adoption is the reliability and the ruggedness of the robotic systems," he said. The Army is fielding systems in an incremental approach to getting at the "rugged and reliable" problems, he said.

One such robot that underwent years of development — and was even operational briefly in Afghanistan — was the Small Multi-Purpose Equipment Transport, a robotic mule, which is just now reaching the field after almost two decades of development. Wormuth in her speech mentioned it as an example that the service is moving ahead with robotics.

Other Army robotic technologies such as leader-follower systems for tactical wheeled vehicles underwent years of experiments, but never were employed.

Buzzard said the Robotic Combat Vehicle is on track to be fielded. Currently, four contractors are building prototypes.

Buzzard said Gen. James Rainey, Army Futures Command leader, is "pushing us hard as rapidly as we can" to have some prototypes this year and show what a platoon-type formation might look like to augment a company team on both the light and the armor side.

Norman said the intention is to have the light version of the Robotic Combat Vehicle "first unit equipped" by 2028. That includes the manned control vehicle, the robotic vehicles and all the accompanying software, he said.

Michael K. Cadieux, director of the Ground Vehicle Systems Center at the Army Combat Capabilities Development Command, said there are a lot of non-technology questions to be answered: "How are we thinking about organizing differently? How do these capabilities integrate into a tank company of the future? What is the training, organization and doctrine around there? That's why the linkages to Gen. Buzzard and his folks are so critical as these program of record activities are moving out."

Ultimately, soldiers have to trust the robots will work, and they will make their jobs easier, Cadieux said.

"The thing that soldiers want from robots is a capability that allows them to fight better than if they didn't have the robot, which might sound like a no brainer. But if the robots actually put a burden on them — if they have to think more about fighting the robot than they think about fighting their formation without the robot — they won't want it," he said.


Topics: Army News, Land Forces, Robotics, Robotics and Autonomous Systems