EXCLUSIVE: Future Command's Rainey Eyes the Army of 2040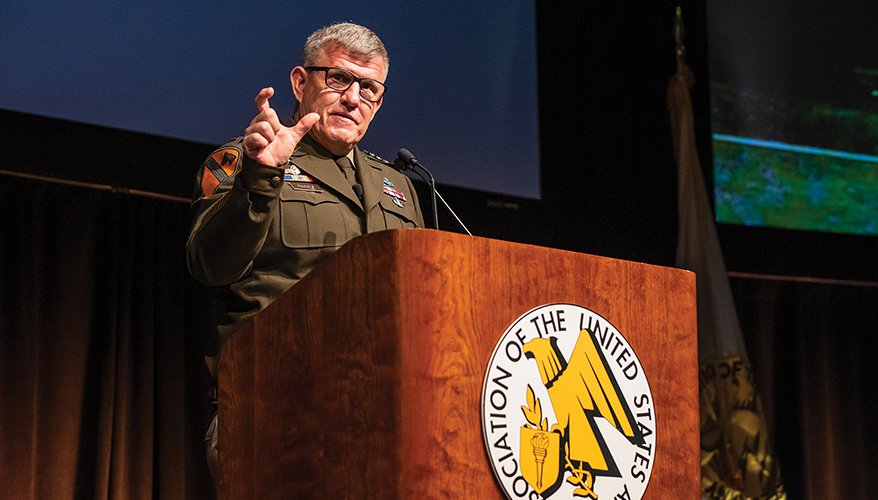 Rainey
Army photo
For Army Futures Command's leader Gen. James Rainey, the Army of 2040 is just around the corner.
"Sometimes when I say 2040, people's eyes glaze over, but to be clear, what I mean is a fully transformed Army in 2040 means you need to be fully fielding by about 2035 at least," he told National Defense.
The Army is starting work on its 2029 budget prognostications now, he noted. Production decisions and prototyping for new programs should be underway by 2030. The Army doesn't have 17 years to figure out what it needs, it's more like a couple years, he said.
"We've got about 18-to-24 months to make some big moves — what's going to change? What's not going to change? So, I have a sense of urgency about 2040," he said.
One acknowledgment is that the days of hiding from the enemy are over.
Army forces will be under constant surveillance, he said. "The ability to hide, which is fundamental to how we fight, is now impossible," he added.
The Army of 2040 will have to conduct what he called "Counter-C5ISR," or counter-command, control, communications, computers and cyber, intelligence, surveillance and reconnaissance.
That means the Army might be seen, but it is obscuring what the enemy thinks it's seeing.
"So, counter-C5ISR in my opinion is more important than C5ISR. That's a big change," he said.
Another change: the desegregation of offensive and defensive fires.
"I see a merger of offensive and defensive fires — lethal and nonlethal. And that has all kinds of doctrinal, organizational, personnel implications," he said.
Finally, data-centric warfare and human-machine integration will be "huge opportunities" for the Army, he said.
Artificial intelligence, large language models and possibly quantum computing will reduce the soldiers' command-and-control workloads, he said.
Meanwhile, human-machine teaming remains a top priority for Futures Command.
"If we properly integrate machines and humans, we can offload risk from our soldiers onto machines — and more importantly — [we can] optimize humans for the things that only humans can do," he added.
Topics: Army News