SPECIAL REPORT: The 24 Programs the Army Promised to Expedite: Part Four — Air and Missile Defense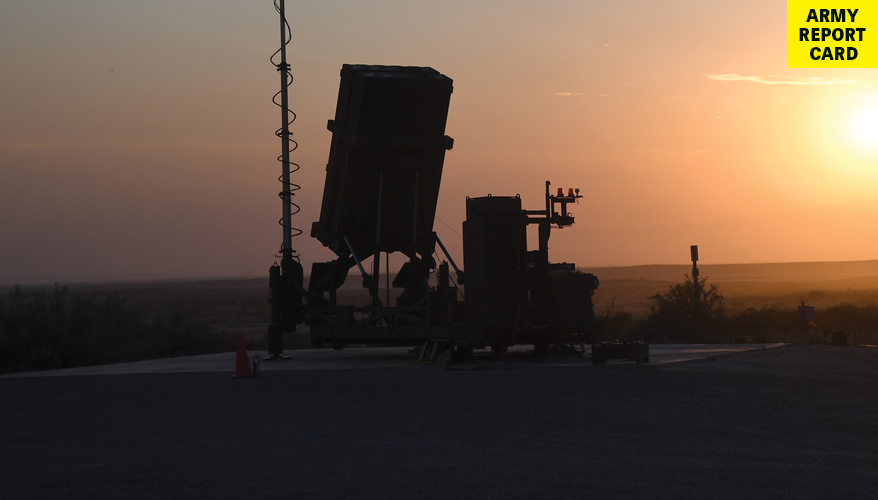 Army photo
In October 2021 then Army Chief of Staff Gen. James McConville vowed to put 24 key technologies "in the hands of soldiers" by the end of fiscal year 2023.
Now that the deadline has passed, National Defense in this special report looks at each of the 24 technologies and assigns them a letter grade based on how close the Army got to fielding the systems. See the end of the article on how the 24 programs were graded.
Part One: Fires, Long-Range and Short
Part Four: Air and Missile Defense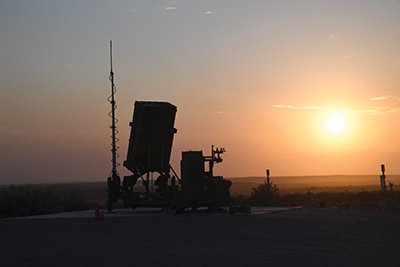 INDIRECT FIRE PROTECTION
CAPABILITY (IRON DOME)
A key Army air defense modernization initiative is the Indirect Fire Protection Capability, better known as Iron Dome, an Israeli-made system that has proved its worth in real-world operations.
Iron Dome bridges an existing gap between short range air defense, which is currently Stinger-based, and the Patriot weapon system. By filling that gap, Iron Dome helps to focus on defeating challenges presented by cruise missiles and other evolving threats.
The first phase is officially called the Iron Dome Defense System – Army (IDDS-A), which provides an interim capability to protect supported forces within fixed and semi-fixed locations by mitigating high priority capability gaps in cruise missile defense, counter-unmanned aircraft systems against Groups 2 and 3 drones as well as some rocket, artillery and mortar threats.
The U.S. government contracted with the government of Israel in August 2019 to procure hardware for two batteries of IDDS-A from the Israel Ministry of Defense and lead contractor Rafael. The two batteries were delivered in 2020, and Israel is providing contractor logistics support, an Army news story stated.
Following flight testing at White Sands Missile Range in 2022, both batteries of IDDS-A were fielded to Joint Base Lewis-McChord,
Washington, to support 1-51 Air Defense Artillery and the Army's 1st Multi-Domain Task Force, said a representative from Army Futures Command's Air and Missile Defense Cross Functional Team.
As of early 2023, both Iron Dome batteries had completed new equipment training and fielding and in April, the program successfully transitioned out of Army Futures Command's Air and Missile Defense Cross Functional Team and was handed over to the Army capability manager, marking one of the first successful transitions of the CFT process.
While the Army has fielded both IDDS-A batteries as an "interim" solution to defeat specific threats, the service plans to continue to acquire an "enduring" defense capability against those and other evolving target sets. Designated as IFPC Increment 2, the enduring program will allow for future technology insertions, such as directed energy or new interceptors, the Futures Command source said. — Scott R. Gourley

The Army took a foreign-made technology and made it its own, putting aside the "not made here" attitude that prevents a lot of fully developed weapon systems manufactured overseas from transitioning to U.S. forces. It was a mature technology when it reached these shores, easily earning an A+.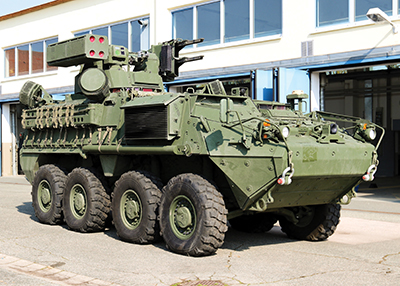 MANEUVER-SHORT
RANGE AIR DEFENSE
The Maneuver-Short Range Air Defense, or M-SHORAD, system provides the Army with new capabilities to protect maneuver forces by defeating, destroying or neutralizing threats such as rotary-wing and fixed-wing aircraft, unmanned aircraft systems and rocket, artillery and mortar threats.
Integrated on a Stryker A1 vehicle chassis, M-SHORAD is a family of systems that performs operations to detect, track and engage aerial threats without any external support. General Dynamics Land Systems supplies the Stryker chassis and serves as the M-SHORAD prime contractor and system integrator.
M-SHORAD capability is being provided through a multi-phase approach based on the rapidly fielded Increment 1 — formerly known as Initial M-SHORAD system — the future Directed Energy M-SHORAD capability (Inc. 2) and the future Next Generation Short Range Interceptor (Inc. 3).
To date, the Army has procured 152 of 162 Inc. 1 M-SHORAD systems, with plans to procure the remaining 10 systems by the end of fiscal year 2024. The first of four Inc. 1 battalion sets — 36 tactical systems — were fielded to 5-4 Air Defense Artillery in Germany through 2023.
That unit is currently supporting Operation European Assure, Deter and Reinforce.
Fielding of the second battalion set to 4-60 Air Defense Artillery began at Fort Sill, Oklahoma, this summer with that fielding slated for completion by the end of the fiscal year.
The remaining two M-SHORAD Inc. 1 battalions will be fielded in 2024, followed by Operational Readiness Floats, Institutional Training Base and test fleet assets in 2025 and 2026.
A statement from the Program Executive Office for Missiles and Space emphasized the program's accelerated timeline, noting that the directed requirement was "approved in 2018 and less than 24 months later the first prototype was available and in testing."
"In [fiscal year 2020], the first production contract was awarded, which signified the culmination of a very aggressive, successful timeline between requirement approval and production initiation," the statement said.
Meanwhile, Army leadership in 2021 made the decision to remove the Longbow Hellfire Missile Launcher from the Inc. 1 platforms and replace it with a second Stinger Vehicle Universal Launcher. According to service representatives, the non-recurring effort required to accomplish that change is nearing completion, and the dual SVUL M-SHORAD system configuration will be ready for production in fiscal year 2024, while at the same time, retrofits to fielded Inc. 1 systems will begin. — Scott R. Gourley

With all but two units receiving the increment 1 system before the 24-by-23 deadline, the M-SHORAD program receives a solid A+.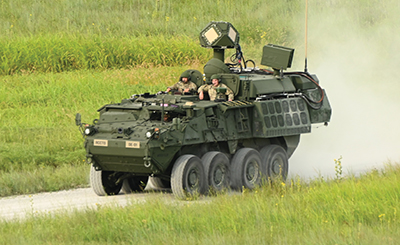 DIRECTED ENERGY M-SHORAD
To protect maneuver forces, the Directed Energy Maneuver-Short Range Air Defense prototype system represents a potential M-SHORAD Increment 2 to address air and missile threats at the corps and division levels.
Program representatives note that DE M-SHORAD specifically supports the Army's modernization strategy by offering a significant defensive capability against group 1-3 unmanned aircraft systems; rotary-wing threats; and rocket, artillery and mortar threats.
The high-energy laser is viewed as a complementary capability that will be employed within the Army's integrated and layered air missile defense architecture to mitigate future threats to maneuvering forces and both semi-fixed and fixed assets.
In mid-2019, the Army selected Kord Technologies Inc. — a wholly owned subsidiary of KBR — as the prime contractor to lead the initiative to integrate a 50-kilowatt-class laser weapon system on a Stryker combat vehicle. The company is responsible for developing and delivering a platoon of four prototype DE M-SHORAD Stryker platforms.
In May, Kord received an Other Transaction Authority award to develop an additional prototype vehicle, with one more prototype expected to be awarded for delivery.
Meanwhile, in the second quarter of fiscal year 2023, the laser successfully demonstrated system performance during its new equipment training/live fire exercise and demonstration testing conducted with the first four vehicles at Yuma Proving Ground, Arizona, where crews from the 4-60 Air Defense Artillery were certified on the system and successfully defeated groups of targets.
As of August 2023, three of the four prototype vehicles had been delivered to 4-60 Air Defense Artillery at Fort Sill, Oklahoma, with the fourth prototype scheduled for delivery in September 2023. — Scott R. Gourley

It's time for the Army to stop tinkering with directed energy weapons and at long last deploy them. The small drone threat should give the service a sense of urgency to move on from the prototyping phase. It earns a B+.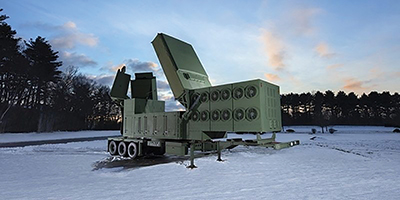 LOWER TIER AIR AND
MISSILE DEFENSE SENSOR
As a replacement for the current Patriot radar system, the Army's Lower Tier Air and Missile Defense Sensor, or LTAMDS, addresses capability gaps against current and emerging advanced air and missile defense threats, including hypersonic weapons.
The sensor significantly improves capabilities over legacy Patriot radars by providing 360-degree coverage with a single battery, versus today's two battery requirement for that coverage, a spokesperson for Program Executive Office Missiles and Space said in an email.
Additionally, its expanded range will allow the Army to fully realize the kinematic capabilities of its current interceptors. It will also be a networked sensor on the Army's Air and Missile Defense Integrated Fire Control Network, contributing to the "any sensor/best shooter" architecture.
It is currently in prototype development and testing.
Raytheon is currently executing an Other Transaction Authority agreement for six LTAMDS prototypes and an Aviation and Missile Technology Consortium contract for system improvements.
The prototypes successfully completed a second phase of Primary Sector (main array) Contractor Verification Testing in July at White Sands Missile Range, New Mexico, immediately followed by the start of Government Primary Sector Developmental Test and Evaluation.
The spokesperson said main and aft arrays 360-degree tests will occur in 2024, and the program is on path to meet congressional mandates to achieve initial operational capability by December.
Test results "demonstrate a significant improvement in sensor stability to support DT&E and missile flight tests later this year," the spokesperson said.
"LTAMDS requires a specific power source to maximize capabilities, the Large Tactical Power System program," the spokesperson continued.
The Program Executive Office for Combat Support and Combat Service Support manages that program, and it is "on schedule to meet LTAMDS testing and delivery requirements." — Scott R. Gourley

While the program missed initial operational capability by only a couple months, it appears there are still a lot of tests remaining, keeping it in a T&E phase through 2024, earning it an A- grade.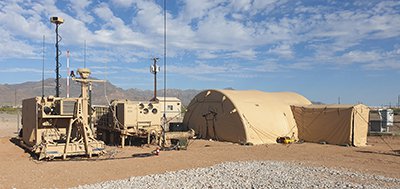 ARMY INTEGRATED AIR AND MISSILE DEFENSE
The Army Integrated Air and Missile Defense, underpinned by the Integrated Air and Missile Defense Battle Command System program, is a command-and-control system designed to break down the long-standing stovepipes that have traditionally existed within the Army and the Joint Force.
The command system serves as the cornerstone for air and missile defense modernization for the Army and provides integrated fire control by fusing multiple sensor inputs to provide optimal interceptor firing solutions. It incorporates collaborative, integrated and dynamic planning to optimize combat power, enhance employment flexibility and improve asset protection.
It is a new capability that is revolutionizing the way air and missile defense forces fight an air battle. The system turns data into actionable intelligence to support development of fire control quality solutions to enable the concept of obtaining targets from "any sensor" and engaging those targets with the "best shooter," according to Army fact sheets.
Northrop Grumman is the prime contractor for the command system's major end items, such as the Engagement Operations Center and the Integrated Fire Control Relay. Additionally, Peraton serves as the prime contractor for an agile software development and integration contract.
Following several successful developmental or operational flight tests performed with the program, the defense acquisition executive approved the full-rate production decision in March, and the Army declared initial operational capability for the Integrated Air and Missile Defense Battle Command System in April 2023.
A written statement from a program office representative said the program is credited with "performing as anticipated" and "removing the system stovepipes that used to define the air and missile defense systems."
The statement added the command system "gives the Army the opportunity to build a true composite air picture with the sensors on the Integrated Fires Network and ensure that we eliminate threats with the best shooter to prosecute an air battle effectively and efficiently." — Scott R. Gourley

The primary element of Army Integrated Air and Missile Defense, the Integrated Air and Missile Defense Battle Command System, reached initial operational capability a half year before the 24-by-23 deadline, earning it an A+.
National Defense's Grading System

A-plus
— Initial operating capability or first unit fielded. Must be "in the hands of enough soldiers" to where it could make an impact if the Army were asked to go to war on Oct. 1, 2023.
A — Test and evaluation phase completed. Army awaiting results, or contractor implementing fixes.
A-minus — Contractor has delivered items to Army/undergoing test-and-evaluation phase.
B-plus — Contractor is close to delivering first items for test and evaluation.
B — Contractor is working on delivering capability.
B-minus — Army recently has issued contract award.
C-plus — Contractors have submitted proposals/Awaiting award announcement.
C — Army evaluating potential technologies after soldiers have provided feedback/Request for proposals issued.
C-minus — Prototypes "in the hands of soldiers" for evaluation/feedback to inform requirements or RFPs.
D— Army still writing requirements/Or returning to drawing board after acquired technology has failed to perform.
F — No discernable progress developing the technology.

The editor in chief assigned the letter grades based on the reporters' findings and after conferring with the managing editor. The final decision on the grade was the editor in chief's alone, and criticism, feedback and general disagreements should be directed his way.
Topics: Army News