SPECIAL REPORT: The 24 Programs the Army Promised to Expedite: Part Two — Ground and Air Vehicles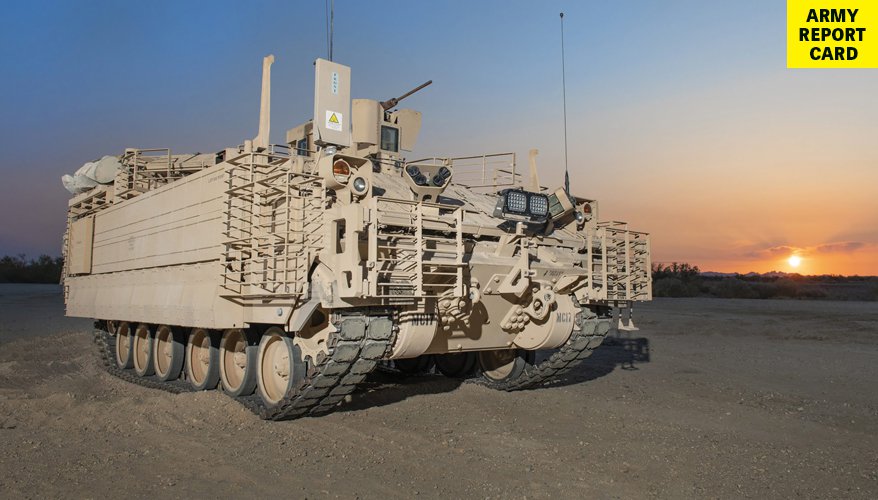 Army photo
In October 2021 then Army Chief of Staff Gen. James McConville vowed to put 24 key technologies "in the hands of soldiers" by the end of fiscal year 2023.
Now that the deadline has passed, National Defense in this special report looks at each of the 24 technologies and assigns them a letter grade based on how close the Army got to fielding the systems. See the end of the article on how the 24 programs were graded.
Part One: Missiles and guns, both large and small
Part Two looks at three ground vehicles and a tactical drone.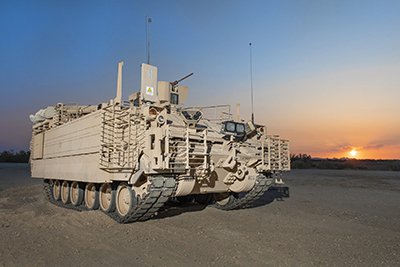 ARMORED MULTI-PURPOSE VEHICLE
With the Sept. 1 full-rate production award of $797 million to BAE Systems, the Armored Multi-Purpose Vehicle, or AMPV, is on track to replace the Army's M113 family of vehicles, which first entered service in 1959.
Designed to improve upon the capabilities of the M113 — which comprises 30 percent of tracked vehicles within the Armored Brigade Combat Teams — the AMPV's development focused on enhancing "survivability and force protection; size, weight, power and cooling; and ability to incorporate future technologies and the Army's network," a Program Executive Office Ground Combat Systems spokesperson said in an email.
BAE Systems is developing five AMPV mission variants: general purpose, medical evacuation, medical treatment, mission command and mortar carrier.
General purpose provides "protected maneuver for soldiers," as well as support for mounted and dismounted assault during tactical operations, according to an Army press release. It accommodates two crew and four soldiers.
The medical evacuation variant supports the combat teams' integration of medical support and casualty evacuation. The medical treatment variant accommodates a treatment table, as well as space for medical equipment.
The mission command variant takes advantage of increased size, weight, power and cooling to support advanced electronics, the release stated.
The mortar carrier provides brigades with "immediate, responsive heavy mortar fire support" during "fast-paced offensive operations by utilizing the M121 Mortar System and M95 Mortar Fire Control System," the release added.
The First Armored Brigade Combat Team, 3rd Infantry Division, received the vehicle in March, and the system achieved initial operational capability two months later, the spokesperson said.
The service has received more than 300 of the 450 vehicles expected to be fielded in 2024, the spokesperson said, adding the Army plans to field 3,000 vehicles within the next 20 years. — Allyson Park

The Army has already received 300 vehicles, and with initial operational capability achieved, the program receives an A+.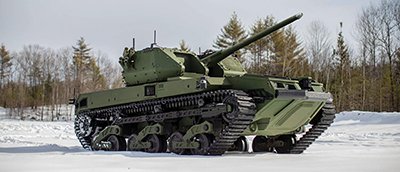 ROBOTIC COMBAT VEHICLE
The Robotic Combat Vehicle will operate as "'scouts' and 'escorts' for manned fighting vehicles to deter ambushes and to guard the flanks of mechanized formations," according to an April Congressional Research Service report.
Designed to be controlled by operators riding in the manned combat vehicle, the Army hopes that improved ground navigation technology and artificial intelligence will permit a single operator to control multiple RCVs, or for them to operate more independently and autonomously, the report stated.
The Army originally intended to develop three RCV variants: light, medium and heavy, but decided to focus on the light variant first.
In August, Assistant Secretary of the Army for Acquisitions, Logistics and Technology Doug Bush said: "The Army is still broadly, of course, interested in robots of many different sizes. But we're focusing on RCV-L because we think that's a necessary first step before going to larger platforms."
"RCV-Light expands the geometry of the battlefield and enables commanders to dictate the terms of the first human engagement by leveraging robotic and autonomous systems to provide reaction time and maneuver space while conducting cross-domain maneuver during multiple multi-domain operations problems," an Army spokesperson for Program Executive Office Ground Combat Systems said in an email.
In January 2020, the Army awarded Other Transaction Authority agreements to QinetiQ North America to build four RCV-Ls and Textron Systems to build four RCV-Ms. All eight prototypes were delivered to the Army by May 2021, according to a service release.
The Army conducted operational experiments in the summer of 2022 featuring 12 RCV prototypes, including four RCV-M systems produced by General Dynamics Land Systems.
The Army spokesperson said up to four rapid prototyping OTAs will be awarded by the end of September 2023, with downselect to a single vendor scheduled for the first quarter of fiscal year 2025. — Allyson Park

With another downselect to come and fielding several years off, this program recieves a C.
M10 BOOKER COMBAT VEHICLE
The Army recently unveiled its new M10 Booker Combat Vehicle, which the service believes will give its Infantry Brigade Combat Teams increased protection and firepower.
Previously known as the Mobile Protected Firepower, the M10 Booker is an armored, tracked, four-person vehicle that features an enhanced thermal viewer; large-caliber cannon; lightweight hull and turret; and a modern diesel engine, transmission and suspension system, according to manufacturer General Dynamics Land Systems.
The platform "is intended to support our Infantry Brigade Combat Teams by suppressing and destroying fortifications, gun systems, entrenchments and secondarily then providing protection against enemy armored vehicles," Maj. Gen. Glenn Dean, Program Executive Officer for Ground Combat Systems, said at a June press briefing.
The Army awarded GDLS a $1.14 billion contract in June 2022 for the production and fielding of up to 96 vehicles. This July, the company announced it had received a $257.6 million contract modification for the second phase of low-rate initial production, which called for an additional 26 M10 Booker platforms.
In its fiscal year 2022 report on the program, the Defense Department's Director, Operational Test and Evaluation said the vehicle's "progress toward achieving operational effectiveness is satisfactory," but noted testing had found the M10 Booker "had high levels of toxic fumes when firing the main gun, requiring modifications to crew procedures during gunnery to mitigate the build-up of fumes in the turret."
Dean said the service is confident the fumes "issue is behind us."
The Army had anticipated receiving the first production vehicle 19 months after the initial contract award, but now "General Dynamics is working toward a November delivery, so they may yet achieve ahead of schedule," he added.
After delivery, the M10 Booker will undergo automotive and lethality testing and initial operational test and evaluation with soldiers in 2024, with the first unit equipped in 2025, a Program Executive Office Ground Combat Systems spokesperson said in an email. — Josh Luckenbaugh

One month late for test and evaluation in the world of military acquisition is but a blink of an eye. So the program earns an A-.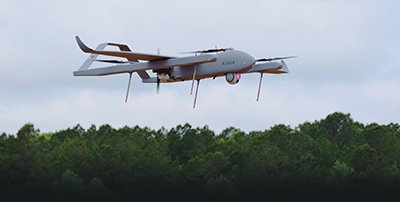 FUTURE TACTICAL UNMANNED AIRCRAFT SYSTEMS
The Army is replacing its workhorse, fixed-wing Shadow RQ-7B surveillance drone with a new vertical takeoff and landing aircraft.
The Shadow was part of the unmanned systems revolution two decades ago and one of the technology stars of the global war on terrorism, but the service is moving on to a VTOL for its tactical UAV needs for brigade combat teams.
When fielded, the new drone "will provide a distinct tactical advantage over current systems due to increased maneuverability through VTOL, improved command and control supported by the on-the-move capability, a reduced transportation and logistics footprint, as well as significantly improved survivability due to reduced noise signature," a Program Executive Office Aviation spokesperson said in an email.
Future Tactical Unmanned Aerial Systems "will revolutionize the way our soldiers fight and win wars by providing enhanced reconnaissance, surveillance and target acquisition with unparalleled speed and agility," she added.
The Army — which began looking into replacing the Shadow in 2018 — wants the new aircraft to be rapidly deployable and runway independent, doing away with the launchers and trailers the Shadow needed to take flight. Improved command-and-control systems will allow it to be operated while soldiers are on the move. The Army is also asking industry for a reduced noise signature and for the VTOL to work in a degraded GPS environment, the program office stated.
The program selected four vendors in May to provide prototypes using the Other Transaction Authority. OTAs will allow the military to go from operational prototypes to a manufacturing contract, shortening the acquisition timeline.
However, the program is not there yet. The Army is evaluating prototypes from Griffon Aerospace Inc., Northrop Grumman, Sierra Nevada and Textron.
The prototypes that pass muster will then undergo Preliminary Design Review, Critical Design Review and flight demonstrations.
And then a third round of aircraft and support equipment will be submitted for qualification testing.
The Army doesn't expect to end the prototyping phase until the first quarter of fiscal year 2025 and full rate production not until the second quarter of 2026, according to service budget documents. — Stew Magnuson

While the program is leaning on OTAs to award contracts, it appears to be on a slow and methodical acquisition path. It shouldn't take seven years to replace a class 2 tactical UAV. The program earns a C grade. (After the magazine's publication, the Army selected two vendors to move forward on the program, but that did not change the grade.)

National Defense's Grading System
A-plus — Initial operating capability or first unit fielded. Must be "in the hands of enough soldiers" to where it could make an impact if the Army were asked to go to war on Oct. 1, 2023.
A — Test and evaluation phase completed. Army awaiting results, or contractor implementing fixes.
A-minus — Contractor has delivered items to Army/undergoing test-and-evaluation phase.
B-plus — Contractor is close to delivering first items for test and evaluation.
B — Contractor is working on delivering capability.
B-minus — Army recently has issued contract award.
C-plus — Contractors have submitted proposals/Awaiting award announcement.
C — Army evaluating potential technologies after soldiers have provided feedback/Request for proposals issued.
C-minus — Prototypes "in the hands of soldiers" for evaluation/feedback to inform requirements or RFPs.
D— Army still writing requirements/Or returning to drawing board after acquired technology has failed to perform.
F — No discernable progress developing the technology.

The editor in chief assigned the letter grades based on the reporters' findings and after conferring with the managing editor. The final decision on the grade was the editor in chief's alone, and criticism, feedback and general disagreements should be directed his way.
Topics: Army News