U.K.-Italy-Japan Cite Steady Progress Developing Next-Gen Jet Fighter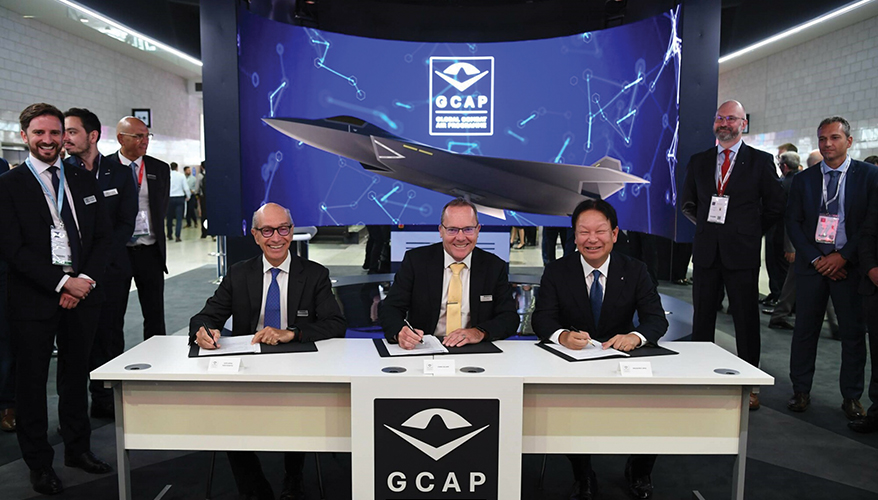 Representatives from MBDA UK, MBDA Italia and Japan's Mitsubishi Electric Corporation sign a collaboration agreement to work together on the effects domain of the Global Combat Air Program.
MBDA photo
LONDON — The goal of the Global Combat Air Program is for the United Kingdom, Italy and Japan to build a sixth-generation fighter by 2035. The three nations speak three different languages and sit in three different time zones, but the government and industry organizers believe the diversity of culture, experience and geography is one of the program's strengths.
The program, GCAP for short, was officially launched in December 2022. Both the United Kingdom and Japan were already developing sixth-generation fighters — the former working on the Tempest aircraft to replace its current Eurofighter Typhoon fleet, while the latter sought to build a follow-on to its Mitsubishi F-2 fighter jet called the Mitsubishi F-X.
From the outset, GCAP organizers have noted that the three countries and their defense industries will share not only their expertise, but also the responsibility and cost of development.
"This international partnership with Italy and Japan to create and design the next generation of combat aircraft represents the best collaboration of cutting-edge defense technology and expertise shared across our nations, providing highly skilled jobs across the sector and long-term security for Britain and our allies," then-U.K. Secretary of State for Defence Ben Wallace said in a press release announcing GCAP.
U.K. Prime Minister Rishi Sunak said in the release GCAP underlines that "the security of the Euro-Atlantic and Indo-Pacific regions are indivisible. The next generation of combat aircraft we design will protect us and our allies around the world by harnessing the strength of our world-beating defense industry — creating jobs while saving lives."
Since December, companies across the three countries have signed a number of collaboration agreements related to the program. In March at the DSEI Japan trade show, Japan's Mitsubishi Electric, Italy's Elettronica and Leonardo's U.K. and Italian offices announced their partnership on the aircraft's integrated sensing and non-kinetic effects and integrated communications systems. Since the March announcement, "we've seen an unprecedented period of joint workings," said Andrew Howard, director of future combat air/GCAP UK for Leonardo UK.
"The teams have been together more or less constantly in the six-month period. They feel trust, they feel understanding, and they've got shared recognition of each other's capabilities," Howard said during a media briefing at DSEI London in September. The next step is to "optimize where we target resources, understand better what our solution is going to look like [and] start to work out how we're going to commercially construct a program to deliver the capability that we need."
The three industry leaders from each country — BAE Systems from the United Kingdom, Leonardo SpA from Italy and Mitsubishi Heavy Industries from Japan — kicked off DSEI London by announcing they had inked a "trilateral collaboration agreement to deliver the concept phase requirements" for the next-generation combat aircraft.
The collaboration agreement is a key step to ensuring mutual success, Hitoshi Shiraishi, GCAP senior fellow at Mitsubishi Heavy Industries, said in a release announcing the agreement. "We have already started cooperating closely with our U.K. and Italian partners and believe that our mix of cultures and diverse perspectives will contribute to the success of this program."
Also at DSEI London, the British and Italian branches of missile developer MBDA and Mitsubishi Electric announced a collaboration agreement to "work together to ensure the seamless integration of weapons for the GCAP platform," as well as work on weapon effects management and related technologies.
Britain's Rolls-Royce, Japan's IHI Corp. and Italy's Avio Aero are developing the critical power, propulsion and thermal technologies for the aircraft.
With so many different entities developing the aircraft — and working across three different time zones — organization of effort could prove a challenge.
However, the countries' language and cultural differences "will not be obstacles," Shiraishi said during a panel discussion at the London trade show. "Instead, I am expecting, or even excited, that a mixture of different cultures and experience … will inspire each other and produce" the best outcomes.
"And of course there is a time difference between us, but we are closely communicating by the mixture of face-to-face joint work and Webex meetings," he said. "And time differences sometimes work better, because we can fully utilize the 24 hours. For example, unfinished work at the end of the day in Japan can be finished in [the United Kingdom] or Italy" the next morning.
By having this wealth and variety of expertise on the team, GCAP can make sure "the best engineers, the right engineers" are developing the aircraft "in a digital environment instead of being forced to do that in one location," said Herman Claesen, managing director for future combat air systems at BAE Systems.
Mapping out the aircraft digitally will "unlock" the program's desired timeline of launching the full detailed design and development phase in 2025, and ultimately having it in service by 2035, Claesen said during the panel.
GCAP organizers are creating "a collaborative working environment across the three nations, the environment in which our engineers can co-create … in the digital world, in the cloud environment — clearly highly secure, for obvious reasons," he said.
Using model-based development will also help minimize risk throughout the program's lifecycle, he said. "So, we're already looking at how we do digital certification and qualification, as an example."
These digital processes are already producing results, with developers "turning flight critical software around in a matter of days instead of a matter of months," Claesen added.
While work on GCAP is already underway, major questions about the program remain, one of which is cost.
Justin Bronk, senior research fellow for airpower and technology in the military sciences team at the Royal United Services Institute, said in an April commentary "The Global Combat Air Program is Writing Cheques that Defence Can't Cash," that "the development and procurement of Typhoon cost the four core partner states somewhere in the region of 100 billion pounds in [fiscal year] 2022/23 terms." Given that "GCAP needs to be lethal and survivable in the threat environment of 2040–2070" and "the resulting advanced stealth, sensor, software and propulsion requirements, it is hard to see how an operationally credible next-generation fighter aircraft could cost significantly less to develop and procure than Typhoon did," Bronk said.
"A reasonable cost estimate for the U.K. to produce a potentially viable next-generation combat air program will depend on how much other international partners such as Japan and Italy are able to commit" — and while "Japan is likely to be able to at least match" the United Kingdom's investment, "Italy is very unlikely to do so from a budget standpoint," he said.
Richard Berthon, director of future combat air at the U.K. Ministry of Defence, said during the panel: "I've got a robust funding line that has been programmed by the Ministry of Defence. … What I see across the three partners is a really robust funding proposition. We've got three countries who want this to work and are willing to invest in the military and the sovereign goals that this program affords us."
Claesen said: "I'm absolutely confident based on the conversations that we're having, the drive and the energy which is currently being created will allow us to come up with the best answer … the right economic [and] strategic benefits for each of the nations, as well as achieving the right operational capability for 2035."
One possible solution to any funding shortfalls would be bringing on another partner, or partners. Saudi Arabia has been mentioned as a potential addition to the GCAP team.
"We all agreed … that this was a program that was open to wider partnership," Berthon said. "We're … talking to a range of different countries. We have — and this is speaking just for the U.K. obviously — a very long-standing relationship with Saudi Arabia … a very successful partnership between ourselves and the kingdom in combat air for many decades."
In March, the United Kingdom and Saudi Arabia "launched a Partnering Feasibility Study for future combat air partnership … and that is allowing us to have a really interesting conversation to explore future possibilities," he said, but added no further decisions have been made.
A key priority of the program is exportability, Berthon said. The Eurofighter Typhoon is currently operated by nine countries, and for GCAP "we want to learn lessons from the past and previous programs so that we ensure we've got the flexibility, and I'm confident that we're making really good progress on defining the underpinning enablers of exportability," he said.
There are other sixth-generation fighters in development, such as the U.S.'s Next Generation Air Dominance program and the Future Combat Air System on which France, Germany and Spain are collaborating. But "there's a reason we call it the Global Combat Air Program — we genuinely see a market that is global," Berthon said.
"I think the interest that we have seen, the number of countries who are coming to have a conversation with us because they can see that [GCAP] is one that has a unique selling point. It's a partnership that takes into account the goals and ambitions of partners" rather than meeting only one country's requirements, he said. "So, I think we've got the flexibility there to work with a really wide range of partners." ND
Topics: Defense Department, International, Aviation