NDIA PERSPECTIVE TRAINING AND SIMULATION
Training, Simulation Touches Every Aspect of U.S. Military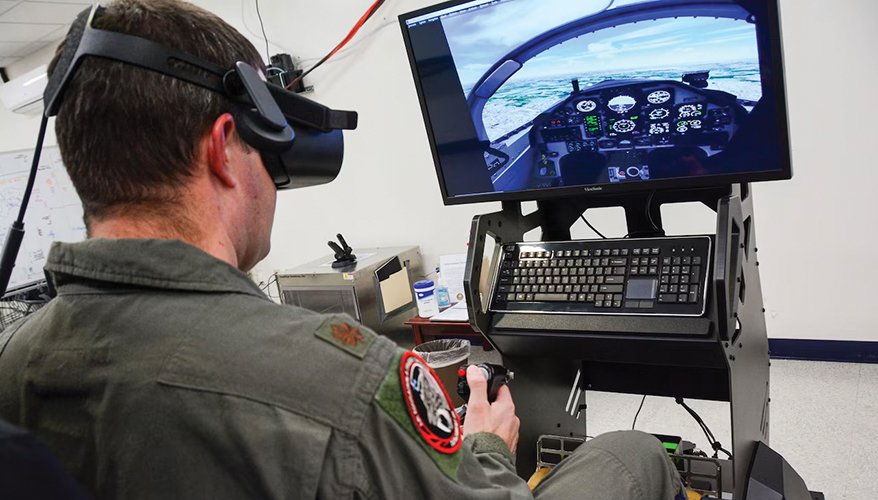 Defense Dept. photo
Thanksgiving, a holiday that invokes gratitude and reflection, will soon be upon us. In my reflection, I am thankful for our military service members, both stateside and deployed, their families and our government civilians and for all the good they do for America and the world.
To support them, we at the National Defense Industrial Association have spent the past year focused on connecting government and industry to improve alignment on the highest priorities for the Joint Force. But while we have accomplished much, there is more work to be done.
While we debate future funding, evolving requirements or new operational concepts, it all comes back to the foundational challenge of this era: speed. Are we going fast enough to ensure service members have a qualitative advantage across every operational domain on any current or future battlefield? Are we thinking, acting, building and speaking out fast enough?
For most of us, the answer is "no, not enough." But if we all push to change the "nos" to "yeses," we will stay steps ahead of America's global competitors in providing comprehensive and cutting-edge capabilities to warfighters, keeping them ahead and the nation — and the world — secure.
Our training is the foundational differentiation that creates the advantage and dominance of the U.S. Joint Force. It supports warfighters throughout their journey of service, beginning with accession to the development of critical combat skills and then on to supporting leaders with decision-making superiority required to shape and drive successful execution of our operational war plans. It also provides crucial testing to illuminate needed changes to hardware and systems well before service members endure the hardships and lethality of combat.
The modeling and simulation companies in the defense industrial base are a critical component of improving this unique qualitative advantage.
Here are three examples of the work being done by companies: improving the training of new recruits to learn and employ the safe and lethally effective handling of their weapons; the discovery of life- and limb-saving medical techniques and products; and the development of networked data and information between platforms and across services to improve decision-making, from tactical to operational levels.
There are thousands more examples underway every day in the training and simulation industry.
To support these companies, the National Training and Simulation Association, an NDIA affiliate, annually organizes and hosts the Interservice/Industry Training, Simulation and Education Conference (I/ITSEC), which will be held this year in Orlando, Florida, Nov. 27-Dec.1. It is the world's largest event focusing on training and simulation, drawing more than 18,000 attendees, including countless general and flag officers, members of the Senior Executive Service, program managers and uniformed personnel from every service.
I/ITSEC's mission is to help all the military services identify new technologies and operational concepts they will need to be successful if conflict erupts. In the digital age, all the services are planning for dispersed fighting units in contested information and communications environments and for decision space to contract for leaders at every echelon.
These planning assumptions have driven I/ITSEC's themes over the last few years, including live, virtual and constructive training; distributed simulations; synthetic environments; big data; and the metaverse. And it informs this year's organization around the theme of artificial intelligence.
The conference also connects the military services and industry on key issues impacting the holistic welfare of warfighters. This includes supporting life-long learning and continuing education, recovery help from the stress of conflict, medical simulation to improve the quality of their care and opportunities to continue to support the nation's security from a different angle when they transition to civilian life.
All these lines of effort reflect the priority to provide consistent support to each American who raises his or her hand to protect and defend the country.
I/ITSEC is also committed to good stewardship of the talent pipeline as it continues to replenish itself. Therefore, I/ITSEC prioritizes science, technology, engineering and mathematics programs to identify and nurture young candidates and to provide them with opportunities to develop these critical skills. In addition, I/ITSEC provides scholarships to assist award recipients with climbing their professional mountains.
Attending I/ITSEC is simply an extraordinary opportunity to experience firsthand the depth and breadth of the programming and the quality of the demonstrations on the exhibit floor.
As with all the conferences NDIA supports, the story begins with the panels, programs and exhibits, but it does not end there. The central purpose of I/ITSEC and other conferences of its caliber is to deepen alignment between government and industry so capabilities and systems support the warfighters, enhance national deterrence and — should conflict erupt — ensure the United States achieves its strategic and operational objectives.
As important as I/ITSEC is for the warfighters, the military services and industry, please keep in mind the other opportunities NTSA provides during the rest of the year.
It is not too early to mark your calendar for two important events in 2024. First, join us for MODSIM World 2024 in Norfolk, Virginia, May 20-22, 2024. MODSIM focuses on over-the-horizon technologies, approaches and solutions in numerous areas, including engineering, medical simulation, data analytics, artificial intelligence, machine learning and visualizations.
Second, I encourage you to attend the Training & Simulation Industry Symposium (TSIS), which will be held June 12-13, 2024, in Orlando, Florida. At this critical symposium, you will have the opportunity to network and interact with service procurement officials overseeing training and simulation products and services.
They and we need your ideas, innovation and energy. Join us! ND

Michael Bayer is NDIA board chair and president and CEO of Dumbarton Strategies.
Topics: Training and Simulation