MUTANT Program Altering Missiles to Boost Maneuverability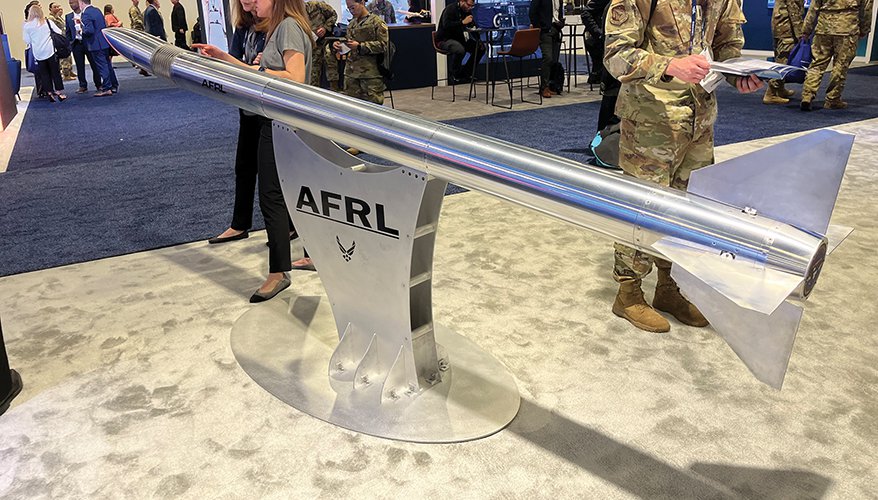 A display showcasing the MUTANT articulation control actuation system.
Laura Heckmann photo
NATIONAL HARBOR, Maryland — The Air Force Research Lab is working to advance next-generation air dominance, and its MUTANT program is aiming to significantly increase missile range and lethality against highly maneuverable targets.
The Missile Utility Transformation Via Articulated Nose Technology program, or MUTANT, uses a form of active morphing involving high-rate pivoting of the missile forebody — referred to as articulation — that increases maneuverability without the drag created by additional fins, according to an AFRL fact sheet.
The program is not designing missile systems, Ben Dickinson, research engineer at AFRL and MUTANT program lead, said on the sidelines of the Air and Space Forces Association's Air, Space and Cyber conference. AFRL is making technology "that inserts into [existing] systems that leads to better missile capability in the future."
A better turning radius and increased agility are just a few of the enhancements the MUTANT program is working to bring to missiles, LoriAnne Groo, research engineer at AFRL, said in an interview.
"Typically, when it comes to aircraft or munitions, they're designed for one specific objective," she said. "And that's either range or maneuverability. So, we're trying to be able to combine both of those things by adding in a shape changing and additional control surface that is in the core body of the munition. So we're able to … increase range and maneuverability with a single designed breathing articulation."
That is accomplished with an articulation control actuation system comprising a high-strain skin structure that envelops an internal electromagnetic actuation system. AFRL developed an electronically controlled actuation system consisting of compact electromagnetic motors, bearings, gears and structures.
Three skin concepts have been developed to various technology readiness levels, combining a metallic internal skeleton filled with elastomer that allows for smooth bending, the fact sheet said.
The MUTANT program has been in the works for about three years, Groo said. She added there is no strict timeline in terms of transition, but different options are being explored. "So, really trying to narrow down where our maximum effectiveness is going to be."
Research and testing are ongoing, with three ground tests scheduled before the end of 2024. ND
Topics: Emerging Technologies